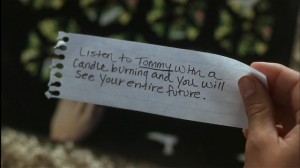 Here's the second entry of Cameron Crowe inspired literature from site reader Natalie Plummer, an NYU journalism major. She touches on each of his films as Crowe is a real life inspiration for Natalie, who strives to follow in his writing footsteps.
Cameron Crowe: You Are Now Connected by Natalie Plummer
Cameron Crowe is a director who thoughtfully and masterfully links with the human heart.  He creates images that are like old photographs; they stir up memories of beautiful moments when things feel just right in our lives.  He touches the soul with music: classic rock, acoustic melodies, and broken hearted love songs.  Crowe skillfully uses music to highlight the beauty of a sometimes soundless world.  Life in a Cameron Crowe film feels real, but not quite.  And we're not just talking about an "open your eyes" lucid dream.  Crowe shows us an idea of life we want, one which we are inspired to attain.  Words with meaning, songs with passion, honesty—this is the basis of the human spirit and it is what we seek in each moment of the day.  How often do you wish you had complete sincerity, the readiness to get your heart broken, your dreams crushed, take the ultimate step?  Crowe's films mirror times and experiences in our own lives, but they also encapsulate our feelings during brief but magnificent moments.
Say Anything… is a high school yearbook of sorts.  It is a film which recalls adolescent days and a courageous view of love before the fear of rejection or heartbreak existed.  The men of Cameron Crowe's films are real and imperfect, always learning a life lesson and being forced to risk everything to gain more.  Lloyd Dobler is a young man who is perhaps flawed in his aspirations, but has an unadulterated devotion for what he loves, in this Diane Court.  As Lloyd holds up his boombox playing Peter Gabriel's "In Your Eyes" for Diane, his now ex-girlfriend, he gives up his pride, his heart, his truth.  And it is all for the most important person in his world.
Almost Famous is like a faded photograph.  It gives saccharine and intoxicating memories of a time that can never be experienced again.  Our protagonist in the film, William Miller, is surrounded by diversity, new experiences, and sometimes the truly harsh reality of the world.  Miller sacrifices his high school years, even his graduation, to discover his passion as a rock and roll journalist.  He is hurt by his rock star friends and by the whimsical Penny Lane, a groupie or "Band-aid" he falls in love with.  However, William's risky choice pays off.  He changes his life on the road, he grows up, and discovers himself.
Vanilla Sky, the abstract painting of Crowe films, gives the viewer what they seek. It can be a dark tale of recklessness and the loss of humanity or an inspiring, touching look at what truly gives us happiness and "a real life."  David Aames abruptly falls from his untouchable world of wealth, sexuality, and privilege in a brutal car accident.  By the end of the film, David comes to know the importance of where he comes from and the responsibility he possesses for the choices in his own life.
Jerry Maguire is a self-portrait.  Maguire was a man who saw himself through the skewed perspective of the world, particularly from his business environment, which lacked trust, integrity, and loyalty.  Over the course of the film, Maguire comes to recognize his flaws and his failures as well as the truly meaningful pieces of life and real companions.  Through the eyes of his wife, his one client, and a little boy, Maguire discovers his own humanity.  He learns that "we live in a cynical world" and that the saving grace remains in personal relationships.
While the men of Cameron Crowe films are real and burden-laden, Crowe's female characters are treated as their beautifully inspiring saviors.  Diane Court is the crowning achievement of Lloyd Dobler's life.  Penny Lane is William Miller's muse and his first love.  Sofia Serrano changes the essence, the character, of David Aames—for the better.  And Dorothy Boyd shows Jerry Maguire the man he is and the man he can be.  What a beautiful dance Crowe choreographs?  Flawed men, hanging on to life and searching for fulfillment, find their heart's desire and more—not only in the women they love, but through them.
So in Crowe's truthful and striking world: what is our ultimate lesson?  We may not have Tiny Dancer sing-a-longs or ever make an entrance powerful enough to "have someone at hello", but as I sit here and listen to "In Your Eyes", I am keenly aware of what I have learned from Cameron Crowe.  Follow your heart, grab hold of your desire, take a leap, and hold your boom-box up to the world.