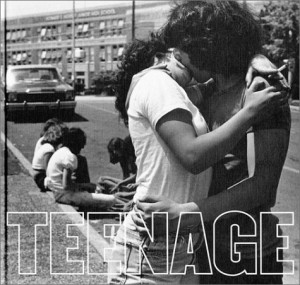 Have you read Cameron's introduction to Teenage?  The 2003 book by Joseph Szabo is very collectable, but worth seeking out if you are lucky enough to find one. It includes an amazing collection of photographs that Szabo took while teaching on Long Island in the 70s, 80s and 90s. More information and details over at Szabo's official site.
Teenage Introduction
Okay, so let's just momentarily forget the eloquence and the longing and the intangible truths about high school that shape our perspectives for all time. Let's set aside the images and the feelings so beautifully documented in timeless detail by Joseph Szabo. Just for a moment, let's talk about things that truly matter.
Like I knew a guy named Sam Schumacher who somehow could give the finger better and more powerfully than anybody else alive. His fingers would snap into position, both hands at the same time, forming two passionate machine guns, single-digits blazing. And Sam's legs would bend at the knee, where they would stay as he brandished his double "fuck yous," at adults and kids alike, and anybody who challenged him. In those moments he was a one-man Iwo Jima, unforgettable, a symbol. Iconic.
And then there was Teri Z. She ruled that most important piece of campus geography, the parking lot, moving from car to car, like an ambassador of goodwill and windblown sexuality unavailable to us, mere fellow high-schoolers. She had a boyfriend "in college". And her hair had a life of its own, layers and shapes that moved and reconfigured in a hundred different ways. We all felt that she personally started the layered shag-cut that would soon sweep the globe. And later, when Charlie's Angels popularized this look on television, we knew the truth. They'd ripped off Teri Z.
David Podd was another parking lot regular with his own particular iconography. He wore Levi's that were always broken in, perfectly, and there was a great mystery in that. What was the process, and where did he go to break them in? We saw him every day, always in flawless Levi's, complete with wallet-imprint on the back right pocket. There had to be a method, though he'd never reveal it, and neither would his sister.
Which reminds me of Robin Wheeler, and her perfect bangs. We briefly made out once at a Sadie Hawkins dance, though she later declared it an accident, and blamed it all on a fragile emotional state brought on by the death of a family cat. We'd both eaten oranges, spiked with Vodka that had been shot into them from a syringe. It felt so forbidden, a syringe on campus, which just shows you how innocent the "wild early seventies" actually were. But that's beside the point. We're talking about bangs, scientifically straight, unmoved by weather or any force of nature, flawless and poetic bangs.
Her on-and-off boyfriend was Rex Allen Barrett, who later died in drug deal in Mexico. He was the first chronic smoker I'd ever known well, and like all high-school addicts, he took delicious indifferent hits and knew the power of flicking a butt. With casual dead-aim, Rex Allen Barrett could hit a trash bin from many yards away. Whenever possible, he simply removed his shirt, and often left it behind. That was the iconography of Rex. He was not a tall kid, though I remember him that way.
Then there was Tom Cazell, the artist. Cazell was always drawing, anywhere and on anything. On the large cream-colored walls of the gymnasium building. Tom once recreated the cover of Yes' Tales From Topographic Oceans, except he did it better, we felt, and it worked well next to the portrait of Martin Luther King, also by him. He was our Da Vinci, forever shaping and chipping away at his masterpieces.
And what of the controversial love between Jerome and Tanya, black-and-white senior and sophomore, always together. They were beyond us, beyond high-school, beyond even the obvious brazen sex they were having. They were close. So close it seemed at times they had actually merged. They were more than a couple, their love was almost Siamese, they laughed and sounded the same, they were the same person.
And of course, there was the wannabee class clown, who'd skipped some grades and attempted inclusion by way of humor. Smaller and paler than the others, he was often befriended by older guys interested in his hot sister. I remember him too, although a little less heroically, because it was me.
We are all prison mates, or so we told each other. On the last day of school, we high-fived each other and celebrated our freedom. I recall the last look back at our campus that day, with garbage bins filled with trash and crumpled mementos and the contents of all our lockers. Ah, sweet freedom. On that day, all these epic personalities separated and splintered into their future worlds, all of us released from the close proximity, the tyranny of cool. The embarrassments and the giddy highs, the aching lows and teachers who had pretty much done their best. My high-school annuals have disappeared over time, and I'd almost lost these indelible characters, until this book. There they all were again, with slightly different twists on the same gene pool, brilliantly captured in time. Joseph Szabo knows this well. Nothing lasts forever, except high school.
Cameron Crowe
March, 2003
Joe Szabo taught photography at Malverne High School, on Long Island, from 1972 until 1999. Like great music, his work is personal and true. Though these photographs certainly have their own built-in soundtrack and need no accompaniment, I couldn't help myself. Here's some music I heard in my head, listening to these photographs:
Physical Graffiti – Led Zeppelin (whole album)
Siberian Khatru – Yes
Takin' Me Back – Cheap Trick
Burnin' Up – Madonna
Us and Them – Pink Floyd
Cruel Summer – Bananarama
In a Big Country – Big Country
Armed Forces – Elvis Costello (whole album)
Train in Vain – The Clash
Rocks Off – The Rolling Stones
Let's Dance – David Bowie
Never Stop – Echo and the Bunnymen
Blues for Baby and Me – Elton John
Promised You a Miracle – Simple Minds
I Want You (She's So Heavy) – The Beatles
Courtesy of Teenage by Joseph Szabo – Published by Greybull Press