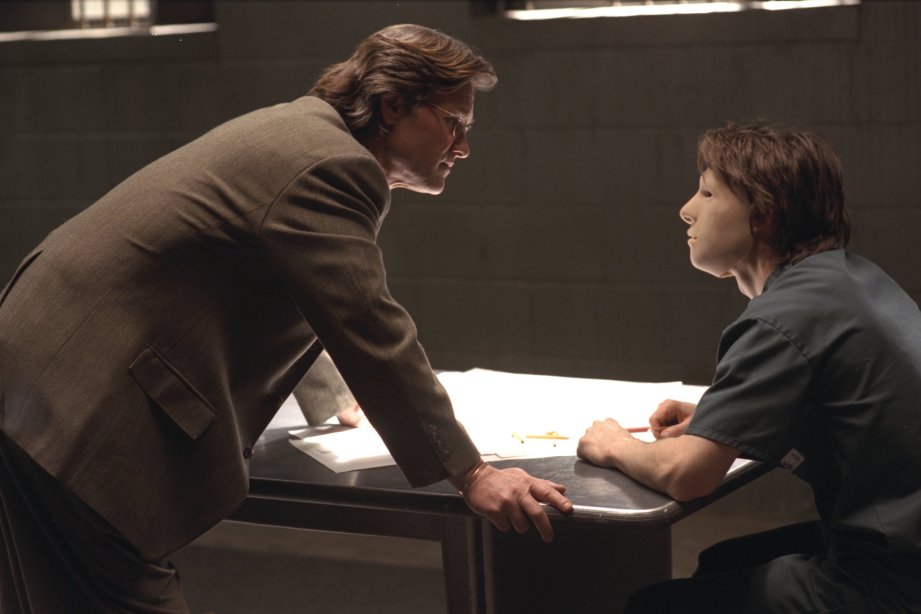 INT. PRISON PSYCHIATRIC UNIT – DAY (INTERROGATION 4)
McCabe is taut, following the thread. His voice calming.  
MCCABE
And you signed a contract, did you not?
DAVID
Maybe.
MCCABE
The man in the restaurant. Is he on the Board?
DAVID
No. He wasn't. I can't remember.
MCCABE
Who is the man in the restaurant? Who is it? Is Ellie there?
Who is Ellie?
DAVID
I can't –
MCCABE
Quiet. Think with your head. You signed a contract, did you not?
Racing thoughts: a woman walks down the hallway, looking back.
Flash of papers signed.
DAVID
I signed something.
MCCABE
Who is Ellie? What was she wearing? Was the man at the restaurant there?
McCabe's voice becomes infinitely calm and helpful.
MCCABE
Accept your body's resistance. Let your head answer.
DAVID
Yes.
MCCABE
That's right. There's nothing to be afraid of. You're about
to let your head answer, aren't you?
DAVID
Fuck . . .
MCCABE
Concentrate on what is true and authentic. What does your
head answer?
DAVID
No.
McCabe stands at the window. David against the wall, breathing
hard. McCabe rises, with power and authority, and speaks sharply to
David. 
MCCABE
You've got to push yourself to help me more.
DAVID
I'm doing that –
MCCABE
Oh come on, David. I don't know what's worse. You wanting
some kind of approval from me . . . or me wishing I could
give it to you.
DAVID
Well –
MCCABE
Quit fucking around. I want to help you, but we've run out
of time. The first hearing is in two days. I don't know who
Ellie is. Your Board has been nothing but supportive of you
to me –
DAVID
You talk to the Seven Dwarves?
MCCABE
I've talked to everybody. Everybody has given me a lot of
reason to trust you . . . except you, David. Yes, the Board
benefits from your situation. Yes, you have nightmares.
Yes, yes, yes . . . and yet . . .
DAVID
Forget it.
MCCABE
David. Stand up and be a man! Tell me the truth.
DAVID
I'm trying! God!
They have assumed the odd relationship of a stern father and petulant
teenager.
MCCABE
Stop wasting my time, and tell me what you know.
DAVID
(teenager)
You think I'm lying?
 MCCABE
You are wasting my time. And you are wasting your life.
And you are hiding behind a mask.
David looks at McCabe, standing powerfully with the strength of compassion.
DAVID
Dinner with your daughters. You better go.
MCCABE
If I don't, they'll go out to some sprawling mall filled with boys who –
DAVID
Who what? Tell me. Who am I gonna tell?
MCCABE
Forget it. I'm fifty-two years old. I have no idea what lurks
in the hearts of young boys any more. I'm completely ill-
equipped.
McCabe gathers his things, embarrassed to have revealed something of
himself.
DAVID
How old are they? Fifteen? Sixteen?
MCCABE
Fifteen and seventeen. One's a little wild, one's on the
sweet side.
DAVID
And you're worried that they might have sex.
MCCABE
Yes. Goodbye until Friday, David.
DAVID
Trust me – they're at least thinking about sex, and they've
probably had it.
MCCABE
(putting down stuff)
No. Definitely not.
DAVID
Have you told them not to have sex?
MCCABE
Absolutely!
DAVID
Uh-oh.
MCCABE
Why – why the uh-oh?
DAVID
You want a tip? Here's one. Don't tell 'em not to have sex.
That's the biggest aphrodisiac of all.
MCCABE
Thanks. Thank you.
DAVID
Tell them to have sex. But tell them how to have great sex.
MCCABE
(not going anywhere)
I have to go. I have to go.
DAVID
Tell 'em to have it with a guy who appreciates them. Out
there are a few guys who know that women are more
complex, more beautiful . . . more poetic and unforgettable
than any man. Tell 'em to go looking for that guy, and have
sex – I'm talking about a lot of sex – with a man who
appreciates them. Their love life is gonna be full and not
cheap and silly and embarrassing. You tell 'em to find the
guy who worships them, and fuck his brains out. You want
to talk about women. That's what I learned about women.
McCabe is stone-silent. Just past his parental horror is the knowledge
that he might just have heard something profound.
MCCABE
And you've always known that.
DAVID
No. I figured it out in here, and I want to get out.
MCCABE
Then speak to me not as a doctor, David. Talk to me as
you'd talk to a loved one.
Racing thoughts/flashes – dream sequence. David writhing in pain on
the motel floor. / Outside, two men in suits smokes cigarettes./ A flash
of a young boy, the flared out face of a taller man holding his hand. /
Flash of David in college, partying with beers in both hands. / David
writhing in pain again, dying. / Shot of Julie Gianni, close-up, smiling
like a model. Then in mock surprise, she says: 'Boo!'
DAVID
(begins to cry)
I'm nothin' . . . I was always nothin'.
Suddenly we have two men with no protective coating. Looking for answers together.