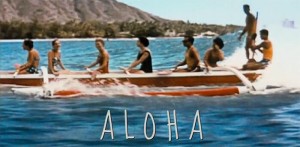 It all began with an image.   Drifting through the internet one night after we'd finished filming Vanilla Sky, I came across a photo of earth from deep space. Surrounding our blue marble of a planet were thousands upon thousands of dots, each one representing a satellite. That visual would stick with me for months. Every time I looked up, I could imagine that enormous traffic jam of space tech, giant intricate machines just beyond our vision. All those satellites… some you can even see… swirling… spying… studying the future… reaching for the unknowable.
It's a busy sky up there.
The journey of studying up on that active sky soon took me to Hawaii, and Hickam Air Force Base, the busy Air Force center of operations on the island of Oahu. Hawaii, I would soon find out, is so much more than our 50th state. It's the furthest landmass from any other piece of geography in the world.   Way out there in the Pacific, that glittering collection of islands is also one of America's most important geo-political strongholds, our closest spot to China, and a hugely important military strength.   I made some calls, made some friends courtesy of an officer, movie-lover and writer, Colonel Steve Clutter, now a retired, and spent much time with the military families who live and work around the Space Program in Oahu.   The research would last years, and would come to fill many boxes and notebooks. Just below the American tourist stereotype of Hawaii, is a rich melting pot of spirituality, military might, legend, lore and culture.   This is the setting for our movie, Aloha.
Courtesy of my old friend Ron Jacobs, the wildly brilliant mind behind the creation of 60's rock radio culture (Boss Radio) at KHJ in Los Angeles, I also learned about the strength and purpose of Native Hawaii, the culture still strong even after our controversial American take-over in 1893.   Ron was born and raised in Hawaii, went to Punahou School, the same high-school as our President, and is also the rare red-headed "haole" known and beloved by the native community as the Hawaii-centric DJ who used to broadcast under the name "Whodaguy." Careening through the streets of Oahu, Ron shared with me the musical legends of Hawaiian slack-key – artists like Ledward Kaapana and Cyril Pahinui and Dennis Kamakahi and Ozzie Kotani. He also introduced me to the Native King himself, one of the most important figureheads of the Hawaiian sovereignty movement, Dennis "Bumpy" Kanahele.   Bumpy would come to share his sacred land, a sanctuary not officially part of American statehood, as a location, and even became an actor in the movie. It's one of my proudest moments as a director, watching his wonderful performance.
Over a period of years, the story morphed and grew in many directions, settling into the tale of a disgraced contractor named Brian Gilcrest (Bradley Cooper), now working for the defense company billionaire Carson Welch (Bill Murray), a CEO visionary filling the skies with satellites, some of them benign and some of them not. Gilcrest is fighting his way back to his beliefs as a kid – that the sky represented promise. Hawaii was where his life worked best, and when he's brought back there on a covert mission, he's paired with a young go-getter Captain (Emma Stone) and comes face-to-face with a long-ago love (Rachel McAdams), now married to his once best friend Woody (John Krasinski).
Music was of course essential to this story.   Hawaii is overflowing with musical culture, it pours from every window and can be heard in every swaying tree, moving rhythmically in the afternoon breeze. Even Hawaii's last true matriarch, Queen Lili'uokalani, was a songwriter who'd written the still essential "Aloha 'Oe."
The songs for Aloha were chosen for very particular reasons. I'd had the idea of scoring a rocket launch to the aching beauty of The Blue Nile's "Let's Go Out Tonight" for a long time. You never know if a rocket, or a relationship, will explode. The song told the story. And then there was David Crosby's "Kids and Dogs," an outtake from his unforgettable (pun intended) album If I Could Only Remember My Name. I've always loved the wide-open spaces of Crosby's guitar style. Only later did I learn that he uses the same drop-key tuning style that the Hawaiians cherish and call "slack-key." This little-known track from 1970 also includes a choice accompaniment from Jerry Garcia. Crosby, an honorary Hawaiian who has spent much time there, was glimpsed flying into Oahu on the same day the crew arrived. We figured it was a sign.   And we'd been trying to use Josh Ritter's "Come and Find Me" since Elizabethtown. Finally, the song found its rightful home.
Bill Murray and Emma Stone were born to dance to Hall and Oates' "I Can't Go For That (No Can Do)."   For a time we were trying to get Daryl Hall and John Oates to actually perform live in the Officer's Club scene in Aloha, but schedules worked against it. Daryl was at work on his TV show Live From Daryl's House (a must-watch for any music fan) and so we relied on the venerable recording, and our crew just watched as Emma and Bill found an easy groove, Hawaiian-style, to the Hall & Oates classic.
Once again, we were lucky enough to work with Jónsi and Alex on score. On break from Sigur Rós, Jónsi has been doing more and more score work on film and TV, which feels so natural for him. He and Alex are big music aficionados who work with many different pallets ("except funk, which we just can't do, for some reason," Jónsi confessed to me), it was a thrill to hear them compose soundscapes for chase scenes and suspenseful moments. So distant from so much of their earlier work, and yet so natural, they are composers of the finest order.
We used a liberal dose of wonderful traditional Hawaiian standards like "I'll Weave a Lei of Stars for You," which you can almost imagine wafting in the breeze, like a broadcast from a distant antique radio. That's what a quiet afternoon in Hawaii can sometimes feel like – timeless, ancient and romantic.   And no collection would be complete without Genoa Keawe's "Alika," which I was once lucky enough to hear her perform in a small Hawaiian hotel lounge. The song, like the note she hits within it, soars and never really lands.   Like a Hawaiian memory, it's indelible.
Thanks also to artists like Beck, Evening Hymns and Kurt Vile, who contribute slashes of sonic color that worked so well in our Hawaiian world.   Also much appreciation to Lindsey Buckingham of Fleetwood Mac, who allowed us to construct our own version of "I Know I'm Not Wrong" for the film. In the movie you'll hear the song seamlessly go from its first incarnation as a demo for Tusk, directly into the released version, all without missing a beat.   Our goal in putting together the soundtracks for our films is also a matter of eclecticism, like a concert featuring artists of many different genres, or a radio station you might find spinning the dial late one night, playing seemingly incongruous collections of artists that somehow fit together to create an audio souvenir.
We played music constantly on the set. One image I'll find it hard to forget is Bill Murray, wheeling the music cart, a small dolly with a laptop and speaker, singing along with Linda Ronstadt's version of the Warren Zevon song "Poor Poor Pitiful Me," serenading the crew. Indeed we always try to play music in our auditions, and for this movie we had a full deck of music lovers. There is something different about music fans on film – you play music during their takes, and their face lights up with promise. They just seem to feel life even more with music coursing through their performances, sometimes just barely getting out of the way of their dialogue. It's a dance I love to do as director, playing live DJ with their performances.
The goal of the movie was to experience life on the islands, feel all the different and soulful cross-currents of life in an American state that is actually its own country, a land built on the tips of volcanoes, where the air crackles with electricity and rarified air, soul-nourishing oxygen, the spirit of "Aloha" – also called "mana" – That invades your heart. Many a writer has written a story of a Hawaiian visitor who visits for a time, and leaves Hawaii inspired by its many gifts. Aloha is the story of one who arrives… and stays. We dedicate this movie, and this music, to the people of Hawaii who hosted us so beautifully. In return we offer this tribute, on behalf of all the crew and the actors who had the good fortune to live in Hawaii for four months, and offer this story about love, the islands, the water, the sky, and the mana that we'll feel forever, thanks to you.
Warmest Aloha,

April, 2015