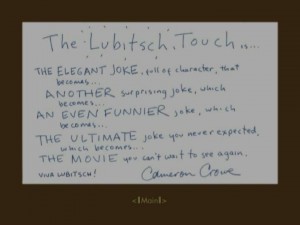 Have you seen Ernst Lubitsch's recently released Trouble in Paradise Criterion DVD? This movie has rarely been released on home video and is a classic. The DVD is loaded with extra features (commentary, radio program, video introduction and an early Lubitsch silent film). Cameron also adds the following to the booklet included with the DVD (Thanks Paul!):
The LUBITSCH Touch is…
The ELEGANT JOKE, full of character, that becomes…
ANOTHER surprising joke, which becomes…
AN EVEN FUNNIER joke, which becomes…
THE ULTIMATE joke you never expected, which becomes…
THE MOVIE you can't wait to see again.
VIVA LUBITSCH!
Cameron Crowe