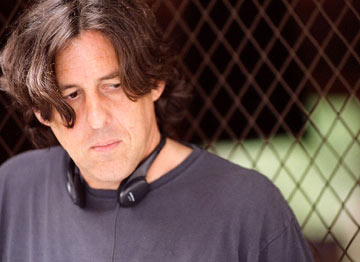 Cameron Crowe was born on July 13, 1957, in Palm Springs, California and raised in San Diego.  His father, James, sold residential real estate; his mother, Alice, taught sociology and English literature at the local college. Recognizing that Crowe was gifted, his mother pushed him to excel. He skipped kindergarten and two grades in elementary school, and by the time he attended Catholic high school (University of San Diego High School), he was quite obviously younger than the other students. To add to his alienation, he was often ill because he suffered from nephritis, a kidney disease. This made him something of an outcast in the tanned surfer culture of Southern California. His parents didn't allow rock & roll music in the house – Crowe had to win tickets for his first concert, Iron Butterfly, from a local radio station. His own musical aspirations started and ended in a band called The Masked Hamster. "It was really no good," he says. "We played 'I Feel Free,' and that's probably about it."
To compensate for his lack of social contacts, Crowe began writing for the school newspaper and by age 13 was contributing music reviews for an underground publication, the San Diego Door. Regular High School activities included the Debate team and working on his own underground campus newspaper Common Sense.
He then began corresponding with Lester Bangs, who had left the Door to become editor at the national rock magazine Creem, and soon he was also submitting articles to Creem, Penthouse, Playboy, Crawdaddy, Music World, Circus and the Los Angeles Times.
Crowe graduated in 1972 at age 15, and on a trip to Los Angeles, met Ben Fong-Torres, the editor of Rolling Stone. He joined the staff of Rolling Stone, where he was a contributing editor and later, an associate editor. Crowe profiled such influential music world figures as Bob Dylan, David Bowie, Neil Young, Eric Clapton and the members of Led Zeppelin.
When Rolling Stone moved its offices from the West Coast to New York in 1977, however, Crowe decided to stay behind. He also felt the excitement of the career was beginning to wane. Crowe appeared briefly in the 1978 film American Hot Wax, but then returned to his writing. Though he would continue to freelance for Rolling Stone on and off over the years, he turned his attention to a book about teens growing up in the late 70s…
In 1979, Crowe (then 22) returned to high school as a senior to research his book on teen life. Fast Times at Ridgemont High, became a best-seller and Universal Pictures, which had optioned the book while it was still in galley form, signed Crowe to write the screenplay. Released in the summer of '82 and directed by Amy Heckerling, Fast Times at Ridgemont High became one of the year's biggest hits and helped launch the careers of Sean Penn, Jennifer Jason Leigh, Judge Reinhold, Forest Whitaker, Nicolas Cage and Eric Stoltz. Crowe's screenplay was nominated for a Writers Guild of America Award for Best Screen Adaptation.
Cameron regularly returns to his roots, penning liner notes for Led Zeppelin, Eagles, Joni Mitchell, David Bowie, Peter Frampton  and Lynyrd Skynyrd. He was nominated for a Grammy for his work on Bob Dylan's Biograph box set.
Crowe's next screenwriting project was The Wild Life (1984). The film depicts teenagers living in a singles apartment complex immediately after high school, and stars Eric Stoltz, Lea Thompson, Hart Bochner and Christopher Penn. While the screenplay and film had good intentions, it ultimately didn't live up to the critical and commercial success of Fast Times.
In 1989, Crowe made his feature film directorial debut with his original screenplay Say Anything… The story of an off-beat loner (John Cusack) who goes after the beautiful class brain of his school (Ione Skye), the film was well received by audiences and critics alike and has since become a huge hit on home video and TV. The now iconic scene of John Cusack holding a boom box over his head has become part of pop culture. Cameron's second movie, also set in Seattle, was 1992's romantic comedy Singles. The film featured strong performances by the ensemble cast including Bridget Fonda, Matt Dillon, Kyra Sedgwick and Campbell Scott, as well as a cameo appearance by three members of Pearl Jam.
Jerry Maguire, starring Tom Cruise and Renee Zellweger was released in 1996 to strong box office and was nominated for five Academy Awards including Best Original Screenplay and Best Picture. Cuba Gooding Jr. took home the Oscar for Best Supporting Actor. Cameron also received a nomination from the Directors Guild of America for Outstanding Directorial Achievement for a Feature. Crowe also received the PEN Literary Award for Best Screenplay that year.
DreamWorks signed Crowe to a three year, first picture look in 1997, but Crowe took nearly two years off working on Conversations With Wilder, a collection of interviews with legendary director Billy Wilder. Crowe is a huge admirer of his work and felt it was important to document Wilder's thoughts. "I learned a lot," said Crowe. "He is an international treasure and not a man who likes to be interviewed about his work." The book was published by Knopf in November, 1999.
Almost Famous released in September, 2000 was the culmination of a ten year journey to put Cameron's experiences working for Rolling Stone on film. It was cited on over 150 critic's Top 10 List's and received six Golden Globe and four Academy Awards nominations. It received two Golden Globes (Best Motion Picture – Comedy/Musical & Best Supporting Actress) (Kate Hudson) & Cameron was awarded the Oscar for Best Original Screenplay and a Grammy for Best Compilation Soundtrack for a Motion Picture, Television or Other Visual Medium.
Cameron's fifth film, Vanilla Sky, starring Tom Cruise, Penelope Cruz, Cameron Diaz, Kurt Russell and Jason Lee was released on December 14, 2001 in North America. It polarized audiences (resulting in repeated viewings), grossing over $200 million at the worldwide box office. Paul McCartney's title song was nominated for an Academy Award.
Other projects over the years include a 1983 Tom Petty special for MTV (Heartbreakers Beach Party) and numerous music videos such as Tom Petty's "Change of Heart", Paul Westerberg's "Dyslexic Heart",  Stillwater's "Fever Dog" Pearl Jam's "The Fixer". In addition, Cameron oversaw the Alice in Chains video "Would" (directed by Josh Taft) for Singles. In 2000, he conducted all the band interviews and produced Pearl Jam's DVD Single Video Theory. In 2002, Cameron also made a foray into TV, directing a commercial for the Gap entitled "Denim Invasion" starring Orlando Bloom and Kate Beckinsale.
Cameron's sixth film, Elizabethtown, "an ensemble comedy/drama" starred Orlando Bloom, Kirsten Dunst and Susan Sarandon was released in October 2005. Longtime Crowe collaborator Tom Petty received his sixteenth Grammy nomination for his song "Square One" that was featured in the film.
2011 was a busy year with three projects coming to fruition. The Union, a documentary on Elton John and Leon Russell's recent collaboration debuted at the 2011 Tribeca Film Festival. This was followed by Pearl Jam Twenty, a documentary to celebrate Pearl Jam's 20th anniversary that first appeared at the Toronto International Film Festival in September, 2011, Finally, We Bought A Zoo, based on a novel by Benjamin Mee and starring Matt Damon, Scarlett Johansson, Thomas Haden Church and Elle Fanning was released on December 23, 2011.
Crowe's eighth feature film, Aloha, a romantic comedy set in the world of military contractors and the privatization of space, stars Emma Stone, Bradley Cooper, Rachel McAdams, Bill Murray, John Krasinski, Danny McBride was released in May of 2015.
Cameron latest project was also his first television series for Showtime. It's a modern-day ensemble piece that chronicles life on the road with the family behind a rock band entitled Roadies, starring Luke Wilson, Carla Gugino, Imogen Poots, Rafe Spall, Keisha Castle-Hughes, Peter Cambor, Colson "Machine Gun Kelly" Baker, Finesse Mitchell and Ron White. The ten episode season debuted on June 26, 2016.
Cameron has twin boys, William James Crowe (named after Billy Wilder and Crowe's late father, James) and Curtis Wilson Crowe (in honor of his ex-wife Nancy Wilson and Pearl Jam manager Kelly Curtis, a longtime friend). He resides in Southern California.