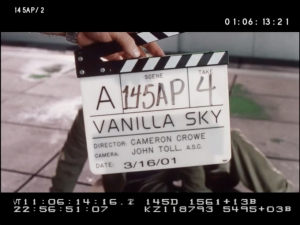 To all Vanilla Sky fans out there eagerly awaiting the new Blu-ray (as we are!):
Sincerest apologies for the constant and consistent delays in the release date for the Vanilla Sky Blu-ray.  There have been more than a few roadblocks on our way to bringing this to you, but we have fought our way through and have landed on a May 5, 2015 release date, one that will NOT push any further!  The biggest reason for these delays is that we want to ensure that the package is absolutely the best it can be, PACKED with extras (Original ending, anyone?  Deleted and extended scenes?  Director commentary on most of the extras?!?  and much, much more).  We promise it will be so worth the wait!
One of the great challenges in revisiting a film after all this time is the clearance dotting of the "i"s and crossing of the "t"s — and we'd rather take the time to ensure that we can include as much as possible, rather than chalk it up to "oh well, we can't clear it in time, let's just pull (insert extra feature here) from the Blu-ray."  We'd rather push the release and include the near-impossible than release something that is less than we know it can be.  Simple as that.
So, with that in mind, again please accept our sincerest thanks for your unending patience, and please be sure to let us know what you think of the release once the blessed day is upon us.  And know that all of the blood, sweat and tears that went into it was for the purpose of shedding more light on those not-quite-so forgotten gems, those moments we hated losing for the greater good of the film back in the day, and to give everyone a deeper look into those majestic Vanilla Skies….
Greg