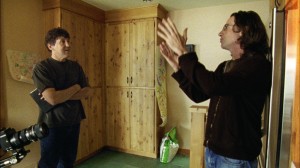 Nine months after the release of their debut album Ten, Pearl Jam catapulted into superstardom. A few years later, they pulled back from the spotlight completely out of an instinct for self-preservation. The unintended consequence was a veil of mystery that has surrounded the band to present day. Yet, every moment in the band's evolution was quietly documented by those closest to them since their inception.
Cameron Crowe was among their inner circle.
Almost 20 years after the band's inception, Eddie Vedder, Jeff Ament, Stone Gossard, Mike McCready and Matt Cameron gave their longtime friend permission to raid the vault and assemble from it the story no one but those closest to them ever knew.
Pearl Jam Twenty chronicles the years leading up to the band's formation, the chaos that ensued soon-after their rise to megastardom, their step back from center stage, and the creation of a trusted circle that would surround them—giving way to a work culture that would sustain them. Told in big themes and bold colors with blistering sound, the film is carved from over 1,200 hours of rarely-seen and never-before seen footage spanning the band's career. Pearl Jam Twenty is the definitive portrait of Pearl Jam: part concert film, part intimate insider-hang, part testimonial to the power of music and uncompromising artists.
And now, two decades in, Pearl Jam remains a giant musical force and one of the biggest, most magnetic touring acts in the world. They have sold over 60 million albums worldwide and have collected a mountain of accolades along the way as they continue to create and perform great music—on their own terms.
BAND BIOGRAPHIES
JEFF AMENT
Bassist
Born in Havre, Montana, Ament's father, a barber, was the mayor of Big Sandy, Montana, for fifteen years. His mother played piano and introduced Ament to records, books, and drawing. Ament dropped out of the University of Montana after his sophomore year in 1983, and, with his bandmates in Deranged Diction, moved to Seattle, where he worked at the infamous Raison d'Etre coffee shop in the Seattle neighborhood of Belltown to save money for art school tuition. Before long, that band had collapsed and he'd joined Green River with Stone Gossard. When that group split in 1987, he and Gossard started fresh in Mother Love Bone. The band was preparing to release its first album when lead singer Andrew Wood died of a drug overdose in March 1990.
MATT CAMERON
Drums
Born in San Diego, Cameron moved to Seattle in 1983 and quickly became immersed in the local music scene. In 1986 he took over the drum stool in Soundgarden, a position he held until the band broke up in 1997. In 1998, one year after the breakup of Soundgarden, Cameron got a call from Stone and Eddie asking him, "What are you doing this summer?"
STONE GOSSARD
Rhythm Guitarist
Born in Seattle, Gossard's first band was March of Crimes, with future Soundgarden bassist Ben Shepherd, followed shortly thereafter by the Ducky Boys. Gossard and Jeff Ament met at a Seattle rock club in 1984 and spent three years playing together in Green River. After that band split, they formed Mother Love Bone.
MIKE MCCREADY
Lead Guitarist
McCready was born in Pensacola, Florida, but moved to San Diego as a baby and then to Seattle at the age of four. His first band was called Warrior, followed by Shadow, with which he moved to Los Angeles in an unsuccessful bid at rock stardom. Thoroughly fed up with the music business, McCready was back in Seattle working at an Italian restaurant and attending community college classes when he began jamming with middle school acquaintance Stone Gossard on the material that eventually became the first Pearl Jam album.
EDDIE VEDDER
Lead Vocalist
Born in Evanston, Illinois, Vedder grew up mostly in Southern California. In his twenties, he played in several San Diego bands, including Indian Summer and Bad Radio. His friendship with former Red Hot Chili Peppers drummer Jack Irons led to his recruitment in the band that would become Pearl Jam.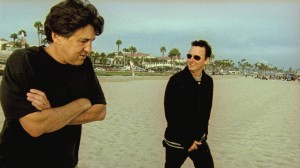 Q & A WITH PEARL JAM
What was your first instrument? When and where did you start playing?
Ament: I took piano lessons from first to sixth grade in Big Sandy, Montana, from Mrs. Giebel. I mowed her lawn, raked leaves, and shoveled snow to help with the cost. From fifth grade through my sophomore year in high school, I played snare drum and percussion in the school band and also sang in the choir. I forgot all of this when I heard the Ramones and bought the same bass that Dee Dee played.
Cameron: My first instrument was a secondhand drum set at the age of eleven. I had been banging on everything in the house since the age of three. Luckily, I had very supportive parents who were both big jazz fans.
Gossard: Aside from a trumpet in third grade and some boys choir stuff in fourth (1975-ish), my first real instrument was the mandolin I got in 1980. There was a band called the Probes at my high school that were killing it and making everyone dance. They didn't have a mandolin, so I thought maybe if I learned some tricks I could get in. It was a lot harder than I thought. I was never asked to join.
McCready: My first guitar was a Matao Les Paul from my parents. It was black and cost a hundred dollars. They said I could get a guitar if I took lessons, which I did, from Mike Wilson. He was a fantastic teacher who taught me scales and Kiss songs and also made it fun, so I wanted to go back. Later I wanted to make it a gold top, so I chiseled—yes, chiseled—the top layer of the guitar off, then I spray painted it gold. Oops. It was never the same. I wish I knew where it was today.
Vedder: A beat-up ukulele. To keep the strings taut, I had to wrap the headstock in masking tape. My first instrument, in a way, was one of those little green memo pad notebooks when I was really young. I'd write songs, putting arrows over the notes so I'd know which note was higher than the other. The ukulele thing probably happened when I was ten. My mom would go to garage sales or yard sales, clean up all the toys, and put them under the tree. I'd get a little racetrack, and a key piece of track was missing. I think it was probably a yard sale, and they just gave the ukulele to us as an act of pity.
What was the inspiration behind why you wanted to play music?
Ament: Initially, it was Ted Nugent, Aerosmith, and Kiss, until I heard the Ramones, Devo, the Clash, and all the hardcore bands in California. Playing music was an occupation furthest away from what I thought was possible.
Cameron: Self-expression, trying to be like my heroes, girls, in that order.
Gossard: In 1981, at the urging of Steve Turner, I got a bass and then a guitar and we formed Ducky Boys with Jeff Covell and Chris Peppard. Steve told me that garage rock was the way and that you can be crappy and still have cool songs and a band. It was a revelation. He liked the most underground, noisy punk, which I didn't really get. But he also loved Alice Cooper and even Black Sabbath. I never let go of that advice.
McCready: Well, I have to say, Kiss. I was a Cub Scout, and then Kiss came along. I remember just jumping around with a tennis racket pretending I was Paul Stanley or Ace Frehley. It also felt cool and was really fun to play in a band—probably to meet girls, too. I played my first "concert" at Jenny W.'s birthday party in 1978.
Vedder: I just loved it. I was onto a record player early, early on; one of those plastic kids' record players that came with a single of "Puff the Magic Dragon." If we went to visit relatives, I'd take my little plastic record player, go find a room, and sit there with my records. I probably had three. Then I started raiding my uncle's singles collection and got into adult music fairly quickly. The crossover was "Yellow Submarine." I remember borrowing or perhaps stealing that single from him. He's ten years older, so if I was five, he was fifteen, and he had some pretty cool records. He wore an army jacket. He was just cool. This was probably 1969 or 1970. He'd give me records, but then he'd go off with his buddies, and I'd take a few more. I distinctly remember my mom on the phone saying, "Do you have Hot Rocks?" And I'd go [sheepishly], "Um, yeah," while I was cranking "Brown Sugar" or "Mother's Little Helper."
What are some of the earliest/most influential concerts you attended?
Ament: My first show was Styx on their Equinox tour in 1975. They played Havre, Montana, at the NMC Armory. I didn't see another concert until I saw Van Halen in Great Falls in 1979. The most influential shows that I saw early on were X, the Clash, and the Who on my first visit to Seattle with some friends in 1982. I moved to Seattle the next year, and seeing Black Flag, the Ramones, Bad Brains, and a slew of hardcore bands at the Metropolis had the biggest influence on my musical life.
Cameron: In the mid to late seventies, I had the honor to see Queen, Kiss, Bowie, Cheap Trick, Thin Lizzy, Shelly Manne, Bobby Hutcherson, and Jaco Pastorius. I had my mind blown wide open at a very early age. I do not miss the M80s people used to bring to big rock concerts back then. It sounded like a war was breaking out between bands. I also remember a lot of kids partying way too hard the day of a big concert and ending up passed out in a pool of vomit during the show. I wanted to soak in every detail, so the idea of being too high to enjoy the concert experience made no sense to me. I guess I was an early straight-edger.
Gossard: Randy Hansen's tribute to Jimi Hendrix in 1979, then UFO at Hec Edmundson Pavilion. My first punk show was Black Flag at Eagles Auditorium in 1982 or '83.
McCready: The Heats at Mural Amphitheatre; Van Halen on the Van Halen II tour at the Seattle Center Arena; Cheap Trick at Hec Ed Pavilion (waited all day and skipped school); TKO at Lake Hills, the Moore Theatre, or anywhere in the early eighties; Kiss in '79; Scorpions, Iron Maiden, Girlschool at Hec Ed Pavilion; Motörhead at the Paramount Theatre; the Girls in 1980 opening for the Ramones; and Silly Killers at Laurelhurst Club House. I watched through the window. Probably all the Warrior and Shadow concerts set in motion what I am today.
Vedder: I saw Bruce Springsteen and the E Street Band with my uncle in 1977 at the Auditorium Theatre in Chicago. It was the first show of any kind I saw in person, I believe, unless there was one a year before. There was a little theater called La Paloma in Encinitas, California. It was the summer The Last Waltz came out. At this point, I'd had a few guitar lessons. My guitar teacher and I went to see Rick
Danko play solo along with Jack Tempchin, who wrote "Peaceful Easy Feeling" and "Already Gone" for the Eagles. Rick Danko pretty much played acoustic, but he sang "Stage Fright" to a tape. Then, all the
bands I wanted to see weren't playing all-ages. So I had to get a fake ID to get into punk shows. I remember getting into an X show and it being a really big deal. I got right into the front, and Exene Cervanka handed me a Miller Lite to hold in between songs. I just had this feeling that it wasn't mine to drink; it was mine to hold while she played. I also saw the Pretenders at Golden Hall in San Diego. There was no barricade, and no monitor between me and Chrissie Hynde. People are pushing and shoving. I got pushed forward and my hand landed on Chrissie Hynde's left boot. She immediately flicked it off. I thought it was so fucking awesome. I saw Sonic Youth on the Daydream Nation tour. I didn't know if it was the greatest thing ever or if they were disrespecting us. [Laughs] By the next morning, I knew I had been changed.
What are some of the best memories you have from playing early shows with your first bands?
Ament: Getting to play through a real PA was always a big thrill. Hüsker Dü giving us a joint and twenty dollars for opening up for them when the promoter screwed us. Mostly just trying to impress your friends. Hell, that's still how it is.
Cameron: Playing my high school graduation party in 1980 with the band Faultline at Fiesta Island in San Diego. We brought a generator, parked two vans in a V behind us, and started rocking. Our classmates (mostly from the smoking section) were rocking out and loving every moment. Two songs into our set, the cops showed up and asked for our permit. Oops. Not a great start to the summer of 1980. My first Soundgarden show in 1986 at the Ditto Tavern was a baptism by fire. I had joined the group one week prior to the gig and I wanted to impress. The drummer I had replaced, Scott Sundquist, was in the front row critiquing my every move. I remember him saying from the front of the stage, "Kick drum too loud!" "Too fast!" et cetera. Opening for Love and Rockets in 1986 was a big Soundgarden moment for me. We had never played a show in a theater before, just local bars and such, so we were a little nervous. Our opening song, "Entering," sounded a lot like "Bela Lugosi's Dead" from their previous band Bauhaus. Both songs have a very similar drum intro, so when I got the cue, I laid into the beat, and I remember the first two rows looking at each other with mild confusion. Once Hiro Yamamoto and Kim Thayil hit the first gnarly guitar notes, there was no more confusion. It was the first big stage the band had played on—the Moore Theatre in Seattle—and after the show, I realized we had a sound that could fill any size venue, and we could hold our own with anyone.
Gossard: It's fun now, but it used to scare me. I was nervous. But once we started getting drunk, it got better. More lose-your-mind rock 'n' roll.
McCready: Wow. Let's see. Jenny W.'s birthday party in 1978. Warrior played a few originals. In 1979, Warrior at the Eckstein Junior High talent show. Big controversy over Danny Newcomb playing "The Star Spangled Banner" with his teeth. He did it when told he couldn't. Right on, Danny! In 1979, a Warrior concert for Symphony Fundathon under the Monorail. I had a completely homemade tie-dye outfit. I'm sure the symphony hated us. The second Headbangers Ball with Shadow, Metal Church, and TKO. We got booed off the stage. Also, Jeff Ament came over after our singer, Rob Webber, invited him to the show. Guess who was doing a guitar solo, finger tapping his Kramer Pacer as he walked in? I gave Jeff a picture of that last year. Who knew that we would later be rockin' side by side seven-hundred plus shows later? December 1986, Shadow's first show at the Roxy in L.A. It only cost us seven hundred dollars to get on the bill! At least Tim Dijulio, Duff McKagan, Lauren, and about two other people were there at midnight on a Sunday. Shadow played at Fender's, opening for Andy Taylor of Duran Duran in 1987. I met Rod Stewart there. Our final L.A. show was at Club Lingerie in 1987. I became a lead guitar player in those lean L.A. years—eating Top Ramen and payin' those dues.
Vedder: My sophomore year of high school, I played with a friend from class who knew so-and-so, who worked at a grocery store, who had a practice space in his garage and a nice amp. But he was really into the Eagles, and the keyboard player was into Styx, and the bass player was into the Cars, and himself. The drummer was in the school band. And then I'm into the Who, piL, and Springsteen. It sounded like shit. Everybody would get their one or two songs to sing. You'd play at parties and pretty much just suck. As bad as the group was, the part of the night that the rest of the guys disliked most was when I got to sing. In the end, which shows how bad it was, they were like, "Uh, I think we're going to break up the band." And within a week, another guy with a better guitar and better amp had taken my place.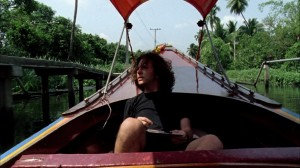 FILMMAKER BIOGRAPHIES
CAMERON CROWE, Director, Writer, Producer
At Age 13 Cameron Crowe began his professional life as a music critic, writing for magazines such as Creem and Crawdaddy, and at 15, became a staff writer for Rolling Stone. In 1979, Crowe (then 22) went undercover as a Southern California high schooler for his book, Fast Times at Ridgemont High. He then wrote the screenplay for the film upon which it was based. In 1989, Crowe made his feature film directorial debut with Say Anything…. His other films include Singles, Jerry Maguire, Vanilla Sky, Elizabethtown and Almost Famous, which earned him an Oscar® for Best Original Screenplay. His newest narrative film, We Bought A Zoo, starring Matt Damon, will be released in December 2011.
BARBARA McDONOUGH, Producer
A self-confessed music junkie, Barbara cut her teeth directing at MTV in 1996, and her directorial approach was shaped through that widely inventive atmosphere. She has directed numerous interviews featuring legendary musicians; Joni Mitchell, BB King, Ray Davies, Iggy Pop, Grandmaster Flash, and Lou Reed among many. In 2000 she was recruited to join the directing roster of the international division of Partizan Midi-Minuit, helmed by Michel Gondry. Almost a decade later, she has directed a wide array of shorts, commercials, music videos and network campaigns, many with notable musicians, athletes, and actors. In 2005 she wrote and directed California Stars, starring John Doe, Joel David Moore, and Brian George and infused with the musical talents of Golden Smog and Jeff Tweedy, and shot by master cinematographer Ellen Kuras. She most recently directed a short documen- tary, entitled Pearl Jam – Ten Revisited, celebrating their debut rock masterpiece. She and Cameron met through an MTV collaboration involving his film Singles, and years later have found themselves full-circle back to Pearl Jam as the catalyst for their feature collaboration. Says Crowe: "She's uniquely visual, forever passionate about music, and her work is filled with heart." Barbara is represented by ICM.
KELLY CURTIS, Producer
Kelly Curtis has managed Pearl Jam since their inception in 1990. Prior to this he had co-managed Alice in Chains (1989-1992) and managed Mother Love Bone (1988-1990), the latter of which whose members went on to form the iconic group Pearl Jam. Always peripherally involved with a host of film projects, Curtis has lent his considerable knowledge of the world of music, surf and skate to such notable films as Lords of Dogtown (2005), Almost Famous (2000), Singles (1992) and Say Anything… (1989).
MORGAN NEVILLE, Producer
Morgan Neville is an award-winning documentary filmmaker. He has made a series of films on important musical topics including The Brill Building, Sun Records, Brian Wilson, Iggy Pop, James Brown. Neville has been nominated for three Grammys for his music films: Respect Yourself: The Stax Records Story and Muddy Waters Can't Be Satisfied, Johnny Cash's America and won a season Emmy® for Hank Williams: Honky Tonk Blues. His last film, Troubadours, premiered at the 2011 Sundance Film Festival.
PJ20 CREDITS
A Vinyl Films production of a
Cameron Crowe film
In association with
Monkeywrench Inc. & Tremolo Productions
Produced by
Kelly Curtis & Cameron Crowe
Produced by
Morgan Neville & Andy Fischer
Executive Producer
Michele Anthony
Edited by
Chris Perkel & Kevin Klauber
Written & Directed by
Cameron Crowe
Featuring
Jeff Ament
Matt Cameron
Stone Gossard
Mike McCready
Eddie Vedder
Also Featuring
Boom Gaspar
Jack Irons
Dave Krusen
Matt Chamberlain
Dave Abbruzzese
Chris Cornell
Creative Producer
Barbara McDonough
Featuring Footage by
Danny Clinch
Josh Taft & Cindy Gantz
Kevin Shuss
George A. Webb III
Duncan Sharp
Additional Footage by
Fernando Apodaca
Brendan Canty
Coan Nichols & Rick Charnoski
Sonia Child
Eric Erlandson & Amy Finnerty
James Frost
Joel Gallen
Justin Kruetzmann
Jason Leung
Mike McCready
Barbara McDonough
The Mueller Family
Heather Parry
Mark Pellington
PJ Road Crew
Paul Rachman
Dave Rat
Jamie Seborer & Larry White
Jim Sheridan
Eddie Vedder
Director of Photography
Nicola B. Marsh
Assistant Editor
Adi Cabigting
Pearl Jam Filmographer & Archivist
Kevin Shuss
Paragon of Inspiration
Eric Johnson
Archive Producer
Susan Ricketts
Line Producer
Jennifer Ellen Mohr
Post Production Supervisor
Susan Novick
Mix/Audio Post Production
Eric R. Fischer at Autumn Audio
Band Mixer/Audio Archivist
John Burton
Re-recording Mixers
Ron Bartlett
D.M. Hemphill
Recordist
Dennis Rodgers
Re-Recording Engineer
Paul Pavelka
Mix Consultant
Brett Eliason
Archival Assembly
Barbara McDonough
Associate Producer
Erin Norman
Archival Coordinator
Andy Zare
Additional Archive Research
Brian Naron
Tami Katzoff
Additional Camera
Dan Ming
Alex Buono
Morgan Neville
Chris Perkel
Matthew Jensen
Coan Buddy Nichols
Eric Charnoski
Liz Burns
Steve Gordon
Nancy Wilson
Assist. Camera
Michael Bosman
Andrew Depung
Ronnie Dennis
Dylan Johnson
Production Sound
Dennis Hamlin
Additional Sound
Frank Lugo
Post Production
Lightpress, Inc.
Online Editor
Shane Dillon
Colorist
Jeff Tillotson
Photo Montage & Credits
Skotstudio, Scott Grossman
Additional graphics
Wesley Belak-Berger
Greg Franklin
Andrew Johnson
Doran McGee
Band Management
Curtis Management
Kelly Curtis
Andrea Dramer
Gary Westlake
Mark Smith
Band Publicity
Vandenberg Communications
Nicole Vandenberg
Sarah Seiler
Allie O'Brien
Monkeywrench Records
Michele Anthony
Christian Fresco
Jay Krugman
John Burton
Jessica Curtis
Ten Club Management
Tim Bierman
Ten Club
Anna Knowlden
Karen Loria
Rob Skinner
Ryan Maxwell
Anna Nunn
Will Broad
Regan Hagar
Adrien Wilhite
Pete Crosby
Erik Sundahl
Kerensa Wight
Kathy Salva
Marina Semel
Pearl Jam Touring Inc.
Mark Smith
Liz Burns
George Webb
Josh Evans
Kevin Shuss