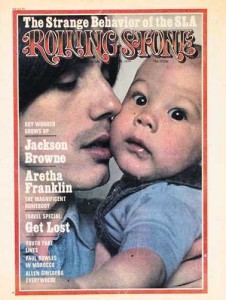 Guess Who's Formula: Luck, Lies, Pizazz
Los Angeles – Burton Cummings, not unlike the other four Guess Who members, could easily be mistaken for a doughy supermarket clerk. After eight years as the co-writer and throaty voice behind such tunes as "These Eyes," "American Woman" and "Share The Land," he hardly looks like what he calls himself – "a seasoned veteran."
"You can't cut 12 albums and not feel like a veteran of some sort," Cummings reflects with typical good humor during a break in the Hollywood sessions for a new album, Road Food. "To really sweat for success and then reach it at a young age is quite nice. All I ever wanted was a few gold records and I got them at 20. Since then, I've really learned what makes this business tick . . . payola, luck, pizazz, schmaltz, lies and Gibson and Stromberg."
The Guess Who are still one of Canada's biggest acts, but their last major American hit single happened three years ago with "Albert Flasher." The recent "Star Baby" came close, but a follow-up 45 success has yet to materialize. Outside Canada. "They'll play anything there," Burton chortles. "Anything we put out. It's always 'Awww, the boys are still at it. Those good old Canadian boys that brought home that American money.' Fuck. I love it, though. The Canadian music industry is like a huge silk sail with no wind. You just gotta realize that there's maybe seven acts in the entire country you can hear more than once without throwing up. All you have to do is form a band and you're automatically one of the top five groups."
But the reason for Guess Who's inability to hit the singles chart may well be a seasoned cynicism on Cumming's part. Tunes written since his split several years back with guitarist/composing partner Randy Bachman have been sarcastic jabs at The Business. Love songs have given way to songs like "Those Show Biz Shoes" or "Glamour Boy" ("Glamour boy/You got rave reviews and you're front-page news/For $37,000 dollars you can look like your sister tonight").
"RCA comes pleading with me," says Cummings, "saying, 'Don't you write any love songs any more?' They really want another huge barrage of hits. I guess I'm a bit bitter, but writing tunes like 'Glamour Boy' is the only way I can get back at this business for making me an old man at 25.
"A lot of people don't understand. 'Whaddya mean 'for $37,000 you can look like your sister tonight'? What are you, crazy?'"
Although "These Eyes" first established the Guess Who in early 1969, the group had already been around for a decade. For many years a popular Winnipeg dance band keeping company with jamming partners like the equally obscure Neil Young ("He used to watch us with his mouth hanging open"), Burton joined in 1965 to replace singer Chad Allen. The personnel remained stable until founder Randy Bachman left in 1970. Cummings, who consequently assumed the leadership role, does not hold fond memories of Bachman.
"I hate the guy," he shakes his head refully. "I'm afraid I couldn't give a damn if Randy Bachman was dead tomorrow. It's a shame because we did write some good tunes together. I just don't know what he's all about. He got religious when he got married and that was the end as far as being able to talk to him. He would be giving us books like Meet the Mormons and telling us that his way of life was the path to eternal happiness. We just couldn't believe it."
The split, however, was hardly only a matter of theological differences. "After American Woman came out," Bachman has explained the falling out, "we had a big conference. I wanted to get into harder rock and Burton wanted to get into Jelly Roll Morton piano stuff."
Burton responds: "He was manipulating this band to coincide with his personal business schedule. He was trying to get some production company going with Steve Cropper in Memphis and when our manager would call asking about bookings, Randy would check out his own schedule and then tell him when we wanted to work and when we didn't want to work. We knew nothing about that.
"He apparently got sick one time, so we got a kid replacing him for about a week on the road while he was at home having surgery . . . or so we were led to believe. We came into New York to play Fillmore East with this kid and we find out that Bachman's been in New York for five days on business. His business. And we were out on the fucking road trying to save the band and not cancel out. So that was that. We tossed him out."
In Bachman's version he had not been on the road because of a gall bladder problem, which prevented him from traveling. He did however plan to rejoin the group in New York for the Fillmore East date, the highlight of the tour, and had arrived in town a day early on doctor's orders. "When they found out I was in town they went crazy," Bachman says. "They didn't give me a chance to explain. It was the straw that broke the camel's back."
Cummings is no more benevolent toward Bachman-Turner Overdrive. "When I see Bachman and Fred Turner, both 250-odd pound guys, slinking and sashaying around onstage . . . it just doesn't work for me. It's like seeing the fuckin' hippos on ice skates doing Nutcracker Suite in little frilly skirts."
The Guess Who bounced back from the loss of Bachman with a strong – and hard rocking – Share The Land LP. Recorded in ten days, the guitar void was filled by Kurt Winter and Greg Leskiw. Leskiw later left the group to spend time with his family. He was replaced by Don McDougall. Bassist Jim Kale was to leave also, succeeded by Bill Wallace.
The band's studio antics, almost always captured on tape by engineer Brian Christian, are legendary. They have been known to record the Leave It to Beaver theme song at least 12 different ways, from ragtime to polka to gospel. Cummings still remembers their half-hour long spontaneous blues parody loosely titled "I Ate Your Younger Brother's Balls for Breakfast, Baby, Fried Them Up with My Two-Minute Eggs."
And it is not uncommon to find Burton, who's still planning to go solo, maybe even do some movie acting, pounding on the keyboards of a remote Winnipeg bar, savagely spitting out the verses to Bobby Darin's classics. "Darin was my idol," he beams. "I really studied Jim Morrison, but Darin was the man. I took the chimes out of my doorbell. Now, when anyone rings it, a tape loop of 'Mack The Knife' starts playing. It keeps going until someone answers the door."
Courtesy of Rolling Stone #161 – Cameron Crowe – May 23, 1974