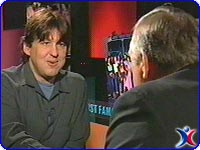 Cameron Crowe Q&A with Jim Ferguson
Cameron Crowe: Having a good summer?
Jim Ferguson: Great, couldn't be better, particularly after seeing "Almost Famous." You're home, San Diego. So welcome home, and I don't know if it was because most the audience welcomed you home, but what an applause at the end. It was great.
Is this story partially based on your life as a youngster?
Crowe: Yeah, I mean I'd love to be coy and say, don't confuse me with the character, but it is me. It's my story, and I was lucky enough to get actors that made it their own and made it a little different, but it is sort of a diary.
Jim: When people asked me when I went back to Arizona, is this about rock music? Is it a coming of age? It is coming of age, but for almost everyone in the film.
Crowe: It's true. I wanted to tell a story about how music affects a family, from the mother to the kid. The mother who hates rock to the kid who sees it as his chance to flee the cocoon. And to just make a movie where people listen to music. Not just playing while they are talking, they are actually quiet and they'd listen to it.
Jim: Just about everybody I've talked to today, they feel that music inspired this movie. This is the star of the film.
Crowe: Well, that's great. It is the star of the film. And I would play it during takes sometimes, and really annoy them I think, but then they would sort of get into it and start to listen. And some of the great looks in the movie that they gave me, are because I'm playing music. When Billy Crudup meets Kate Hudson in the movie for the first time, I'm playing this piece of Bruce Springsteen music called "The Promise," that really kind of emotionally affected Billy and me, so I would play it a lot. But the look on his face, which I don't think would have happened otherwise, is because of that Bruce Springsteen music. The sound guy kept saying, "You're not going to hear the actor's voices, turn the music off!" It's like, "No, it's about the music, it' got to play!"
Jim: "Almost Famous" wouldn't have worked without the casting brilliance of young Patrick Fugit, who plays William Miller, the young journalist who goes off as you did, to work for Rolling Stone. He wasn't the enemy, he was part of that life, wouldn't you agree? He became that family. There's a line that Penny Lane played by Kate Hudson, throws at him. He wants to go home, she says, "You are home."
Crowe: It's families out there, and it was maybe a little bit more back then. It was us against them. Rock was a little less respected, so you were in your own traveling tribe, and it was a family. And back home for Patrick's character is his own family. So its all these families crisscrossing and the things that they all relate to, the one thing in common is music. Music ties them all together. And the songs they love teach them how to communicate with each other. Sounds complicated to talk about, but we finally found a way to make a movie about it.
Jim: Yes you did. Lester Bangs is a very inspirational character to you?
Crowe: Yeah. Lester was one of the great writing voices that America has had. I really know that deep in my heart, and I wanted to put that character up on screen, and thank goodness I had Philip Seymour Hoffman, who really caught that guy. He's listening to Lester on headphones in-between every take, and he was just in a  cocoon of Lester Bangs. Sometimes I got emotional watching him do the part, because we were at the very site where some of those scenes happened, and he really caught the guy, and I just kind of held on and watched that happen.
Jim: You really caught that period of time, which I remember very well. The late 60's and early 70's, you caught that period, you brought those people back to life, and you're even bringing wonderful memories to all the audience that will go see "Almost Famous." And thank you so much for such a great film.
Crowe: Wow, thank you Jim.
Courtesy of Jim Ferguson – October, 2000