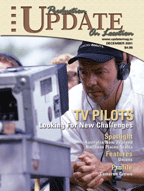 Cameron Crowe: Writing, Directing, Producing and Personalizing His Productions Brings Success
For Cameron Crowe, "the biggest challenge in making a movie is to make films that are personal to the creator, yet still find an audience. It's tough, because there is a big gap between smaller films and the biggest ones. Yet, somehow I think that if you try to make films for one person, that is as important as trying to do something for the entire world," the upbeat Almost Famous filmmaker explains.
Crowe has met that challenge with his latest directorial effort Vanilla Sky for Paramount Pictures, a romantic thriller starring Tom Cruise, produced by Cruise, Paula Wagner and Crowe, who also did the screenplay. With a reported budget of $75 million, it has blockbuster appeal, with the larger-than-life dream-like world setting that uses spectacular New York City locations. And yet Crowe personalizes the love story (based on the Spanish film Abre Los Ojos) and takes the characters (including costars Penelope Cruz and Cameron Diaz) beyond the expected.
The emotional thrill ride filmed for about six weeks in New York during last year's holiday season, with the production using Times Square, Central Park, the Upper West Side, Soho and Brooklyn locations, because Crowe emphasizes that he wanted "the real thing." For Vanilla Sky's most ambitious scene, the city shut down Times Square (from 6 am to 8:30 am on a Sunday morning) so Crowe could film Cruise running through the deserted city, between 42nd and 48th Streets. Crowe gives credit to his cinematographer John Toll and the crew for the unprecedented shot, which used a Steadicam operator perched on a crane to capture the eerie sight.
Actual locations, rather than soundstages or backlots, are preferred by Crowe for his films, whenever possible. For Vanilla Sky, the impressive offices of Vanity Fair Magazine in the Conde Nast Building at 4 Times Square, stood in for the Aames Publishing headquarters used by Tom Cruise's character David Aames. Vanity Fair's editor Graydon Carter even gave up his office, with its panoramic view of the heart of Manhattan, to accommodate the production.
Vanilla Sky (with some interiors shot at Paramount Studios in Hollywood) reteams Crowe and Cruise, who first worked together on the mega-hit Jerry Maguire (also written, directed and produced by Cameron). That film garnered five Oscar nominations, including one for Cruise as Best Actor, and a win for Cuba Gooding Jr., for Best Supporting Actor. Crowe's nominations were for Best Picture as well as Best Original Screenplay. It also earned him a nomination from the Writers Guild of America for his screenplay.
The acknowledgment of his screenplays has always been important to Crowe. Although he wears a trio of hats – as film producer, director and screenwriter, Crowe insists he is a storyteller, first and foremost. He's respectful of the written word, even from other writers, having started out as a professional wordsmith while a mere teenager in high school. Several of his earlier movies were directed by others than himself, and he admits his screenplays "were at their mercy."
SOMETHING TO "CROWE" ABOUT
Crowe's most recent career achievement was winning an Oscar for his screenplay of Almost Famous, based on his early years as a Rolling Stone reporter. He also received a silver medallion from the Directors Guild for directing the film.
Almost Famous "was very personal to me," he points out. "It means a lot to us. You try to do a service to people who are still alive." (Most of the musicians mentioned in the film are not only alive, but still performing.)
That movie, as everyone knows now, was a fictionalized version of Crowe's own life, yet became a film embraced by mass audiences. "It's a loving portrait of my mom, my sister, my own life back then. It's the story of a guy who thinks life was so cool as a teenager, but it showed how uncool life was. That was so risk-taking, about a life that was so autobiographical. But I'd take that risk again."
Born in Palm Springs, California, Crowe was raised in San Diego, and began his career in journalism at the tender age of 15, writing for such rock music publications as Creem and Rolling Stone, as well as Playboy and the Los Angeles Times. He joined the staff of Rolling Stone when only 16, and he began to profile many of rock's most influential artists. While he spent most of his time in San Diego, living with his mother, Elaine, and sister Anita, who became an airline stewardess, Cameron would hitchhike, or use any means to get up to Hollywood to talk to music industry veterans (including Update's own Frank Barron), musicians, journalists – anyone who would give him further information on the fantastic, almost unbelievable rock music scene of the late '60s and early '70s.
In 1979, at 22, Crowe returned to high school, passing himself off as a teenager to gather material for a book he had in mind. The ultimate result was a novel called Fast Times at Ridgemont High, which became a hit movie directed by Amy Heckerling, and gave Crowe his first Writers Guild nomination for Best Comedy Screenplay Adaptation.
Crowe expanded his horizons further by directing his own screenplays, making his directorial debut with Say Anything, followed by the widely-praised romantic-serio comedy Singles, also written and directed by him. Then came the boxoffice sensation Jerry Maguire, along with its many honors.
For something different, the much lauded writer spent 17 months researching and writing the book Conversations with Wilder, a series of interviews conducted with the legendary filmmaker Billy Wilder. The 1999 book was published by Knopf.
GIVING CREDIT TO HIS CREW
Although he now directs his own screenplays, Crowe is fast to credit those who work with him in front of and behind the cameras.
The Almost Famous camera team relied mostly on a static camera, which allowed the actors to drive the scene, a technique Crowe desired. "I collaborated with Oscar-winning cinematographer John Toll, who employed a variety of camera techniques in the course of the filming. Toll is a genius. Before we began filming, I talked to him about how I remembered the '70s, and the feeling I wanted to capture."
Crowe also had nothing but praise for "a great assistant director, one of the legends, Jerry Ziesmer. He did Apocalypse Now, and a bunch of other movies. He did the first movie I ever directed, Say Anything. He really guided me. He's such a well-known guy, and I think he was scared when I asked him to come out of retirement. He stayed under cover during the shoot, but he had so much to do with everything I've ever done, and he's the reason for my Directors Guild nomination for Almost Famous. There are so many guys behind the scenes who are worth talking about."
WORKING WITH CRUISE
While he has a great deal of respect for the behind-the-camera personnel, Crowe also praises actor Tom Cruise "who will spoil you as a director, because all he wants to do is get your script on the screen. He will constantly ask 'is your dream coming true? Am I giving you everything you want?' And I will say 'well, if you have one more in you.' And he'll say 'I have a thousand more in me. I'll go all night long if you want.' And he will."
Crowe refuses to do any acting himself, although often urged by others. "A guy once told me not to go to acting class, and said, 'don't go to acting class because you'll just screw everything up.' I've never been an actor myself, but as for working with actors, it's just a matter of appreciating what they do. Find a way to work together – as musicians, in a way."
Music is an integral part of Crowe's directorial style, and he will play selected music on the set before key scenes in order to create a mood. The technique has been well received by the actors, and even the crews have embraced the idea of having the music playing as they rigged equipment and set up shots for Vanilla Sky. It is all part of Crowe's desire to give his productions a personal touch.
Courtesy of Update Magazine – Frank & Margie Barron – December, 2001