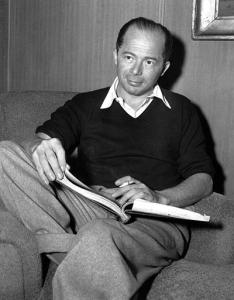 Biography:
For six decades Billy Wilder has created one movie masterpiece after another–as a writer, director, producer, or sometimes as all three. Add this extraordinary endurance record to the fact that he has not limited himself to one genre of film but has applied his talents to romantic comedies, film noir, suspense, farce, and courtroom dramas with equally splendid results–and Wilder's oeuvre becomes not just another brilliant career but the very history of American film.
Wilder began writing for films in Berlin during the late 1920s and arrived in the United States in 1934 with little English in his vocabulary, yet by 1939 he had co-written with Charles Brackett the screenplay to what is arguably the finest comedy of the 30s, Ninotchka. Three years later, he made his directorial debut with another memorable comedy, The Major and the Minor
From then on he would create a series of delicate images never to be forgotten by movie lovers around the world: Gloria Swanson as the legendary Norma Desmond descending the staircase at the end of Sunset Boulevard; Tony Curtis and Jack Lemmon in high heels precariously running away from killer gangsters in Some Like It Hot; a tarted up Shirley MacLaine walking the streets of Paris with her poodle in Irma Las Douce, and, perhaps most memorably of all, Marilyn Monroe surrounded by her billowing white skirt as she cools off by standing on top of a New York subway grate in The Seven Year Itch.
In addition to Charles Brackett, Wilder's other great script collaborator was I.A.L. Diamond, who began working with him in 1957 with Love in the Afternoon. Nominated some 20 times, Wilder has won six Academy Awards: for directing and co-writing The Lost Weekend (1945); and for directing, co-writing, and producing The Apartment (1960), which took Best Picture honors.
Courtesy of Kennedy Center

Filmography:
THE MAJOR AND THE MINOR
1942
Ray Milland, Ginger Rogers
A woman wants to go home from New York, but only has enough money for a child's train ticket. She disguises herself as a twelve-year-old, then falls in love with a soldier that she meets on the train. Paramount expected Wilder's first directorial effort to be a big bomb, and then he'd want to go back to just writing. Fortunately, it was a huge success, and his directing career was off and running.
FIVE GRAVES TO CAIRO
1943
Franchot Tone, Anne Baxter, Erich Von Stroheim
Tone plays a British officer, hiding out in a hotel in the Sahara, who tries to obtain information from a visiting Rommel (Von Stroheim).
DOUBLE INDEMNITY
1944
Fred MacMurray, Barbara Stanwyk, Edward G. Robinson
The quintessential film noir. MacMurray and Stanwyk plot to kill her husband for money from an insurance policy. This film broke with convention and defined a new narrative by making us identify with the killers.
THE LOST WEEKEND
1945
Ray Milland, Jane Wyman, Howard Da Silva
Wilder tackles the heretofor taboo subject of alcoholism in a gritty and realistic manner. Milland is a would-be writer who drinks to avoid facing his mediocrity. Wyman is the love interest who stands by him through thick and thin. Favorite line: When Milland pathetically begs a bartender for just one drink, the bartender replies "Yeah, one's too many and a hundred's not enough."
THE EMPEROR WALTZ
1948
Bing Crosby, Joan Fontaine
Crosby plays a record-player salesman trying to sell phonographs to royalty in Austria.
A FOREIGN AFFAIR
1948
Jean Arthur, Marlene Dietrich, John Lund, Millard Mitchell
Arthur plays a Senator visiting post-war Berlin on a fact-finding mission, who finds more romance than facts. Dietrich is her rival in love.
SUNSET BOULEVARD
1950
William Holden, Gloria Swanson, Erich Von Stroheim
The greatest of all movies about Hollywood. A washed-up screenwriter finds himself in the company of a washed-up silent screen star, who has deluded herself into believing she is ripe for a comeback. Wilder's writing was never before, and never would again be, as sharp as it is here. Lots of cameos, with the pinnacle being Cecil B. DeMille as himself, which seems to be a precursor to Robert Altman'sThe Player. See if you recognize the actor who plays Holden's friend, Artie Green.
ACE IN THE HOLE (aka THE BIG CARNIVAL)
1951
Kirk Douglas, Jan Sterling
The runt of Wilder's litter, this was his most unpopular film with audiences, but a critic's favorite. Based on a true story. A man is trapped in an old Indian burial cave, and reporter Douglas schemes to keep him there to prolong interest in his story. There isn't a single likable person in this film, but I like it.
STALAG 17
1953
William Holden, Peter Graves
The obvious inspiration for the TV series 'Hogan's Heroes.' A group of POWs in a Nazi camp try to figure out who the stooley is that sells information to the Germans. The camp figures it's the cynical Holden. At times funny, at times dramatic, this is one of the great WWII films. Holden won an Oscar as best actor.
SABRINA
1954
Audrey Hepburn, Humphrey Bogart, William Holden
Hepburn plays a chauffer's daughter who has a crush on the son of her father's employer. Only the miscasting of both Bogart and Holden (as a blond playboy!) keep this from being a classic. Hepburn, on the other hand, was perfect in this role. Remade in 1995 by director Sydney Pollack.
THE SEVEN YEAR ITCH
1955
Tom Ewell, Marilyn Monroe
Based on a play by George Axelrod. While a husband and father is home alone for the summer, Marilyn Monroe moves into the apartment above, and wants to spend the night because her air conditioning is broken. Yeah, it could happen. This is the film that gives us the sight of Monroe holding her dress down while a subway grate billows it up around her. Ewell does a great job of carrying the scenes that are just of him, alone, in his apartment, talking to himself (a challenge for any actor.) Interestingly enough, the couple has an affair in the play, but not in the film, due to the strict censorship codes at the time.
THE SPIRIT OF ST. LOUIS
1957
James Stewart
Chronicles the exploits of aviator Charles Lindbergh and his non-stop solo flight from New York to Paris in 1927. Stewart had wanted to play that role for years (he was a pilot himself during WWII), but when the time came to make the film, he was really too old. Other than that, it's an impressive achievement. We spend alot of time in a cockpit with Stewart, listening to his thoughts, and it keeps us entertained throughout.
LOVE IN THE AFTERNOON
1957
Audrey Hepburn, Gary Cooper, Maurice Chevalier
Hepburn plays Chevalier's daughter, who falls in love with playboy Cooper. Enchanting romantic comedy is Wilder's homage to his favorite filmmaker, Ernst Lubitsch.
WITNESS FOR THE PROSECUTION
1957
Charles Laughton, Tyrone Power, Marlene Dietrich
Based on a book by Agatha Christie. Power plays a man arrested in London for murdering an elderly widow. Laughton plays the ailing barrister who agrees to attempt to prove his innocence. One of the great courtroom dramas, with a wonderful performance by Laughton as the stubborn lawyer, and his real-life wife Elsa Lanchester, who plays his equally stubborn nurse. Has the twist ending to beat all twist endings. Even the twist ending has a twist or two.
SOME LIKE IT HOT
1959
Jack Lemmon, Tony Curtis, Marilyn Monroe
One of the funniest movies of all time. Lemmon and Curtis, two struggling musicians, witness the St. Valentine's Day massacre, and dress up as women in an all-female band to hide from the gangsters. Everything any movie or television show has had to say about guys dressing up as women was done here first and funnier. Curtis gives a great Cary Grant impersonation, and Lemmon gives an Oscar-worthy performance (too bad he was competing against Charlton Heston in Ben-Hur).
THE APARTMENT
1960
Jack Lemmon, Shirley Maclaine, Fred MacMurray
Wilder won three Oscars as producer, director and co-screenwriter of this gem, a flawless blend of comedy and drama. Lemmon rises up the corporate ladder by lending his apartment out to his superiors for their extra-marital affairs. Unfortunately, he falls in love with his bosses current girlfriend, Maclaine. Condemned when it was first released as being too cynical, in this day and age, it seems much tamer.
ONE, TWO, THREE
1961
James Cagney, Horst Bucholtz, Pamela Tiffin
This was Cagney's last film until 1981. He probably had to rest for twenty years after starring in this fast-paced comedy that seems to be setting some kind of land-speed record. Cagney is an executive for Coca-Cola in Berlin, who has to deal with the commies on one hand, and an out-of-control bosses daughter on the other. The pace of the film is set from the opening credits, with the furious theme song. A hilarious film.
IRMA LA DOUCE
1963
Jack Lemmon, Shirley MacLaine, Lou Jacobi
Lemmon plays a French gendarme who falls in love with prostitute MacLaine, then goes to great lengths to keep her for himself. A failed attempt to regenerate the magic that Wilder, Lemmon and MacLaine created in The Apartment.
KISS ME, STUPID
1964
Ray Walston, Dean Martin, Kim Novak
Walston is a songwriter who enlists Novak's help in keeping lounge singer Martin in town long enough to sell him a few songs. Martin parodies himself in a character referred to only as "Dino."
THE FORTUNE COOKIE
1966
Jack Lemmon, Walter Matthau
Lemmon is a cameraman injured during a football game. Matthau, in his Supporting Actor Oscar-winning performance, is his shyster lawyer brother-in-law, who schemes to collect insurance from Lemmon's injuries.
THE PRIVATE LIFE OF SHERLOCK HOLMES
1970
Robert Stephens, Colin Blakely
Wilder's version of the life of the famed sleuth.
AVANTI!
1972
Jack Lemmon, Juliet Mills
When Lemmon goes to Italy to retrieve his father's body, he meets the daughter of the woman who died with his father in the car accident. Very disconcerting to see nudity in a film by a director so associated with the censorship-laden golden age of cinema.
THE FRONT PAGE
1974
Jack Lemmon, Walter Matthau, Austin Pendelton, Carol Burnett, Susan Sarandon
Another version of the Hecht-Macarthur play, originally filmed in 1931 as The Front Page, and again in 1940 as His Girl Friday, about a newspaper reporter covering the impending execution of a milquetoast murderer. A perfect Lemmon-Matthau vehicle.
FEDORA
1978
William Holden, Martha Keller, Jose Ferrer, Frances Sternhagen
Wilder again tackles the subject of Hollywood fame with this story about a producer (Holden) who tracks down a reclusive star in an effort to convince her to return to the big screen.
BUDDY BUDDY
1981
Jack Lemmon, Walter Matthau
Matthau is a hitman for the mob who's latest job is being endangered by the suicidal nut in the next hotel room (Lemmon.) Based on a French film, A Pain in the A–. Very funny when it focuses on Matthau's desperate attempt to carry out his job, but seems to drag when the story moves on to Lemmon's marital troubles. That story just isn't funny. But Lemmon and Matthau are one of the great comedy teams of cinema, and when they get going together here, look out.