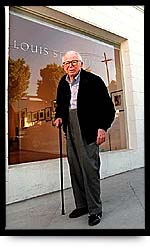 Billy Wilder on women, serious directors, and long life
CAMERON CROWE: You've written women characters so well over the years. You had no sisters. Is there a character who resembles your mother in any of the movies?
BILLY WILDER: No. My mother was different. No, you see, we were not a family of readers, of collectors, of theatergoers. My father was a man who dabbled in many directions. He was an owner of a string of railroad restaurants. In those days we didn't have diners, I am talking about the Austro-Hungarian monarchy. So he had restaurants at various stations, where the trains stopped. The guy came with the bell, "We are staying here for forty-five minutes!" People are stuck there. The menus are all printed already. They ate there.
CC: Did you ever feel the desire to do an autobiographical movie, about your childhood?
BW: No. I graduated from the worst high school in Vienna. The students were either retarded, or they were crazy geniuses, absolutely. And the sad thing was that when I came to Vienna the last time, three years ago, I told the newspaper people, "Please write, anybody who went to school with me, please call me, I am at the Bristol Hotel." Not one called me all day. Five years before that, when I was in Vienna, I had a big lunch, and I told the concierge, "If somebody asks for me, I'm not here. I'm going to bed." Fifteen minutes later, the phone rings, and he says, "I'm very sorry, Mr. Wilder, but there is a man who went to school with you — his name is Martini." And I said, "Martini, of course! Martini! Have him come up!" Then the guy comes there. Bowed forward. Bald-headed. "Hello, Mr. Wilder." And I say, "Martini! Do you remember this guy, this professor? . . . Do you remember these things!?" [Quietly:] And he looks at me and says, "I think you are talking about my father. He died four years ago." He had the son that looked like him. So the guys are gone, you know.
This is ninety years old. If somebody would have come to me when I was twenty, and said, "How would you like to get to be seventy?" I would have said, "You've got a deal! Seventy!" Now I am twenty and a half years older than that, and nobody will make that bet anymore. [Laughs.]
CC: Did you have a sense that you would live a long life?
BW: Not at all. No. I've had so many crazy things happen in my life. But it would not have ended by suicide. It would not have been being caught with somebody's wife, or something like that. This is not my style. I'm too clever for that. I wrote that too often.
CC: It's interesting, because when I first became a director, somebody said to me, "Well, you know, your life expectancy just went down, because the average age of a director is fifty-eight."
BW: Don't tell anybody my age. Shhhhhh.
CC: You think to yourself, I could be a dentist and live twenty years longer.
BW: I believe it. A director — a serious director, not a director of television, or something like that — it eats you inside. You just have to absorb so much. And the thing is that you have to swallow so much shit from people. It's a very, very simple formula. You've got to live with them, once you've started with them. Because if the picture is half-finished, if there's anything wrong, they're gonna throw me out, not one of the actors.
CC: I had that thought when Tom Cruise signed on for Jerry Maguire. My first thought was that if there were a serious problem, I would be gone and he would still be there. I would wake up on a desert island, someone would put a drink with an umbrella in my hand, and I would say, "Excuse me, but wasn't I directing a movie with Tom Cruise yesterday?" [We laugh.]
BW: But that did not happen. He is a thinking actor. He makes it look effortless. For example, Rain Man. It took several years for everyone to realize that the roles could have been switched. That is a movie I would have liked to have seen — the crazy guy is the good-looking one. The ease in which he handles the hardest roles . . . Tom Cruise, he's like Cary Grant. He makes the hard things look simple. On film, Cary Grant could walk into the room and say "Tennis anyone?" like no one else. You don't value the skill until you see a less skilled actor try the same thing. It's pure gold.
Copyright © 1999 by Cameron Crowe. All rights reserved.