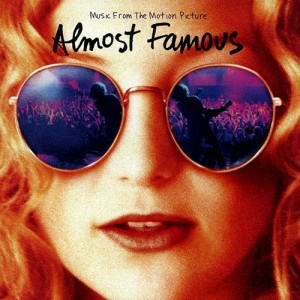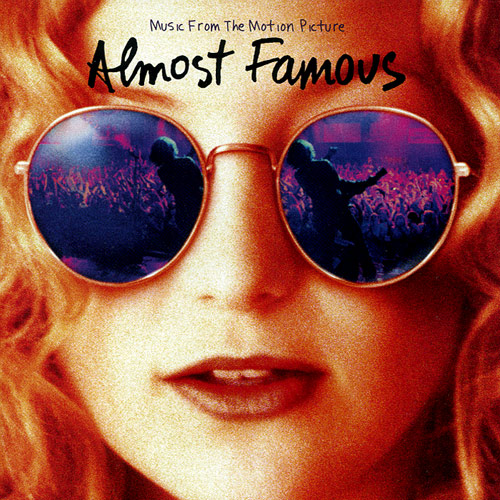 Track Listing:
1.  "America" – Simon & Garfunkel
2. "Sparks" – The Who
3. "It Wouldn't Have Made Any Difference" – Todd Rundgren
4. "I've Seen All Good People: Your Move" – Yes
5. "Feel Flows" – The Beach Boys
6. "Fever Dog" – Stillwater
7. "Every Picture Tells A Story" – Rod Stewart
8. "Mr. Farmer" – The Seeds
9. "One Way Out" – The Allman Brothers Band
10. "Simple Man" Lynyrd Skynyrd
11. "That's The Way" – Led Zeppelin
12. "Tiny Dancer" – Elton John
13. "Lucky Trumble" – Nancy Wilson
14. "I'm Waiting For The Man" – David Bowie
15. "The Wind" – Cat Stevens
16. "Slip Away" – Clarence Carter
17. "Something In The Air" – Thunderclap Newman
Produced By: Danny Bramson
Executive Produced By: Todd Homme
Released: September 12, 2000
Label: Uni/DreamWorks Records
Notes:
Crowe and Bramson scored a major coup in securing a Led Zeppelin recording "That's The Way" for the movie and soundtrack album. Robert Plant and Jimmy Page have never licensed one of their performances to a soundtrack; virtually all of the material they've recorded has been issued on their own Swan Song/Atlantic label. Crowe and Bramson flew to London in May to screen Almost Famous for Plant and Page, who were so moved by the film that they not only granted use of "That's The Way" for the soundtrack, but also gave their blessing for Crowe to use four other songs in the movie: "The Rain Song," "Misty Mountain Hop," "Tangerine" and "Bron-Yr-Aur."
VH1 aired a special version of Elton John's "Tiny Dancer"  music video which featured the tour-bus scene lifted straight from the film, complete with scripted dialogue included the vocal of actors Billy Crudup, Noah Taylor, and Kate Hudson. "Cameron made an amazing movie that is just sweet and tender and fun," says Wayne Isaak, VH1's executive VP of talent and music programming. "When "Tiny Dancer" comes on in the movie it's pretty touching, and Elton is still a relevant artist to us, so we broke it out and we're playing it a lot."
DreamWorks also supplied FM stations with the original tune and the cast sing-along version, similar to Bruce Springsteen's "Secret Garden," from Jerry Maguire. "Cameron is a rarity," says DreamWorks marketing exec Steven Baker. "These songs aren't just convenient; he doesn't put them in the film just because they might be a hit. The lyrics may be as important to Cameron as the words he's writing for the actors. When you combine the two, that song makes you feel good."
A promo vinyl version that was limited to 1,000 copies was released by DreamWorks. Here's some pics:
By popular demand, here's the song listing for Almost Famous, in order of appearance:

01. The Chipmunks – The Chipmunk Song (2:23)
02. Brenton Wood – The Oogum Boogum Song (2:34)
03. Simon & Garfunkel – America (3:43)
04. The Who – Amazing Journey/Sparks (4:26)
05. Iggy Pop – Search And Destroy (3:31)
06. Todd Rundgren – It Wouldn't Have Made Any Difference (3:53)
07. Black Sabbath – Paranoid (2:54)
08. Jethro Tull – Teacher (4:08)
09. Yes – Roundabout (8:33)
10. Yes – Your Move (3:14)
11. The Beach Boys – Feels Flows (4:46)
12. Joni Mitchell – River (4:05)
13. Stillwater – Fever Dog (3:12)
14. Black Sabbath – Sweet Leaf (5:05)
15. Rod Stewart – Every Picture Tells A Story (5:57)
16. Pete Droge – Small Time Blues (2:54)
17. Thunderclap Newman – Something In The Air (3:55)
18. Little Feat – Easy To Slip (3:20)
19. Raspberries – Go All The Way (3:24)
20. The Seeds – Mr. Farmer (2:53)
21. Led Zeppelin – Stairway To Heaven (8:03)*
22. The Allman Brothers – One Way Out (4:57)
23. The Guess Who – Albert Flasher (2:27)
24. Stillwater – Love Thing (4:15)**
25. Lynyrd Skynyrd – Simple Man (5:58)**
26. Led Zeppelin – That's The Way (5:37)
27. Stillwater – Hour Of Need (4:38)
28. Neil Young – Everybody Knows This Is Nowhere (2:30)
29. Fleetwood Mac – Future Games (8:20)***
30. Neil Young – Cortez The Killer (7:33)***
31. Deep Purple – Burn (6:05)
32. Stillwater – You Had To Be There (3:55)
33. Blodwyn Pig – Dear Jill (5:16)
34. Elton John – Tiny Dancer (6:16)
35. MC5 – Looking At You (2:50)
36. Steely Dan – Reeling In The Years (4:39)
37. Nancy Wilson – Lucky Trumble (2:42)
38. David Bowie – I'm Waiting For The Man (5:43)
39. Stillwater – Love Comes And Goes (3:50)
40. Cat Stevens – The Wind (1:41)
41. Jimi Hendrix – Voodoo Child (Slight Return) (5:15)
42. Clarence Carter – Slip Away (2:42)
43. Led Zeppelin – Misty Mountain Hop (4:38)
44. Free – Wishing Well (3:43)***
45. Stillwater – Chance Upon You (3:50)***
46. Dr. Hook – Cover Of The Rolling Stone (2:55)
47. Elton John – Mona Lisas And Mad Hatters (4:58)
48. Stevie Wonder – My Cherie Amor (2:53)
49. Led Zeppelin – The Rain Song (7:39)
50. Led Zeppelin – Bron-Yr-Aur (2:06)****
51. Led Zeppelin – Tangerine (3:10)
*Though not "officially" in the film, this is where this would have gone if Cameron had his way.
**These songs appear in different orders depending on whether you watch Almost Famous or Untitled. In this case, the running order of Untitled has been given priority as "Love Thing" occurs earlier in the film's chronology than "Simple Man."
***These two tracks appear at the same time in the same scene in both Almost Famous and Untitled. Almost Famous has been given first priority on order as it was the first official release of the film.
****This track is only in Almost Famous, not Untitled.