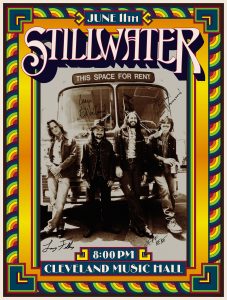 Rock 'n' Roll School
There was no character in the film, individually or as a group, that was more important than the band Stillwater. To that end, Crowe enrolled actors Billy Crudup and Jason Lee and musicians Mark Kozelek (Red House Painters) and John Fedevich in what affectionately became known as Rock and Roll School. The "headmaster" of this unique tutorial was none other than Peter Frampton, musical consultant for Almost Famous. His album Frampton Comes Alive! had been the best-selling live album of all time… and just happened to feature liner notes written by a young journalist named Cameron Crowe.
Frampton recalls, "When we recorded Frampton Comes Alive! in 1975, my management told me about this whiz kid who was 16 and already working at Rolling Stone. They suggested I play him the album, and if he liked it, he might do the liner notes. I remember sitting with Cameron in the studio-just like William with his notepad in the film- and we were fast friends from then on. And now I'm working for him," he adds laughing. "I wanted Peter to be a part of this movie," Crowe says. "I'd always loved the guy, and what he did on this picture was very selfless. His joy of music infected everyone on the set. Peter helped these guys become a real band, not just go through the motions. He gave them practical lessons on playing and singing, but more importantly, he taught them the heart of a musician."
While Kozelek and Fedevich were real musicians who played bass and drums respectively in their own bands, Crudup and Lee immersed themselves in a crash course in music basics, as well as rock and roll stage attitude. Frampton offers, "Coming into the film, Billy knew how to hold a guitar and a few chords and some fingering…very basic stuff. We didn't have a lot of time before shooting, so I wasn't able to teach him the ABCDEs of guitar, all the way through to Z; we sort of went A-D-K. But he was such a willing pupil, it became almost an intuitive thing. He was jamming with the band incredibly fast. It was absolutely amazing. What thrills me the most is that Billy picked up the guitar for the role, but hasn't put it down, and has permanently joined the ranks of rock and roll guitarists." After weeks of rehearsal, the new band took to the stage of the San Diego Sports Arena for their first concert scene. The backstage area, stripped of its contemporary advertising and decoration, became a hallway of memories of the arena where Black Sabbath, The Allman Brothers and, of course, Peter Frampton, were among those who played to sell-out crowds in the 1970s. Colorful rock and roll lights hung on trusses above the stage, which was loaded with vintage Marshall amplifiers. Classic Gibson and Fender guitars waited in the wings. It all made for a thrilling, nerve-jangling setting for the actors-cum-musicians to make their debut as Stillwater.
Writing the Songs
In addition, Crowe and Wilson collaborated to write several of the original songs performed by Stillwater in the movie, including "Fever Dog," "Love Comes and Goes" and "Love Thing," while Wilson's sister, Ann, joined the songwriting team on "Chance Upon You." Peter Frampton also contributed to Stillwater's "discography," co-writing the songs "Hour of Need" and "You Had to Be There."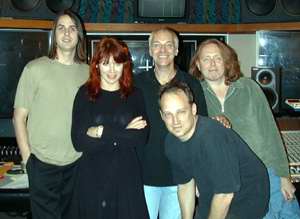 Nancy Wilson, Peter Frampton & Co.
The Right Sound
Pearl Jam's Mike McCready is the real talent behind Russell Hammond, the band's charismatic lead guitarist, while Heart guitarist Nancy Wilson plays rhythm guitar, Jon Bayless on bass and Ben Smith on drums for the group. Lead singing duties went to Marti Fredericksen. Fredericksen has produced and written songs with many artists including Aerosmith, Def Leppard, Carrie Underwood and Cheryl Crow.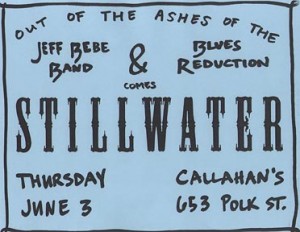 Flyer and pictures of the very first performance by Stillwater in 1971.
Pictures were allegedly taken by Ed Vallencourt's sister Andrea.
Wilson, who also scored the film, says she recruited talent with classic rock roots (Frampton) and contemporary know how (McCready), because she knew she wouldn't create a believable sound otherwise. The goal was to make a band "that's really good, but not all the way formed yet," she tells EW.com. "An 'opening for Black Sabbath' kind of sound." And she also wanted to complement the movie's satirical — if loving — take on rock & roll Über egos. "We had to walk the line between parody and something that sounds legit," says Wilson. "The lyrics and music had to be likable, but the humor had to be tucked in there, too. We couldn't just go totally 'Spinal Tap."'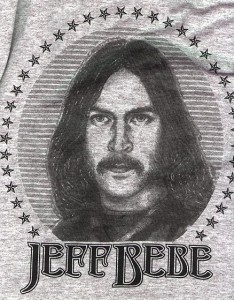 ULTRA-rare Jeff Bebe T-shirt from the late sixties/early seventies.  There were persistent rumors that Bebe had these made up long before he was in a band.  The truth is probably that these were from around the time of the Jeff Bebe Band days.
To achieve Stillwater's sound, Wilson composed the score while listening to collections of road tapes she and Cameron had made during the '70s — to be "steeped in the feelings of those songs and sounds." Likewise, instead of using the latest digital technology to produce the group's tracks, she employed old style analog mixing equipment, tube amplifiers, and tube microphones. "That's the authentic gear that would have been used at that time," she explains. Wilson says she favors the "warmer" tones this '70s production style produces: "To me, it's like the difference between video and film. Film is deeper, richer. Video is a little flatter, more brittle."
In the end, of course, Stillwater's effect also hinges on whether the group looks and acts like a real '70s rock band. For this, Wilson and Crowe drew upon their shared experiences traveling with what she calls the "rock & roll circus." While Wilson long ago abandoned the grueling tour schedule that bands like the fictional Stillwater must maintain to make their name, she hasn't forgotten the camaraderie, rivalry, and music industry exploitation she experienced. "I toured for 20 years once, " she jokes. "Being on stage, I miss that, but the touring I don't. [Heart] used to tour in the most inhumane way, for years without any breaks. One of the reasons that so many rock people are so emotionally stunted is because of that lifestyle. There's no time to grow up!"
Animation Series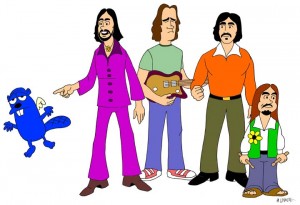 1974 almost saw the debut of Stillwater and Friends, a pilot produced at the height of the bands popularity by Mark Livolsi Productions for CBS.  Designed for Saturday mornings, the show focused on the four members of Stillwater as they fought white-collar crime using their superpowers.  The band's irreverent sidekick was a blue beaver named Fuddman, who could fly and predict fluctuations in the market.  Despite a theme song written by Loggins and Messina, and the voice of Fuddman being provided by Elliot Gould, the show was shelved.  Here is an ultra-rare animation still from the pilot.
Misc.