Release Date: February 7, 2006
Aspect Ratio: 1.85:1
Sound: English Dolby Digital 5.1, English 2.0, French 5.1
Subtitles: English, Spanish
Extra Features:
"Training Wheels" featurette (2:17)
"Meet the Crew" featurette (2:37)
Two Extended Scenes

Rusty's Learning to Listen Part 8 (3:36)
Hanging with Russell in Memphis (7:28)

Photo Gallery by Neal Preston
Two Theatrical Trailers

Bad Day (2:31)
Drew (2:57)
Notes:
Best Buy released an exclusive Elizabethtown Bonus DVD to coincide with the theatrical release. It included the following special features:

Elizabethtown trailer
Cameron Crowe on Elizabethtown
The Journey to Elizabethtown

The Music of Elizabethtown

Special 5 minute first look at the film!

30 seconds in Elizabethtown

A 2nd Best Buy Bonus Disc was included with the DVD release. It includes the exclusive 13 minutes making of featurette "On the Road to Elizabethtown".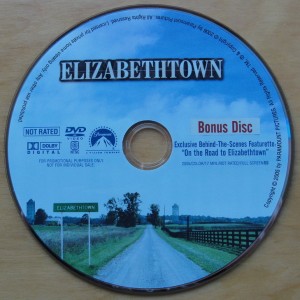 DVD Menus: