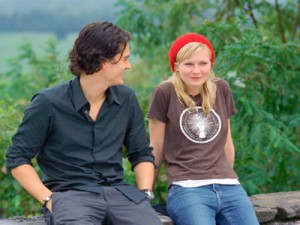 A uniquely crafted comedy set in the key of life, "Elizabethtown" is the story of an unexpected romance that develops against the backdrop of a hilariously elaborate memorial. A life-affirming, comic fable that takes on matters of life and death in a suprising and heartfelt way, "Elizabethtown" is the journey of a young man turned in an unexpected direction and the woman who helps him brighten his outlook on the world around him.
Paramount Pictures presents a Cruise|Wagner-Vinyl Films production, a Cameron Crowe film, "Elizabethtown." The film stars Orlando Bloom, Kirsten Dunst, Susan Sarandon, Alec Baldwin, Bruce McGill, Judy Greer, Jessica Biel and Paul Schneider. Written and directed by Cameron Crowe, the film is produced by Tom Cruise, Paula Wagner and Cameron Crowe. Donald J. Lee, Jr. is the executive producer. John Toll, ASC is the director of photography. Nancy Steiner is the costume designer, Clay A. Griffith is the production designer and David Moritz is the film editor. Nancy Wilson is the composer.
"Elizabethtown" will be distributed by Paramount Pictures. Paramount Pictures is part of the entertainment operations of Viacom Inc., one of the world's largest entertainment media companies and a leader in the production, promotion and distribution of entertainment, news, sports and music.
The Production
"How do you say goodbye to someone you've barely said hello to?" asks writer-director Cameron Crowe in his new film, "Elizabethtown." Crowe, who won an Academy Award® in 2000 for his original screenplay for "Almost Famous," again draws on his own experiences – the emotions he felt at his father's unexpected passing – to inspire a motion picture. "Elizabethtown" is about a quiet Oregon shoe designer who gets to know his father and his own family roots only after his dad's death. He is aided in his journey by an unstoppably optimistic woman, and a host of family members, who combine in unique ways to teach him what's it's like to be truly alive.
Crowe says that one of his goals with "Elizabethtown" was to make the type of film his father liked best: one that could achieve genuine emotion but always with humor close at hand. "A movie that could blend tears and laughter… that was his favorite combo," says Crowe. "He and my mom actually had a name for that very special mix, they called it 'Bread and Chocolate,' after a foreign film they'd fallen in love with. Later, as a director, it became one of my favorite mixes too – a movie that introduced you to characters who felt real, who took you into their lives and when that movie was over… you missed those people you'd met two hours earlier."
Producer Paula Wagner says, "Besides being one of the great writer-directors of our times, Cameron Crowe is also a chronicler of truth: truth told with a little whimsy, a lot of charm, and great heart. Cameron somehow allows you to laugh at the human foibles of the character and then, a few moments later, shed a tear or two as well. In 'Elizabethtown,' Cameron takes us on such a personal journey – and he invites us to feel that the journey is our own."
"Cameron has an ability to take life and put it on the screen," says Orlando Bloom, who takes on the role of the central character, Drew Baylor. "He makes it so real and so human that it just breaks your heart and makes you laugh all at the same time."
Kirsten Dunst, who plays Claire, the passionately positive flight attendant who changes Drew's life, agrees. "This movie is about life. It's not just a comedy or a just a drama or just a romance – it's just life. It's all about the intimate moments between people. It has so many different stories combined. It's unpretentious and sometimes almost 'slice of life' in its reality. But if you look closely, every line and every action means something. It's a Cameron Crowe movie."
In 1989, Crowe had just seen the theatrical release of his directorial debut, "Say Anything." The movie had been released quietly, with little fanfare. It's fortunes changed suddenly when the movie received an important early rave review from Siskel and Ebert. Crowe's father was visiting family in Kentucky, having just seen the pivotal positive review and was in the midst of sharing the great news with family members, when he unexpectedly died of a heart attack. It was a blow for the young filmmaker and it left a lasting impression on him.
Several years passed and Crowe's career continued to rise as he wrote and directed films like "Singles," "Jerry Maguire," "Almost Famous" and "Vanilla Sky." All of Crowe's screenplays possess a very personal connection to the filmmaker and "Almost Famous" was no exception. The story, a dramatization of Crowe's own early years as a writer for Rolling Stone, was critically lauded and garnered Crowe an Academy Award® for best screenplay. All of the performances were topnotch, but Frances McDormand's portrayal of the mother in that film stands out as a quirky-yet-loving homage to Crowe's own mother, Alice. With "Elizabethtown," Crowe found it was time to honor his father.
"It's a funny thing," says Crowe, "but from the very beginning, I'd always resisted writing very personally about my own life and family. Even the books I loved growing up were rarely first-person stories. Then, when I turned 18, I wrote an article for 'Rolling Stone' called 'How I Learned About Sex.' It was under assignment, I had run out of other ways to tell the story. I wrote it in first-person. It was instantly a breakthrough for me. People responded resoundingly, immediately, wrote me letters. Friends and editors said, 'I felt like you were writing about my life too.' And it's happened consistently ever since. The more personal the story, the more it seemed to matter to people. After 'Almost Famous,' I was asked a lot – what about your dad? What was he like? I'd written a short story about him called 'My Father's Highway.' It was one of my favorites, though it lived in my drawer. And then one day…"
It was the summer of 2002, shortly after the release of "Vanilla Sky," and Crowe was on the road touring with his wife, Nancy Wilson, of the rock band Heart. He found himself on a tour bus traveling through Kentucky and was struck by the intense beauty of the landscape. The last time he saw what he calls "these electric blue hillsides" was when he returned for his father's funeral in 1989. That was all the inspiration he needed. As Crowe recalls, "I dropped off the Heart tour, got a rental car, got lost in Kentucky, and wrote the whole story for the script in a burst." For Crowe, telling this story was an extremely personal and often emotional endeavor. It was also a feast of colorful characters, and a vivid glimpse of life and loss and inspiration in modern America. "I always liked the idea of telling a story populated with failure and fiasco but in the middle of it is a person who exists only for love," continues Crowe. "I often write about these characters because they're heroes to me – they breathe in failure and spit it back out and move on. They believe in carrying on with life and honoring positivity. Besides, the other option is a lot darker and usually not as much fun."
In the film, Drew is at the center of his shoe company's fiasco when he learns that his father has died half a continent away. He is assigned by his mother to travel to Kentucky, retrieve his father's body, and bring him home to Portland, Oregon. That's when Drew runs headfirst into what Crowe calls the film's "messenger of love," Claire, a flight attendant with a mission: helping someone in trouble. "She immediately makes a project out of him," Crowe says.
Dunst was attracted to the role by the director's genuine feeling and the honest emotion of the film. She says, "I hope that we made a beautiful story that people will really respond to and get emotionally moved by."
"Even though Drew is having a terrible day, he is not ready for the news that he receives," says Crowe. "The career problems he's facing at the beginning of 'Elizabethtown' are not real problems, at least not worth the life and death value we tend to assign most daily disappointments. The real problem arrives and it IS life and death. Drew's dad is dead and he never got to know his dad while his dad lived. Like most of us, we assume that somewhere down the line we'll be able to know our parents as adults, as equals… and we'll do all those things together that we put off, year after year. With Claire's inspiration, and an elaborate map, Drew finally comes to know his father, and himself, on that long-delayed get-together, even though one of them is in an urn. It's never too late…"
"The movie ended up almost exactly the way I imagined it when it first arrived as an idea," continues Crowe. "It starts with an ending, and it ends with a beginning" and hopefully you might leave the theater and look around for a moment and two and maybe think, 'I miss those people…"
The Characters
It is only after his father dies that Drew Baylor – the young man at the center of "Elizabethtown" – begins to know his father and to explore his own rich family tree. He is aided in his journey by Claire, the "warrior of optimism" he meets on his way to the memorial in Elizabethtown, Kentucky. The rich mix of comedy and drama makes it a movie experience not quite like any other and one uniquely that of a Cameron Crowe film.
"I remember thinking, 'Wow, we're making a really special, heartfelt story that I think a lot of people will be able to relate to,' says Orlando Bloom, who plays Drew. "When you're sitting in the theater and you see somebody coming to terms with life and death, success and failure – which is everything that Drew does – it feels freeing, because you realize that these emotions escape no one."
Bloom recalls Crowe's vision for the character as "so specific and detailed but so loose and free. It is a very incredible way to work – you know he's got all the angles covered."
Paula Wagner notes, "Orlando is a truly gifted actor. He inhabits the role of Drew with an energy and insight that makes for a transcendent journey. He brings a beautiful subtlety to his character that is at once charming and humorous as he takes us on the journey to Elizabethtown and back. His world opens up with the reflection of love and family that Drew's father held so dear and Claire's character so remarkably infuses into his world. Through his collaboration with Cameron, Orlando successfully accomplishes the incredibly challenging role of a man on a journey in search of his truth. He beautifully reaches an emotional catharsis that allows the audience to share in the moment. This is such a unique performance. No one has seen Orlando quite like this before. He conveys such complexities so effortlessly."
"Elizabethtown" marks the second collaboration between Crowe and Bloom. Crowe had previously directed a 30-second spot for The Gap that featured Bloom and Kate Beckinsale. Cameron was impressed with the actor (who had been seen only in "Lord of the Rings: The Fellowship of the Ring" and a small role in "Black Hawk Down") and the two made a pact to work together in the future.
At Crowe's suggestion, Bloom also spent hours studying classic relationship movies like Billy Wilder's "The Apartment" and George Cukor's "The Philadelphia Story." Another favorite was William Wyler's "The Best Years of Our Lives." Bloom watched "The Apartment" numerous times, as did nearly every actor in the film. Bloom recalls the director's enthusiasm for the film: "He would tell me, 'Just watch Jack Lemmon.' Drew has the heart of Jack Lemmon and, on a good day, the elegance and style of a young Cary Grant." As a result of the multiple viewings, Crowe relates, "Orlando can do a mean Jack Lemmon imitation. But most importantly, he has what the great actors have: heart and soul and humor and the vulnerability to put it all out there."
But the most important result of this take-home work was that it helped him get into the spirit of those classic Hollywood films to which "Elizabethtown" pays homage. "Movies like that aren't about the visual effects and explosions – they're human stories about family, about life, about death. I think that's the kind of movie Cameron makes." Many of Bloom's roles have required the actor to ride horses, wear elaborate period costumes and master difficult stunt work with weapons and hand to hand combat. For "Elizabethtown," the actor's biggest physical challenge was to lose his famous British accent; Bloom plays his first role as an American in this film. He worked diligently on set and off to perfect the accent and credits his ability to lose his accent in large part to his dialect coach and to Crowe's focused concept of the character.
For the role of Claire, Crowe knew he would need a radiant presence capable of becoming, in his words, "the soul of the movie, a character that is pure and simply a messenger of love." As production began, Cameron was pleased to find that his instincts regarding Dunst were accurate, noting that "she's finely tuned and amazingly instinctive." Each new scene took him to new levels of appreciation for her attitude and technique. "It was a blast working with Dunst," Crowe remarks. "There's nothing wasted in her acting."
Dunst recalls, "It was one of the best characters that I've ever read for a woman my age – it was so well written. It was just really easy for me to just slide into these words." She was drawn to Claire's constant life perspective: "She's not self-deprecating at all; in fact, she's very positive all the time. She's really just there to help the other person – I can relate to that."
Claire is an airline attendant who takes her job very seriously. "She's the type of girl who's there to make people happy and help people," says Dunst. Portraying an airline attendant came easily for the actress as her mother worked as an airline stewardess in the 1960s and '70s. "It's in my blood," the actress jokes.
Working with Bloom was also a positive experience for Dunst. "He has such a vulnerability about him and such a sweetness. He's not jaded at all. He's just so easy to be around because he's a dork like me; neither of us had to try to be cool with each other. It was just so very easy."
"Kirsten's portrayal of Claire in 'Elizabethtown' is flawless and honest," says Wagner. "Besides being a consummate professional, she is truly a naturally gifted actress who dedicates herself to finding the unmistakable truth that brings her characters to life. In Claire, she creates a unique individual – although we have not met her before, we feel as though we have known her for years. As Claire says, 'I'm impossible to forget but, I'm hard to remember.'
Like her co-star, Dunst raves about working with Cameron Crowe. Both actors tout his ability to make the set comfortable and safe. As Dunst describes it, "I've never worked with a director who's been so involved in my performance. The tone he sets is a very safe atmosphere and everybody is so supportive."
For the part of Hollie Baylor, Drew's recently widowed mother, the director chose veteran actress Susan Sarandon. For Crowe, the Academy Award® winning actress's wide range of memorable roles in many different kinds of films made her the perfect choice to portray the character described in the screenplay as "an earthy woman with a restless intellectualism – a brainy seeker of truth and knowledge."
"Susan Sarandon is iconic as a movie star," says Crowe. "She brings a lot of power. She has captured people's hearts – she plays characters that people bring into their homes; they make a personal connection with her."
Sarandon says her part calls on her to be both strong and frail while she deals with the devastating news that her husband has died. Initially, Hollie crumbles under the pressure and enlists her oldest son to handle the details. At the memorial service, she is able to gather the strength to move forward and begin to live a life without Mitch.
During production, Crowe became even more of a fan, noting that her scenes with Judy Greer, who portrays her daughter Heather, have "magic to them. I can feel the story of the movie in all their shots." Sarandon felt strongly about fitting the part and becoming one of the Baylor family. When she first met Orlando and Judy Greer, who plays her daughter, she looked into their eyes and stated with a laugh, "Yep, we look like a family." The role required her to expand her already impressive skill set to include tap dancing. Hollie has a very moving scene at her husband's memorial in which she dances a soft-shoe number to the tune of "Moon River."
"When her husband passes, Hollie gets a little lost… but she's a strong woman — she's going to get through it," says Sarandon. "I admired her resolve; Cameron wrote a beautiful role and it was a dream to work with him. He creates an atmosphere conducive to taking chances. And he was passionate about this project. I was proud to be part of this trip and was grateful to be given the opportunity to unleash my dormant tap dance monster."
Orlando Bloom's experience working with Sarandon made a huge impression: "She just rocks in this role… she takes this sort of neurotic and terribly painful, heart-torn woman and puts this brave face on it… she's strong and you know she's going to survive… and get it all done."
The cast of supporting actors is filled out by a number of accomplished actors, some well-known veterans and others talented newcomers. Alec Baldwin portrays Phil, Drew's boss at Mercury Shoes. In addition to his many starring roles, Baldwin has made a recent career of scene-stealing supporting appearances.
Phil runs Mercury Shoes with a confidence and serenity that has a distinct Zen Buddhist flair – but it's an attitude that may not be completely genuine. "I think Phil has been reading a lot of Eastern stuff. There's this self-conscious Asian, Zen-ed out quality to Phil's marketing and his whole universe," says Baldwin. "One minute it's Zen Buddhism and the next minute it's Sun-Tzu and The Art of War. For Phil, it's whatever works – whatever gets that stock price up."
A mega-successful businessman who must make a very difficult decision, Phil and Drew share an almost father-and-son like relationship – until Drew's new shoe design brings complete catastrophe to the company. Phil then very methodically explains that Drew must take the fall and fires him – all in the most serene-yet-straightforward manner. "Phil is one of those guys who's defined by huge success and an ability to be a good leader by bringing all his people into this world around him.
"Everybody thinks they're working for a father figure, but the father figure disappears quickly when he sees you identified with failure," Baldwin continues. Baldwin had wanted to work with Cameron Crowe for years and considers himself lucky to have the opportunity. As Baldwin puts it, "Cameron is such a wonderful writer – he has such an honest way of writing. He is such a sweet guy – clear, enthusiastic and adventurous and he provides you with that kind of environment where you feel you can try anything."
"I'm a huge fan of Alec's," says Crowe. "Watching him is like cinema candy, and you can't get enough. I wasn't sure the part was big enough for him. But he sent me a note after 'Almost Famous' and wrote that he was a huge Led Zeppelin fan. There was daylight there."
Jessica Biel plays Ellen, Drew's girlfriend, who dumps him upon the ruinous debut of the Späsmotica, the sneaker that Drew has spent the last eight years of his life perfecting. The character of Ellen was a difficult task for any actress, as she must do some outwardly callous things but still remain likable. Biel was honored to join the cast of respected actors and can't compliment Crowe's style of direction enough. "He brings things out of you that you never thought were really there; it feels great," says Biel.
Hard working character actor Bruce McGill is Bill Banyon, a former friend of Mitch Baylor who has a shady past and swindled Mitch out of a large sum of money at one time; as a result, the Baylor family, especially Hollie Baylor, hates him. McGill has worked with some of the industry's most respected directors and Crowe made it clear that he wanted no one else for the part. McGill recalls, "I found it irresistible and I'm so glad to have been in the film. I knew as soon as we started rehearsing that this was an unusual project with a great depth of texture to it."
Judy Greer is Drew's stressed out sister Heather Baylor, who is forced to witness firsthand their mother's grief and subsequent management of it. Crowe is a huge fan of Greer's and, as filming progressed, he observed that her scenes with Sarandon had a very special quality. "They make a great team – funny and deep," says the director.
After screening the film "All the Real Girls," Crowe chose relative newcomer Paul Schneider to portray Drew's cousin, Jessie Baylor. The role is pivotal because, in many ways, Jessie serves as Drew's interpreter and guide while he is in the midst of the Baylor family experience. Jessie is somewhat lost in his life and ends up taking his own journey as the film progresses. The single father to a rambunctious five-year-old named Samson, Jessie has thoughts of reliving the former glory of his high school rock-n-roll band, Ruckus. To give Schneider some background in the Louisville, Kentucky music scene, Cameron sent the actor on the road with local band My Morning Jacket for a week. Having played in college bands, he and the band bonded immediately. He was also required to play drums, an instrument he was already familiar with, and sing the vocals on the seminal Lynyrd Skynyrd tune "Free Bird."
Cameron Crowe films are renowned for their memorable and talented cast of characters and "Elizabethtown" is no exception. Crowe and his regular casting director Gail Levin assembled one of the most diverse and interesting groups of people to inhabit the world beyond the featured roles. The extended Baylor family includes the Food Network's Paula Deen of "Paula's Home Cooking" as Aunt Dora. "She's a natural," says Crowe of Deen, who makes her motion picture debut in "Elizabethtown." "Gail Levin saw her on the Food Network, and was blown away by how personable and real she is on camera. She just makes you feel good. Plus she's unflappable. Watch her with her favorite guest, Jimmy Carter – she's amazing. And of course she's an amazing cook, which is perfect for the movie – when you meet her, she's cooking, and she cooks throughout the movie. She expresses love with the food that she cooks."
Deen says that her character and her director were both perfect matches for her as she made her motion picture debut. "I'm exactly like Aunt Dora," she says. "I try to make my house exactly like hers – a warm, friendly place where the smell of home cooking invites you in. When I got the part, I was nervous at first, because I've never acted before – but Cameron created such a positive, safe atmosphere that it was easy just to channel this part of myself and become Aunt Dora."
Other actors playing Baylor family members include acclaimed singer/songwriter Loudon Wainwright as Uncle Dale and Crowe's own mother, Alice Marie Crowe, as Aunt Lena. It's no surprise that Cameron Crowe tapped several actual musicians for small parts in the film. In addition to Wainwright, the renowned singer-songwriter Patty Griffin is seen as Baylor family friend Sharon and the fictional rock band Ruckus is actually made up of members of My Morning Jacket and musician Charlie Crowe (Cameron's cousin).
The Music
Like all of Cameron Crowe's films, "Elizabethtown" has a strong connection to music. "It often starts with music when I write a script," Crowe says. "I have a notebook I keep that's packed with songs that I want to be a part of the movie I'm working on. At a certain point, the notebook of songs becomes twice as big as the script – I'll have 50 songs for one scene. But the best part of the job is when you get into the editing room, you bust out the iTunes, and you find out that the one that you thought of in the dark quiet of the night is right." For "Elizabethtown," Crowe chose a soundtrack of authentic American modern roots music, and a mix he calls "The Great American Radio Station."
Paula Wagner notes that Crowe's mastery of music makes him a unique director. "A filmmaker with an encyclopedic knowledge of the music of his times, Cameron has a unique ability to match music to images in an unforgettable way," she says. "He chooses music that perfectly reflects the heart of the moment, as he writes about love and loss, heartache and redemption."
But music is also an integral part of Crowe's on-set directing process; he uses music as a resource throughout filming. Prior to the start of nearly every scene, the director cues up a song that he feels evokes the emotion of the moment or that might inspire the actor or actors to see the scene or their part more clearly.
The director was pleased by the fact that his lead actors came prepared for this technique. "Kirsten and Orlando love music and soak it up," says Crowe. "They came packing iPods filled with great stuff. Often our rehearsals started late because we were playing each other songs." "He plays a lot of music on set – which makes sense, because that is the way he writes," says Bloom. "He's got the music in his head… there is a rhythm to it all."
The process began during the casting meetings. Crowe played a song he had been listening to while writing the part of Claire: "It'll All Work Out," by Tom Petty, a track from one of the rock star's more obscure albums, "Let Me Up (I've Had Enough)."
"We played that at the first meeting with Kirsten and it was perfect," says Crowe. The song became Claire's theme in the final film. "I just got so emotional – it was such a beautiful song," says Dunst. "It is so nice to have somebody who feels the same way about music as I feel."
Another song that takes on an important role in the film is Elton John's "My Father's Gun," a song off the performer's highly regarded album "Tumbleweed Connection." The song plays as Drew sees his father's body for the first time and reprises during Drew's road trip at the end of the film. "Elton John's album 'Tumbleweed Connection' is an important album to anyone who hears it," says Crowe, "and 'My Father's Gun' is one of the real showcase songs on the album. The whole album is, in many ways, Elton's own take on America and family and roots. It's HIS 'Elizabethtown.' So the DNA was there to begin with. I'm honored he let me use 'My Father's Gun.' It's one of my favorite songs, and like Kirsten's character, it's a song that starts out quiet and a little sad and turns into a celebration of life."
The musical heart of the film is the homemade CD compilation that Claire gives to Drew to accompany his road trip with his father's remains. A long sequence featuring many songs from several musical genres, the sequence literally underscores both the emotion of the scenes and Crowe's wide-ranging musical taste and expertise.
In addition to the song score, several moments feature original music written by Crowe's wife, Nancy Wilson of the rock band Heart. Wilson has participated in a musical capacity, as composer, songwriter and/or singer, on all of Crowe's films. The pair also worked together writing songs for the fictional band Stillwater in "Almost Famous." "Nancy wrote all the incidental music for 'Elizabethtown' – she's the full-time musician in the family," says Crowe.
The Road to "Elizabethtown"
"When I was a lot younger and writing for Rolling Stone, I'd be in a place like Arkansas or Oklahoma or Texas and fans would come up to me and say, 'Why doesn't your magazine write about people here? Are you going to mention our city in your movie?' relates Crowe. That idea – to focus on people who live outside New York or Los Angeles – was one more inspiration for "Elizabethtown." "I didn't want to write a story that could only happen in a huge city that everybody knows. I thought, 'What about the people in-between? What about the people in Elizabethtown, Kentucky?'
Shooting "Elizabethtown" in Kentucky in the summer was extremely important to Crowe. The "otherworldly heat and deep humidity," as described in the script, is such an important part of the story that the director did not want to think about shooting anywhere else at any other time. Almost all of the lead actors had never been to Kentucky and the introduction to that environment set the tone for the film.
"Cameron's screenplay is infused with the references to a specific place: it eloquently describes the bluegrass, the cicadas, and otherworldly heat," says Paula Wagner. "There was no question that we had to shoot in Kentucky: it was the best way to be honest to the story. We were treated so well by the people there and hopefully shooting in Kentucky further illuminated the beauty of the characters and this magical place."
Elizabethtown is a real place, 45 miles south of Louisville. The town itself had no real significance to the project until Crowe began his research. He came upon Elizabethtown and the name struck a chord with him. "I loved the name… and after never having a title for 'Almost Famous' until the last minute, I wanted to say, very early on, 'The name of this movie is "Elizabethtown."' The town is also midway between Louisville and Nashville, TN – a road that provides an opportunity for Drew and Claire's second face-to-face meeting. "I really like that corridor of travel and I like the idea that the two characters live along that road," recalls Crowe.
The crew spent six weeks in Kentucky, shooting some of the most significant scenes from the film in the Louisville and Lexington areas. The production's base was located in Louisville and immediately upon their arrival, the cast and crew warmed to the city. As Crowe puts it, "Louisville, Kentucky is infectious… it is not quite a huge city and not quite a small town – it is a young adult of a city and you'll feel its character in the movie."
From the very beginning, Crowe had a distinct vision for the look of "Elizabethtown." He and production designer Clay Griffith used several artistic resources to refine the look. They talked at length about the work of Norman Rockwell and the way it depicts America and family; for Griffith, Rockwell was always the "centerpiece."
In addition, the filmmakers were also heavily influenced by the black-and-white photography of Robert Frank, Elliott Erwitt, and Gary Winogrand. These artists all made photographs in the 1950s, '60s, and '70s that captured moments of America, Americans, and Americana that were the inspiration for many of the more poignant moments during production.
Cinematographer John Toll was responsible for bringing this look to life. Toll, who had shot the film "Simpatico" in Kentucky, was thrilled at the opportunity to return to the area. "Elizabethtown" marks Toll's third collaboration with Crowe. "In my heart, I know this is the one we were both most suited to make together," says the veteran cinematographer.
The beauty of Kentucky in the summer came through on-camera and off. Throughout the location shoot, local people would gather with lawn chairs, cameras and items for autographed keepsakes as they respectfully watched the filmmakers at work. Everywhere the production visited, they were greeted with warmth, civility and excitement. This response served to reaffirm the decision of the filmmakers to shoot in Kentucky.
After shooting several scenes in Elizabethtown, Versailles, and Louisville, Kentucky, the production began filming Drew's "Sojourn," the emotional heart of the film and its climax – the road trip that Drew takes with his father's remains. The production was pared to 100 essential members as crew flew to and filmed in four different states in six days.
First stop was Memphis, Tennessee, where the production schedule dictated shooting in three separate locations in one short day: The Arcade Restaurant – where Drew samples "the greatest chili in the world"; Earnestine and Hazel's Blues Bar; and the National Civil Rights Museum, the last built utilizing the façade of and parts of the Lorraine Motel, where Martin Luther King was assassinated in 1968. The Museum (opened to the public in 1991) was built to preserve the historic site and chronicle key episodes of the American civil rights movement in order to inspire participation in civil and human rights efforts globally through their collections, exhibitions, and educational programs. Crowe had visited the Lorraine in the 1980s and had never forgotten the experience.
The second stop on the Sojourn was Eureka Springs, Arkansas, and Dinosaur World. A sprawling 65-acre park boasting over 90 life size prehistoric replicas, Dinosaur World was built in 1972 and billed as "The World's Largest Dinosaur Park."
The crew then traveled to Beaver, Arkansas (population 95), to shoot on a beautiful yellow suspension bridge that runs over the White River. Built in 1949, the Beaver Bridge is considered a historic bridge of the Midwest. The crew's arrival was likely the most exciting thing to happen in Beaver in quite a while – with the number of crewmembers nearly eclipsing the total population of the town.
By far, the most powerful moment of the trip was experienced at the Oklahoma City National Memorial, built on the site of the Alfred P. Murrah Federal Building that was destroyed by a bomb on April 19, 1995. Director Cameron Crowe had always envisioned this location as part of his story. The afternoon was spent shooting five scenes throughout the Memorial.
The crew then flew to Scottsbluff, Nebraska, and the national monument there for a series of interior and exterior shots of Drew in his car as he continues his road trip. The sequence would be Drew's long-delayed emotional breakthrough… finally he would cry over the loss of his dad. These were intense shooting days, days Bloom had planned for and had come to crave. Crowe says, "The Nebraska sky is beyond words… it naturally fills you with thought and a sense of where you fit in the big picture." The last shot of the sequence is at sunset on a mountain peak overlooking the Platte River as Drew walks to the tip of the overlook.
Bloom's experience allowed the actor to see more of the United States than he had ever imagined and although he was impressed with every aspect, he still had a desire to see more. He decided to forego the flight back to Los Angeles the next day and take his own road trip home from Scottsbluff. "I just took my dog and we got in the car – just hit the road." As the trip progressed, the actor was struck by "how phenomenally beautiful and vast this country is." Upon his return, Bloom reflected, "It was an amazing experience – a road trip of my own that helped with the character of Drew. It gave me a bit of clarity."
Courtesy of Paramount Pictures