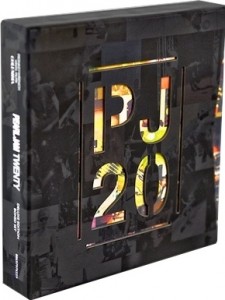 Release Date: October 24, 2011
BD Disc Size: 50 GB Disc
Slipcover: No
Region Code: Free
Video Codec: MPEG-4 AVC
Video Resolution: 1080i
Aspect Ratio: 1.78:1
Subtitles: English, French, Spanish, German, Italian, Dutch & Polish
Sound: 
 5.1 LPCM (English)
 2.0 LPCM (English)
5.1 Dolby Digital
Disc 1: Pearl Jam Twenty
Extra Features:
Mike McCready Writing "Faithfull" (4:45)
Jeff Ament in Montana (3:38)
Stone Gossard Seattle Driving Tour (5:02)
Boom Gaspar Joins The Band (2:38)
Eddie Vedder House Tour (8:56)
Matt Cameron Writing "The Fixer" (2:33)
"No Anything" (1:20)
"Come Back" (7:32)
Disc 2: The Kids Are Twenty
Extra Features:
Del Mar "Porch" (4:08)
Shadow (3:11)
"Even Flow" Fan Tackle (6:54)
Disc 3: The Fans Are Alright
Contents include:
Fans On the Band (Ten Club) (17:07)

"Small Town"
"Smile"
"Given to Fly"
"Brain of J"
"In My Tree"
"Gonna See My Friend"

Fandom – A Statistical Analysis (38:02)
"Hard To Imagine" (5:28)
South America 2005 (15:09)
Last Show Of Ten Tour, Hawaii (4:40)
Notes:
The single disc Blu-ray is currently available.
The 3 Disc Deluxe Edition was exclusively available via Pearl Jam's website, but is sold out.
The Kids Are Twenty is available for download in iTunes in the U.S.
Easter Eggs Disc 1:
From the Subtitles menu, highlight the Polish selection and push the right arrow. You'll find a one-minute interview with Jeff Ament talking about the "grunge" fashion scene.
From the Audio Set-Up menu, highlight the Dolby 5.1 selection and push the left arrow. You'll find a one-minute video with Mike McCready discussing one of his favorite toys.
Blu-ray Menus/Screenshots: