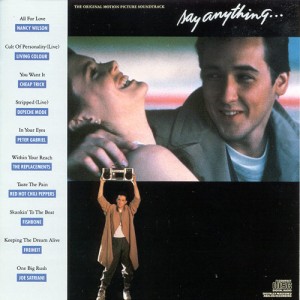 Let me first say that I am honored that they asked me to write these liner notes. I have a problem with people who tell you all about themselves, so I'll just say this. Being a guy like me, and being an all-night jock here in Seattle, I pick my own records. I'll put on "The Wall," the whole thing, and I'll get a coffee at Denny's next door and sit there and listen to my own show on the kitchen radio. I don't care. I write my own ticket. Maybe it's just me, but I think I'm the perfect guy to write about this music, which I enjoyed. It came from a movie called, "Say Anything."
The movie killed me. It's the story of a guy who meets a girl, and things start happening, and I won't tell you the rest. Personally, I have a problem with people who tell you all about a movie, they only tell you about the things they liked. So I'll say this – it's a love story a guy like me can appreciate. I liked Lloyd. Lloyd is played by John Cusack, who I enjoyed very much, and Diane Court is played by Ione Skye, who I enjoyed very much, and her father is played by John Mahoney, who I enjoyed equally as much.
Former Rolling Stone rock-scribe Cameron Crowe wrote the book and screenplay for "Fast Times at Ridgemont High," the hit comedy that launched Sean Penn's career and made "Hey, dude!" a part of the language. Now Crowe makes his writing/directing debut on "Say Anything," an unlikely love story from the producers of "Big" and "Broadcast News," about a young non-conformist played by John Cusack who falls in love with a beautiful, brilliant over-achiever played by Ione Skye.
In a unique collaboration with her filmmaker husband, Nancy Wilson co-wrote the "Say Anything" soundtrack with Richard Gibbs and Anne Dudley. Crowe and Wilson then commissioned John Bettis and Martin Page to write the ballad "All for Love" for Wilson to sing in the film. "All for Love," the first single Wilson has done without her sister is currently climbing the pop charts, and a video for the song is in rotation on MTV and other broadcast and club outlets.
Besides Wilson, the "Say Anything" soundtrack and original soundtrack album feature a diverse roster of today's top musical talent brought together by the album's producers Danny Bramson, Cameron Crowe and Jerry Greenberg.
Living Colour, whose album "Vivid" has attracted a considerable critical and popular audience, are featured on the "Say Anything" soundtrack with an unreleased live version of "Cult of Personality," already a favorite on MTV.
The German group Freiheit is represented with the soundtrack's second single, "Keepin' the Dream Alive," which was a top ten hit in Europe earlier this year and is also playing as a video on MTV. The song, which marks the group's American debut, was recorded at London's legendary Abbey Road studios and features contributions by the London Symphony Orchestra.
Veteran rockers Cheap Trick offer a new track, "You Want It," and guitar hero Joe Satriani is featured with "One Big Rush." Peter Gabriel is represented with "In Your Eyes," a track from his multi-platinum Grammy-winning album "So."
Rounding out the musical tracks on the "Say Anything" soundtrack album are cuts from The Red Hot Chili Peppers ("Taste the Pain"), Depeche Mode ("Stripped"), Fishbone ("Skankin' to the Beat") and The Replacements ("Within Your Reach").
"Say Anything," a Gracie Films Production from Twentieth Century Fox, executive produced by James L. Brooks and produced by Polly Platt, opens April 14th in theatres everywhere. The Original Motion Picture Soundtrack Album of "Say Anything" is available on WTG Records, Cassettes and Compact Discs, distributed by CBS Records.
Courtesy of Twentieth Century Fox – Joey Carnuba (Seattle's KSTE FM's DJ)