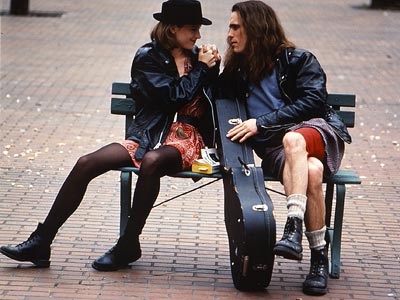 Steve is so tired of all the games and complications that he's decided to completely swear off love – until he meets…
Linda, for whom passion and trust have always been mutually exclusive…
Cliff thinks a committed relationship would slow down his less-than-meteoric rise to rock 'n' roll stardom…
But starry-eyed Janet is willing to do anything to win his attention – until Dr. Jamison convinces her she shouldn't change a thing.
Meanwhile, Debbie is convinced that a full fashion overhaul – and a dynamite videotape – is all she needs to catch Mr. Right.
Bailey doesn't care that he has no special lady – he'll always be around to give others advice on love.
Warner Bros. Presents A Cameron Crowe film, "Singles," starring Matt Dillon, Bridget Fonda, Campbell Scott, Kyra Sedgwick, Sheila Kelley and Jim True. Written and directed by Crowe, the romantic comedy is produced by Crowe and Richard Hashimoto with Art Linson as executive producer.
"Singles" tracks the restless hearts of six Seattle urbanites in their early to mid-twenties, whose lives are spent in and around Seattle's burgeoning music scene. On their own, with bills to pay, budding careers, heightened social awareness and that universal desire to love and be loved, this group of friends and new acquaintances share their dreams, their music and a common courtyard at the apartment building where most of them reside.
About the Production
Cameron Crowe, who made his directorial debut in 1989 with the comedy-drama "Say Anything," examines the lives of young adults in transition with his latest project.
He says, "I wanted to write about that period in a person's life when you really define yourself and set the course for who you're going to be.
"I've been working on various versions of "Singles" since 1983," says the 34-year-old filmmaker. "I wanted to capture the feeling of what it's like to be in your 20s.
"The real turning point in getting this script written was seeing what life in Seattle was like," continues Crowe, who moved to the Pacific Northwest in 1984. "I'd grown up in Southern California but I never really felt those were 'my' towns. Seattle seemed like a city that was filled with opportunity. It felt like home.
"Furthermore, the music scene in Seattle, which has been getting lots of national attention, is the setting for much of this story. Cliff is a musician, several of the other characters are big music fans – their lives and personalities are defined by the bands they listen to. Local music like Soundgarden and Pearl Jam provide the soundtrack to their lives and moods. In fact, we've used this music as a dramatic theme and it figures prominently in the film."
"The apartment house figures strongly, too," Crowe continues. "When you've left home and you're out of college, you usually end up in a one or two-bedroom apartment. It just happens. That one bedroom is your life, your universe, for a period of time. I liked the idea of a group of single people who all end up in one building and, without it being by any particular design, kind of look out for one another."
Crowe's work is known for its attention to character and detail, and his complex script presents more than 40 vivid individuals. "Setting it around an apartment was fun," Crowe recalls. "The building really helped create an opportunity where you could tell many interrelated stories. The movie, I hope, plays almost like an album…ten or twelve tracks that fit together as a whole."
Casting a Circle of Friends
The screenplay completed, the task turned to finding a cast that could bring to cinematic life the diverse characters he had created.
Campbell Scott plays Steve, a city engineer whose orderly life goes into a wild tailspin when he finds true love.
"Steve is the kind of person who likes order," Crowe explains. "He tries to find that same orderliness in his love life and, of course, finds it's impossible to do. The logic goes out of the window – that's when something greater takes over."
Says Scott, who starred opposite Julia Roberts in the drama "Dying Young," "The story starts out with Steve at the end of a relationship, feeling extremely confused, and he's decided he's just going to concentrate on work. Naturally, the moment he says, 'I'll never fall in love again' is precisely the moment he falls in love."
Steve and his buddy, Bailey, are big fans of Seattle's rock music scene. Such Northwest-based groups as Soundgarden and Alice in Chains (both of whom perform in the film) are becoming increasingly popular nationwide and establishing a distinctive "Seattle Sound," not seen since the famed "San Francisco Sound" of the 1960s.
It is in one of the city's many alternative music clubs that Steve meets recently spurned and in-no-mood-to-be-messed-with Linda, played by Kyra Sedgwick.
"Linda has been wide open to relationships," says Crowe. "But she gave her all and they never quite worked out, so she's acquired a bad taste for love. Like Steve, she's sworn to concentrate on work. And that's exactly when she meets a guy who is sincere and really loves her. It scares her to death."
Crowe had seen Kyra Sedgwick in the movies "Mr & Mrs. Bridge" and "Born on the Fourth of July" and liked the combination of intelligence and vulnerability he saw in those performances.
Sedgwick finds little similarity between Linda's life and her own now, but there are some elements of shared romantic history.
"You always hear people complaining that there are no 'good' men or women, and my theory is that they're just not ready to find that person. I mean, I did that for so many years…and probably the reason was I wasn't ready to find that person. When I was ready, he was there."
Unlike Linda, Janet, a coffee-shop waitress with ambitions to become an architect, thinks she is ready for love and believes she's found her one and only. Trouble is, he's mostly oblivious.
The strength and adaptability of Janet required the talents of a subtle and skilled actress. Crowe found that mixture of youth, depth and experience in Bridget Fonda.
"Janet is simply indefatigable," says Crowe. "She refused to be kept down. She's had rough times finding decent relationships but she just soldiers forward. She's in love with love and refuses to be disillusioned."
"She's the kind of person I admire because she's fully involved with life; she doesn't hold back on anything," comments Fonda. "Janet may not be all that confident in her abilities – like her desire to be an architect – but, in her own way, she has confidence that everything in her life will work out. That's what makes her resilient enough to be completely giving in a couple of unfulfilling relationships and still come out stronger that the guys who let her down."
One of the last actors to be confirmed for the cast, Matt Dillon, plays one of the key roles: Cliff, the loveable – if romantically unavailable musician.
"Cliff has had many fleeting romances," says Crowe. "I think he takes an interesting step when he comes up against Janet. He doesn't know much about love. And even more, he doesn't know how to deal with the fact that his lover now lives next door to him and sees everything he's doing. He kinda wigs out."
Dillon researched his part by spending time in Seattle visiting music clubs and hanging out with local musicians like the members of Pearl Jam and Inspector Luv. Some of the venues, like the Off Ramp and the Re-Bar, later served as sets for the movie.
"I've always had a lot of friends who were musicians but I never really played an instrument myself," relates Dillon. "So here I found myself, on very short notice, having to learn how to play guitar.
"I got together with my friend Adam Roth, who is a guitar player in New York. The first thing he said to me was, 'You've got to decide which kind of guitar you're playing,' like there are two different schools – guys who play Stratocasters and guys who play Gibsons. He said, 'I see you as more of a Strat guy' but then I said, 'I probably am more of a Strat guy but I bet Cliff is more of a Gibson guy,' and that's what I'm playing."
Comedic actress Sheila Kelley finds, in Debbie, one of the most enjoyable roles of her career. Not only does she co-star with some of the screen's brightest young talents, she even has a scene with director Tim Burton, playing (in a cameo appearance) a video "artiste" who – for twenty bucks – agrees to direct Debbie's date tape.
"To Debbie, going to the most popular restaurant at exactly the time they wax the racquetball courts, when all the rich guys are just hanging out, would be one of the delights of life," says Kelley. "She's convinced that if she buys these clothes or goes to this place, she'll find love. Of course, love is more unpredictable than that, which she is constantly finding out."
Bailey's (Jim True) struggles are neither internal nor external, but rather, intercontinental. He sees love as an existential chess match between sexes.
"Bailey is a Francophile who has totally integrated all the pretensions that he believes are involved with being French," says True.
For Jim True, whose previous acting work was primarily in stage ensembles with Chicago's famed Steppenwolf Theatre, the ease with which he adapted to his first major movie role was due in part to performing with another talented group of actors.
"Film is different from stage because you don't have that sustained action; you have to get it up again for every take. The actors in this movie made it look easy to come up with the same level of energy every time. That made me work harder to keep up my end."
This sentiment was echoed by Crowe, who molded the talented ensemble into the fallible, passionate and compassionate characters he'd created on paper.
"The toughest thing is getting those real moments on film," he concludes. "You have to rely on your actors' ability to find the reality in their characters, setting up an environment in which those great little moments can occur. That's what interests me about making movies: putting actors in situations where they can find their characters, and having the cameras rolling when the real moments are happening."
Warner Bros. Presents an Atkinson/Knickerbocker Films Production of A Cameron Crowe Film: "Singles," starring Bridget Fonda, Campbell Scott, Kyra Sedgwick, Sheila Kelley, Jim True, Bill Pullman and Matt Dillon. The film is written and directed by Cameron Crowe, and produced by Cameron Crowe and Richard Hashimoto. The executive producer is Art Linson. The director of photography is Ueli Steiger and the production designer is Stephen Lineweaver. Richard Chew is co-producer and film editor. The music is by Paul Westerberg. Distributed by Warner Bros., A Time Warner Company.
About the Cast…
BRIDGET FONDA (Janet) has begun to amass an admirable body of work at an early age. She received a Golden Globe nomination for her portrayal of call girl Mandy Rice-Davies in "Scandal," the story of the Profumo affair which shook Britain in the 1960s and, last year, reteamed with that film's director, Michael Caton-Jones, in the Warner Bros. Summer release "Doc Hollywood."
Her other film roles include the investigative journalist in "The Godfather, Part III" and the willful would-be dress designer in "Strapless." She has also starred in the comedy "Shag" and will soon be seen in Barbet Schroeder's "Single White Female." She recently completed filming "Nikita" for release by Warner Bros.
Fonda's initial ambition was to be a painter; it wasn't until she played a role in a high school production of "Harvey" that she became interested in acting. At age 18, she enrolled at New York University to study drama, spending four years there and at the Lee Strasberg Theatre Institute. During this time she had the opportunity to work on stage projects like Nicholas Kazan's "Just Horrible" at the Manhattan Class Company. Fonda later appeared in Kazan's directorial debut, "Professional Man," an episode for "The Edge" television series on HBO. She also starred in the PBS production "Jacob Have I Loved," directed by Victoria Hochberg.
In 1986, director Franc Roddam asked Fonda to star in his segment of "Aria," a theatrical feature composed of short interpretations of opera by ten respected directors, which marked her feature debut.
A relative newcomer to films, CAMPBELL SCOTT (Steve) has played opposite some of the movie world's most popular actresses: Julia Robert's in the drama "Dying Young" and Debra Winger in Bernardo Bertolucci's "The Sheltering Sky." He also co-starred in the poignant drama about gay men coping with AIDS, "Longtime Companion."
Scott studied history at Lawrence University in Wisconsin and appeared in a few plays at school. He enjoyed the experience and after graduating, decided to look for acting jobs in New York.
He studied at Stella Adler and Geraldine Page and in 1985, got his first break playing Benvolio in "Romeo & Juliet" in New England summer stock. Following that, Scott became an understudy in the Broadway production of Tom Stoppard's "The Real Thing," starring Jeremy Irons (and later Nicol Williamson).
Scott appeared Off-Broadway in "A Man for All Seasons" and "Measure for Measure." Other appearances on Broadway include "Long Day's Journey into Night," "The Real Things," "The Queen and the Rebels" and "Hay Fever." He also played Hamlet at San Diego's Old Globe Theatre in what TIME magazine selected "as one of the ten best theatrical performances of the year."
KYRA SEDGWICK (Linda) is perhaps best known for her starring role as Tom Cruise's high school sweetheart in Oliver Stone's Academy Award-winning blockbuster, "Born on the Fourth of July." The following year, she turned in another critically acclaimed performance as Paul Newman and Joanne Woodward's rebellious daughter in James Ivory's "Mr. and Mrs. Bridge."
Sedgwick began her professional acting career in the theatre, where she went from a series of regional productions to star in the Yale Repertory Theatre's production of Eugene O'Neill's "Ah, Wilderness" with Jason Robards and Colleen Dewhurst. When the play moved to Broadway in 1988, Sedgwick won the prestigious Theatre World Award for Best Broadway Newcomer. She has since starred in several Off-Broadway productions, including "Dakota's Belly, Wyoming" while six months pregnant and the recent "Maids of Hanoi" at the WPA.
In television, Sedgwick graduated from the daytime series "Another World" to star in a number of telefeatures, including The American Playhouse's "The Wide Net" and the HBO feature, "The Man Who Broke A Thousand Chains" with Val Kilmer and Sonia Braga. In 1988, she starred opposite Kevin Bacon in The American Playhouse production of Lanford Wilson's "Lemon Sky," directed by Dan Egelson, which took the Grand Jury Prize when exhibited as a feature at the U.S. Film Festival.
Most recently, Sedgwick performed in the title role of The Hallmark Hall of Fame production "Miss Rose White," which was nominated for a record ten Emmys.
Sedgwick made her feature film debut starring in Moshe Mizrahi's "War and Love"; her other credits include "Tai-Pan," "Kansas" and the romantic comedy "Pyrates."
For the future, she has just completed a starring role opposite Angelica Huston in the upcoming miniseries "Family Pictures," based on the novel by Sue Miller.
SHEILA KELLEY (Debbie) appeared in the comedies "Some Girls" and "Soapdish," both directed by Michael Hoffman; and "Pure Luck," opposite Danny Glover and Martin Short. She is also known to television audiences for her role as Gwen Taylor in "L.A. Law."
Born in Greensburg, Pennsylvania, Kelley is the youngest of nine children. She discovered a talent for dance in elementary school and entered New York University as a dancer. That career was cut short by injury, so, instead of ballet, she turned her talents to dramatic performance at N.Y.U.
After studying with the Stella Adler Conservatory, Kelley formed her own acting group, The Elephants' Company. She also appeared in theatrical productions at The Studio Theatre ("The Seagull"), The Actors Factory ("Am I Blue") and others.
In 1986, she moved to Los Angeles, where she soon made her feature film debut in Lee Grant's "Stayinng Together." She subsequently co-starred in Hoffman's "Some Girls," followed with a co-starring role in Bill Forsyth's "Breaking In" and "Where the Heart Is," directed by John Boorman. Kelley has also appeared in several television movies-of-the-week, most recently the NBC telefeature "The Chase."
JIM TRUE (Bailey) made his feature film debut in Lawrence Kasdan's "The Accidental Tourist." He also appeared in "Fat Man and Little Boy," directed by Roland Joffe. The Chicago resident is a member of the famed Steppenwolf Theatre Ensemble in that city.
He recently co-starred as Al Joad in the troupe's Tony Award-winning production of John Steinbeck's "The Grapes of Wrath" at Manhattan's Court Theatre. Among the other Steppenwolf productions in which he has appeared are "The Common Pursuit," "Killers," "The Homecoming," "Rat in the Skull" and "Road."
He also co-starred in "The Iceman Cometh" at Chicago's prestigious Goodman Theatre.
BILL PULLMAN (Dr. Jamison) most recently co-starred in the comedy "The Favor" with Ken Wahl. Prior to that he was directed by Carl Reiner in "Sibling Rivalry" opposite Kirstie Alley.
Among his other film credits are "Bright Angle," "The Accidental Tourist," "Rocket Gibralter," The Serpent and the Rainbow," "Spaceballs" and "Ruthless People." He most recently filmed "Sommersby" for release by Warner Bros.
On television, Pullman starred with Barnard Hughes and Sada Thompson in the Hallmark Hall of Fame Presentation, "Home Fires Burning," directed by Glenn Jordan. He has appeared on stage in several L.A.T.C. productions and Off Broadway in such shows as "Life and Limb" and "Curse of the Starving Class."
MATT DILLON (Cliff) was most recently seen in "A Kiss Before Dying" and, prior to that, in Gus Van Sant's critically acclaimed "Drugstore Cowboy." Dillon has been a film star since he was discovered in a suburban New York junior high, winning the lead in Jonathan Kaplan's youth dram "Over the Edge."
He continued expanding his stature as a charismatic young leading man with starring roles in the adaptations of three novels by S.E. Hinton. First came Tim Hunter's interpretation of "Tex," followed by "Rumble Fish" and "The Outsiders," both directed by Francis Ford Coppola.
Other notable early performances includes a school bully in "My Bodyguard," a summer-camp Romeo in "Little Darlings" and a poor boy in love with a rich girl in "Liar's Moon." He graduated from adolescent roles to mature young adult parts playing the son of a plumber trying to reconcile family loyalty and personal ambition in Garry Marshall's "The Flamingo Kid," released in 1984.
Subsequent roles have included those of a son who discovers that his father, Gene Hackman, is a spy in Arthur Penn's "Targets" (1985), the idealistic political activist in the adaptation of Richard Wright's "Native Son" (1986), a high stakes gambler in "The Big Town" (1987) and a manipulative ex-con in "Kansas" (1988). Among his other features are the romantic drama "Rebel" and Bloodhounds on Broadway."
Dillon has also appeared on Broadway in "The Boys of Winter." He recently completed a starring role in "The Saint of Fort Washington" opposite Danny Glover, and will soon star in "Mr. Wonderful," both for release by Warner Bros.
Major supporting roles in "Singles" are performed by DEVON RAYMOND as Ruth, JAMES LE GROS as Andy, CAMILO GALLARDO as Luis and ERIC STOLTZ as the mime.
About the Filmmakers…
Screenwriter-director-producer CAMERON CROWE made his feature film directorial debut with his original script "Say Anything," starring John Cusack and Ione Skye.
Born in Palm Springs, California and raised in San Diego, Crowe began his career in journalism at the age of 15, writing for such publications as Penthouse, Playboy, Creem, and the Los Angeles Times. At 16, he joined the staff of Rolling Stone, where he was a contributing editor and later, an associate editor. Crowe's interest in popular music led him to profile such influential figures as Bob Dylan, David Bowie, Neil Young, Led Zeppelin and Eric Clapton.
In 1979, Crowe returned to high school to research and write a book on teenage trials and triumphs for Simon and Schuster. Fast Times at Ridgemont High became a best-seller and Universal Pictures optioned the book while it was still in galley form, signing Crowe to write the screenplay. Released in the spring of 1982, "Fast Times…" became one of the year's biggest hits. Directed by Amy Heckerling and produced by Art Linson and Irving Azoff, the move launched the careers of such stars as Sean Penn, Jennifer Jason Leigh, Judge Reinhold, Forrest Whitaker, Nicholas Cage and Eric Stoltz. Crowe's screenplay was nominated for a Writer's Guild Award for Best Screen Adaptation.
Crowe and Linson reteamed on the 1984 comedy "The Wild Life," which Linson directed from Crowe's screenplay. The film starred Christopher Penn, Lea Thompson, Eric Stoltz, Rick Moranis and Randy Quaid, and examined the perplexing move from high school to young adulthood.
Crowe co-directed and produced the MTV special "Heartbreaker Beach Party," a profile of Tom Petty and the Heartbreakers. He received a Grammy nomination for liner notes he penned on Bob Dylan's anthology album, "Biograph."
Executive producer ART LINSON produced the first of Cameron Crowe's screenplays, "Fast Times at Ridgemont High," and produced and directed Crowe's next, "The Wild Life."
Linson has produced films that furthered the careers of several now-prominent young directors, including Amy Heckerling ("Fast Times at Ridgemont High"), Jonathan Demme ("Melvin and Howard") and Michael Schultz ("Car Wash"). He has also worked with such established filmmakers as Brian DePalma (on both the action hit "The Untouchables" and the Vietnam drama "Casulaties of War", Richard Donner ("Scrooged") and Neil Jordan ("We're No Angels").
While an undergraduate at the University of California at Berkeley, Linson began writing screenplays with fellow student John Kay. After graduation he went on to receive a law degree from UCLA and was admitted to the California Bar. He never practiced law, turning instead to film producing, beginning with "Rafferty and the Gold Dust Twins."
Linson next produced "American Hot Wax" from an idea he developed with Kay. He later collaborated with Kay on the script for "Where the Buffalo Roam," starring Bill Murray as "gonzo" journalist Hunter S. Thompson, which Linson also directed.
In 1991 Linson signed a production deal with Warner Bros. And currently is in production for his Knickerbocker films on "This Boy's Life," starring Robert De Niro, Ellen Barkin and Leonardo DiCaprio; and "Nikita," starring Bridget Fonda and Gabriel Byrne.
Producer RICHARD HASHIMOTO most recently served as executive producer on Tim Burton's romantic fantasy "Edward Scissorhands." He had previously worked with Burton on the comedy hit "Beetlejuice."
Hashimoto's first film as a producer was "Tough Guys," starring Kirk Douglas and Burt Lancaster.
After graduating from California State University at Northridge with a degree in history, Hashimoto began his career in the motion picture industry as a camera assistant. After an apprenticeship in the Directors Guild training program, he became an assistant director. He served in that capacity on such features as "Big Wednesday," "Hardcore" and "The Gauntlet."
Hashimoto later became a production manager and executive in charge of production on "9 to 5," "Carny," "On Golden Pond," "Wargames," "Irreconcilable Differences" and "The Breakfast Club," among others.
Co-producer/editor RICHARD CHEW received an Academy Award for his editing of George Lucas' space epic "Star Wars." He was also co-recipient of an Oscar for his first film, a documentary entitled "The Redwoods."
Among the films that he has edited is Oscar-winner "One Flew Over the Cuckoo's Nest" as well as "The Conversation," "Risky Business," "Goin' South," "Clean and Sober" and "Men Don't Leave."
Director of Photography UELI STEIGER most recently photographed the Michael Hoffman comedy "Soapdish."
Steiger previously teamed with Hoffman on the director's first feature, "Privilege," which was also Steiger's first credit as director of photography. The two have also collaborated on "Promised Land" and "Some Girls."
A native of Switzerland, Steiger graduated from the University of Zurich with a degree in English literature, art history and linguistics before attending the London International Film School. During his four years in England, he began making documentaries and short features. He returned to Zurich as a director of photography for Swiss and German television programs and movies.
In the U.S., he shot Dennis Hopper's suspense thriller, "Hot Spot." In Europe, his credits include "Noch Ein Wunsch," "Eurocops," "Der Rauber" and "Zape," the latter two of which were filmed in black and white.
Production designer STEPHEN LINEWEAVER has worked on television and features in both New York and Los Angeles, including three years on "The Tracey Ullman Show."
He previously served as production designer on the feature "Rosalie Goes Shopping." Lineweaver began his feature film career as an art director on such films as "Dirty Dancing," "Something Wild," "After Hours," "Alphabet City" and "The Brother from Another Planet."
On television, Lineweaver worked as an artistic consultant on "The Simpsons" and was production designer on the PBS program "Tales of the Hollywood Hills," as well as several pilots.
Costume designer JANE RUHM previously worked with Cameron Crowe on his directorial debut, "Say Anything."
A graduate of UCLA Film School with a second degree in design, Ruhm apprenticed with designer and producer Polly Platt before striking out on her own. Her first feature as a costume designer was the David Carradine action fantasy "Death Race 2000." She subsequently designed costumes on the critically praised films "Cutter's Way" and "I Never Promised You a Rose Garden."
On television, Ruhm spent three years as costume designer for "The Tracey Ullman Show" and two years with Steven Spielberg's "Amazing Stories." Other features on which she has been designer include "Three O'Clock High" and Joan Micklin Silver's most recent release, "Big Girls Don't Cry (They Get Even)."
Award-winning sound engineer ARTHUR ROCHESTER is a three-time Oscar nominee for his work on "The Witches of Eastwick," "The Conversation" and "The Candidate."
Rochester previously worked with Cameron Crowe on "Say Anything." Prior to beginning "Singles," he worked on "The Butcher's Wife," Gillian Armstrong's "Distant Shores" and W.D. Richter's "Late for Dinner."
Other credits as sound engineer include "The Two Jakes," "Breaking In," "Prizzi's Honor," "Bad Boys," "Brainstorm," "Poltergeist," "The Border," "The Postman Always Rings Twice," starring Jack Nicholson and Jessica Lange, "Honeysuckle Rose," "Invasion of the Body Snatchers," starring Donald Sutherland and Brooke Adams, "Goin' South" and "American Graffiti."
Music supervisor DANNY BRAMSON previously worked with Cameron Crowe on "Say Anything." His work on "Singles" includes the compiling and producing of the film's much-noticed musical soundtrack. The soundtrack album, released in June by Epic Soundtrax, features original performances from rock's brightest new lights – artists like Pearl Jam, Alice in Chains, Paul Westerberg and The Smashing Pumpkins.
A former executive director for the Universal Amphitheatre and senior vice president of MCA Concerts, Inc., Bramson recently served as music supervisor on "Indian Runner," directed by Sean Penn.
Bramson's other credits as music supervisor include "Tequila Sunrise," "Bull Durham" and "Nothing in Common."
He is the founder and president of Backstreet/MCA Records, whose acts include Tom Petty and the Heartbreakers, Nils Lofgren and Men Without Hats. Among Backstreet's soundtrack recordings are "Cat People," "The Border," "Where the Buffalo Roam," "Dr. Detroit" and "Nighthawks."
Composer/performer PAUL WESTERBERG is scoring his first motion-picture with "Singles." Westerberg, best known as the leader of the cutting-edge Minneapolis-based musical group, The Replacements, was contacted by director and longtime fan Cameron Crowe early in production of "Singles." Crowe wanted to know if Westerberg would write a special song for the film. The song, called "Dyslexic Heart," pleased Crowe so much that he commissioned another, called "Waiting for Somebody," and wanted to incorporate their themes into the score of the film. As a result, Westerberg became affiliated with the project and created the film's score.
"Dyslexic Heart" will be the first single from the motion picture soundtrack for "Singles." Its video will be directed by Cameron Crowe in his music video-directing debut.
Courtesy of Warner Bros.