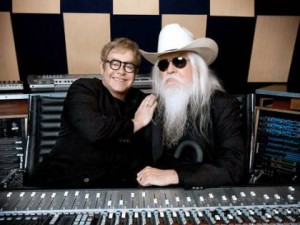 Director Cameron Crowe Captures Musical Legends Elton John and Leon Russell As They Collaborate On The Union, Debuting February 2nd, exclusively on HBO.
After 38 years of not seeing or speaking to Leon Russell, Elton John listens to Russell's greatest-hits album while on safari in Africa with his partner David Furnish. He is moved to tears. Distraught at the thought that Russell – whom John considers one of his greatest musical influences – has seemingly fallen into obscurity, he vows to contact his idol and propose that they collaborate on an album together.
So begins THE UNION, an unprecedented personal look into the making of John and Russell's acclaimed album of the same name. Stepping into The Village studio in Los Angeles, director Cameron Crowe captures a myriad of intimate moments involving the two artists, including the first-ever filming of John composing music to lyrics written by Bernie Taupin, his longtime collaborator. Underscoring John's desire that the new album sound like one of Russell's classics, the film is filled with concert footage of John and Russell throughout their careers, including John's first U.S. appearance at The Troubadour in Los Angeles, a show attended by Russell.
THE UNION debuts THURSDAY, FEB. 2 (9:00-10:30 p.m. ET/PT), exclusively on HBO.
Other HBO playdates: Feb. 2 (5:00 a.m.), 5 (2:30 p.m.), 7 (8:00 a.m.), 10 (1:30 p.m.), 15 (12:30 a.m.), 17 (4:00 p.m.) and 20 (noon)
HBO2 playdates: Feb. 8 (8:00 p.m.) and 26 (2:30 p.m.)
This candid portrait of two remarkable talents documents an extraordinary journey of the heart, as John and Russell create many of "The Union"'s signature songs. Following an initial feeling-out phase, the ice is broken when they watch a video of Mahalia Jackson singing "Didn't It Rain" at the 1958 Newport Jazz Festival. The two head to their respective pianos and start jamming, eventually coming up with the foundation for the song "Monkey Suit." They work on nine songs in three days – and John's dream is well on its way to becoming reality.
With celebrated producer T Bone Burnett on board to produce, Crowe observes as the two musicians develop, rehearse and record such heralded tracks as "If It Wasn't For Bad" (which received a 2011 Grammy nomination for Best Pop Collaboration with Vocals), "Gone to Shiloh," "Monkey Suit" and "In the Hands of Angels." Taupin, icons Neil Young and Brian Wilson, legendary organist Booker T. Jones, steel guitarist Robert Randolph and a ten-piece gospel choir are seen contributing to the album. Appearances by Stevie Nicks and Don Was also color the documentary, a chronicle not just of music-making, but of the reinvigoration of Russell's career.
As the start of recording, Russell undergoes a five-hour emergency operation to remove brain fluid, but he eventually returns to the studio and completes the ambitious 14-song album. John makes sure that it is a true collaborative effort, sharing vocals as well as writing and performing credits with Russell. As the album is mixed, the pair makes plans to promote it via TV, radio and print interviews, as well as in a special live performance at the Beacon Theatre in New York. On Oct. 19, 2010, in conjunction with the release of "The Union" – which went to #1 on Amazon, entered the Billboard 200 at #3 and was named #3 on Rolling Stone's Greatest 30 Albums of 2010 – Russell and John take the stage at the Beacon for a memorable joint concert.
THE UNION also shows how John has evolved, as an artist and a man. Reflecting on his rise to fame in the "glorious blur" of the '70s, marked by over-the-top costumes and hyperactive performances, he says, "I spent a lot of time in my life feeling insecure offstage, rather than being secure on it. I'm not that way anymore – I want to help people, I want to give back. I love young artists. And if I met the younger me today, I'd probably want to help him, too."
THE UNION, which had its world premiere as the opening-night selection at the 2011 Tribeca Film Festival, is the latest installment in Cameron Crowe's already lustrous filmography. His previous films include "Fast Times at Ridgemont High," "Jerry Maguire" and "Almost Famous." Crowe recently directed another music documentary, "Pearl Jam Twenty," as well as "We Bought a Zoo," starring Matt Damon and Scarlett Johansson. He has also been an influential force in music journalism since early in his career, having been Rolling Stone magazine's youngest contributor.
Leon Russell holds an important place in the history of rock as a pianist, vocalist, composer, arranger and band leader. Beginning as a session player, including serving as part of Phil Spector's Wall of Sound, Russell subsequently worked with such superstars as Joe Cocker, Delaney & Bonnie & Friends, Bob Dylan and George Harrison, and enjoyed a successful solo career with songs like "Delta Lady" (also a big hit for Cocker), "A Song for You," "Tightrope" and "This Masquerade" (covered by George Benson and others). Russell joined John (elected in 1994) in the Rock and Roll Hall of Fame in 2011.
One of the most successful musical artists of all time, Elton John has sold more than 250 million records, with 50 Top 40 hits, seven consecutive #1 U.S. albums, six Grammy Awards, an Oscar and a Tony to his credit. John was profiled in the 1997 CINEMAX documentary "Elton John: Tantrums & Tiaras," which was directed by his partner, David Furnish.
THE UNION is directed by Cameron Crowe; produced by Cameron Crowe and Michelle Panek; executive producer, Johnny Barbis; edited by Kevin Long.