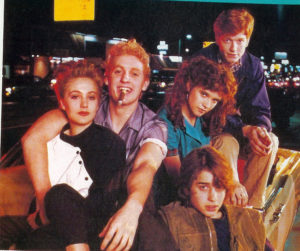 Cast: Chris Penn, Eric Stoltz, Jenny Wright, Ilan Mitchell-Smith & Lea Thompson
Crew: Written By: Cameron Crowe Directed By: Art Linson Produced By: Cameron Crowe & Art Linson DP: James Glennon Editor: Michael Jablow Costume Designer: Marilyn Vance
Theatrical Release Date: September 28, 1984
Tidbits:
Early titles included A New Life for Jim and The Last High School Movie.
Some comments from Cameron about his least successful film:

"The only movie that I've ever been a part of where the money guys `got it' was The Wild Life." "I'm used to them not getting it. They didn't get Almost Famous; they didn't get Jerry Maguire; they definitely didn't get Singles and Say Anything... was barely released. In many ways it's a miracle that we're even sitting here talking about my work in film, because the only stuff that wasn't a battle for me was rock journalism."
"It started out with good intentions but was marketed as a followup to Fast Times which it wasn't." Director James L. Brooks was the only one who would talk to me after The Wild Life."

Christopher Penn's real-life dad, Leo Penn, plays his father.
Cameron has a cameo as Cop #2.
Nancy Wilson appears as the wife of the Hart Bochner (the cop dating Lea Thompson).
Look for Dean Devlin as the liquor store clerk. Dean would later produce such blockbuster films as Stargate, Independence Day and The Patriot.
Other stars in early film roles from Sherilyn Fenn (Twin Peaks), Rick Moranis (Ghostbusters), Randy Quaid, and Ben Stein.