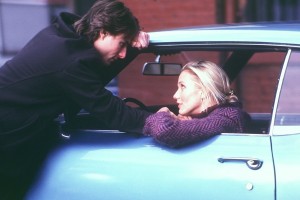 EXT. SOFIA'S APARTMENT – DAY
David slips out onto the street. It's shabbier than the alluring night-time verison. He'd never notice, or care . . . because David is a man with a brand new buzz. The city is his. Everything good and great suddenly feels inevitable. Life feels like a great pop song. Behind him, a car with its lights on starts and advances alongside. Behind the wheel is Julie Gianni. 
JULIANNA
David Aames
DAVID
Julianna Gianna. You're following me.
JULIANNA
Only a little. I wanted to finish what we were talking about.
DAVID
And –
JULIANNA
How'd it work out with our Moth Girl? Did she turn into a
butterfly for you?
DAVID
Yes, she did.
JULIANNA
But I can see from your warlk that you didn't sleep with her.
DAVID
Tell me –
JULIANNA
Let me see if I can guess. You haven't slept with her because
it's more fun when you can draw it out. Sex just isn't as
good if the woman hasn't told all her friends she'd never
sleep with you.
DAVID
You're right on the money, Julie.
JULIANNA
She's sweet. She's got big tits. She must be exhausted from
trying to be witty for you all night long.
DAVID
Okay, listen.
JULIANNA
Hey – I had a bad night. I went home with a waiter who
tried to give me career advice.
DAVID
(feels for her)
You're kidding.
JULIANNA
Oh, it was hideous. There's no guys like you, David. And
I'm still a little bit in the mood, if you want to kill some
time. You know, while we're waiting for Prince and Princess
Charming, we've always got each other.
DAVID
I have to get to work early.
JULIANNA
I root for you, David. I only want you to be happy.
DAVID
Same to you.
JULIANNA
You're just never there for your friends until they've already
given up on you.
DAVID
I'm not blowing you off! I just want to be alone for a little
bit. Trust me – I have a lot of things I gotta take care of.
If we're friends, which we are, you'll understand.
JULIANNA
(simple, honest)
I'm sorry I got weird. I missed an audition and I just felt
bad you didn't invite me to your party.
It zings him. David turns, considers her, and then gets in. The car drives away.