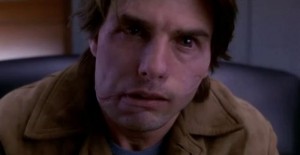 INT. BATHROOM – DAY
McCabe shuts the door behind him. David is pacing, in a frenzy.  
MCCABE
You've been taken –
DAVID
This is a dream.
MCCABE
Listen to me, for fuck's sake! This is a very professional,
very seductive . . . hoax. If this is a dream . . . Look at me! If
this is a dream, that means I don't exist! Are you listening
to me, or are you just waiting to speak?!
DAVID
I just imagine you.
MCCABE
David. I'm real. I am very, very real.
DAVID
How do you know?
MCCABE
First, I'm smarter than you. And second –
McCabe slaps David.
– was that a dream?
David slaps back.
Ouch!
DAVID
I paid for you to say that.
David leans on the bathroom door, jagged and adrenalized.
MCCABE
David, I am fighting for your life.
DAVID
There is no case! I didn't kill anyone! It is a nightmare.
I need to find Sofia.
MCCABE
I brought you here. I'm putting my fading prestige on the
line! And I swear on my mother's grave, I swear to you.
I'm real. This is happening right now and you are going to
trial. This isn't a dream. And take off that mask.
DAVID
I don't want to see myself.
MCCABE
Show me your goddamn face. Right now. If you're still
disfigured, I'll believe you.
DAVID
Tech Support!
MCCABE
Show me your face!
Aaron enters with gun. McCabe goes ape-shit.
AARON
We're going back.
DAVID
(as in 'take me home, Mr. Wizard')
Tech support!
MCCABE
You get the holy hell out of here – he's under my
jurisdiction now. Get out of here now.
Aaron retreats.
MCCABE
We're going back.
David reaches up and begins pulling off his mask. David's back is
to us.
McCabe nods approvingly.
MCCABE
Now. Look in the mirror and tell me if that isn't your face.
David moves into view in the mirror. His face is hideously deformed.
His arm hangs lifelessly at his side. He begins to cry.
MCCABE
My God! Why do you insist on seeing what's not there? You
are perfect.
DAVID
I'm a monster.
MCCABE
You are good-looking. You are handsome. If only I looked
like you.
David covers his ears, blocking McCabe's words.
DAVID
(broken)
Tech . . . support . . . please . . .
We hear music rising. It's Jane's Addiction, 'Had a Dad'.
DAVID
I paid for this music. Can you hear it?
MCCABE
There is no music.
David runs for the door. Music rising.
MCCABE
DAVID!