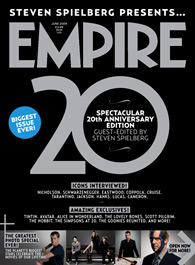 As selected by Cameron Crowe
We asked for ten, and got 36 classic musical/film mixes
The first thing to remember about any top ten list is that it is not to be trusted. A top ten list is almost invariably subject to the whims of the day. You could be feeling sentimental or melancholy, and suddenly your top ten is a weepy diary of your feelings on the unfortunate day you made the list. Or you could be feeling militant about some obscure band or movie, only to later see your proclamation in print, and wonder – how could I have called (insert mediocre artist) a great visionary? It's a serious business, the top ten list, especially one about the great moments of music in film. A list like this should be marinated, worked over and slept on.
I have done nothing of the kind. My favorite music moments in film change all the time. Music and cinema can sometimes be a finicky match. A great movie doesn't need music to exist, and a wonderful song is already a perfect movie in your imagination. But sometimes the marriage works, and the result is an explosion, a memorable body rush that enhances both and rocks your soul along the way. Here's my top ten – actually more like a sneaky twenty – and let us kick it off appropriately with a tribute to Mr. Hal Ashby.
Top 10 (or so)…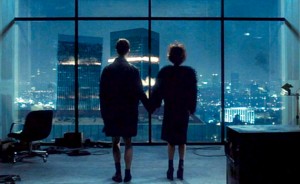 10. "Where Is My Mind" (The Pixies)
Fight Club (1999)
Some say the lyrics of a song should never comment on the scene. This is not one of those times. The world crumbles, and of course, David Fincher knows the precise song to turn out the lights to.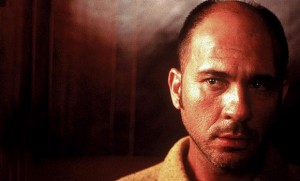 9. "Cucurrucucu Paloma" (Tomas Mendez)
Talk To Her (2002)
The song is actually a favorite of the director and his friends. It was not uncommon to hear them break out singing this song in public, at get-togethers and restaurants. Almodovar wrote "Cucurrucucu Palmona" into the movie, and it fits the great Talk To Her like a favorite scarf. Marco, the troubled journalist, is in emotional flux, in love with a famous woman bullfighter. He hears the song performed live in a nightclub. The version is immaculate, and the words and song plays largely on the listeners faces. Finally Marco is overcome, and must go for a walk. The bullfighter follows. Their only dialogue: "The song gave me goosebumps."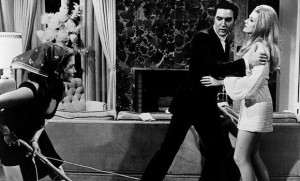 8. "Edge Of Reality" (Elvis Presley)
Live A Little, Love A Little (1968)
Many credit the Colonel for steering Elvis into his (arguably-cheesy) 60's movie period. Actually it was Norman Taurog who defined and perfected the so-called Elvis Movie that became the King's bread-and-butter after the more authentic Lovin' You-Jailhouse Rock-King Creole phase. Taurog ended all that with G.I. Blues and went on to shoot eight more Elvis kissing-dancing-loving classics. The rootsy early E was never to be seen again on the big screen, but in its place was a riveting run of films that showed Elvis literally walking through movies at a pace of three a year. Every once in a while, true genius would come shooting through. Elvis' weariness and unpreparedness sometimes created seismically funny and unintentionally profound sequences like this one. Turn it up and groove out to E's only true foray into psychedelia. It's no "She Said She Said" but it's appropriately trippy and you can't quite believe it exists.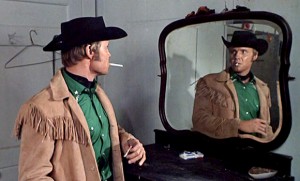 7. "Everybody's Talking" (Harry Nilsson)
Midnight Cowboy (1969)
"Everybody's Talking" was a recording that pre-dated the movie, but you'd never know it watching Midnight Cowboy. The song is the opening brush stroke on a masterpiece, the perfect touch for an opening sequence. Like "Don't Be Shy," it gently prepares you for everything that is to come. And years later, just hearing "Everybody's Talking" brings back the experience of the entire movie: now that's a marriage! "Moon River" accomplishes the same feat in a different way. With "Moon River," Audrey Hepburn's Holly Golightly actually sings the song.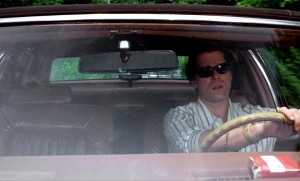 6. "Jump Into The Fire" (Harry Nilsson)
GoodFellas (1990)
Mike Nichols (with The Graduate) and Martin Scorcese (with Mean Streets) were among the first modern-era filmmakers to use a rock song and really use it. They were music lovers who also made films. But it's this song that Scorcese uses to create a mini-opera. He wrings the song to within an inch of its life, re-inventing it as a paranoid anthem. The "Jump Into The Fire" sequence would set the scene for a thousand attempts by others to duplicate it, but only Scorcese, the music geek, gets it right. He just loves the song, and can't get enough of it. And that's what makes it unforgettable. (Tip of the hat to David Chase and The Sopranos, another music lover who knows how to twist an innocent pop song into a paranoid epic.)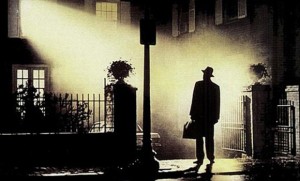 5. "Tubular Bells" (Mike Oldfield)
The Exorcist (1973)
The "Smells Like Teen Spirit" of horror film themes. Have we forgotten how great this is? Just a few notes. A lifetime of chills.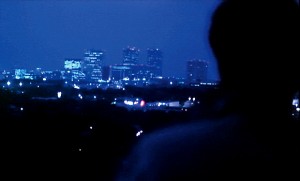 4. "Going Home: Theme Of The Local Hero" (Mark Knopfler) / "Hoppipola" (Sigur Ros)
Local Hero (1983) / Heima (2007)
I'm still depressed over a recent interview where Bill Forsyth declared he was through with films. No one casts a spell like Forsyth, the Scottish realist director with the sly sense of humor you can't get enough of. Every character shines, every detail sparkles, and the whole movie is set to the elegant score of Mark Knopfler. You cannot imagine the film without this music, nor the music without this film.
Similarly, Sigur Ros' Heima feels like the Local Hero of concert films. Director Dean DeBlois performed a feat of magic, inheriting a ton of compelling footage of Sigur Ros touring their native Iceland. There was no story, just great music, and after a stint in the editing room the film grew to be a parallel tale about discovering home and country. When the band reaches the penultimate performance stop, playing "Hoppipola" at an outdoor show for locals, with colorful figures streaming down the hillsides to get closer to the music, you feel the country, the band, and the sound of coming home. Viva Icelandia!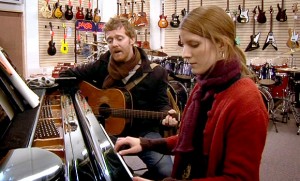 3. "Falling Slowly" (Glen Hansard and Marketa Irglova)
Once (2006)
I saw Once in a shoebox sized theatre, the week it was released. Nobody knew much about the film, but when it was over and lights came up, not a person budged. Like all great movies that create an environment, Once is a world you want to stay in. And the piano store scene, set to "Falling Slowly," is that rarest thing in movies… the moment a couple falls in love, caught on film in real time. It's the happy/sad beginning of their relationship and the story, just as the sublime "Airline to Heaven" is the period at the end of the fragile love story between two damaged souls in Jesus' Son.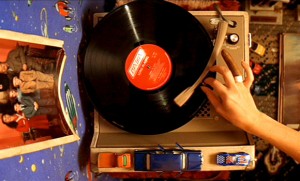 2."She Smiled Sweetly / Ruby Tuesday" (The Rolling Stones)
The Royal Tenenbaums (2002)
It's said that Jackson Browne, watching The Royal Tenenbaums, was so transported watching the "These Days" sequence that he thought wistfully, "this guy plays like I used to play." And then he realized – it is me. Wes Anderson's brilliant use of the Nico original galvanized and reinvented the song even for Jackson Browne, who now plays the song in its original mode at his live performances. All this, because Anderson picked the right song, the right camera speed and the perfect actors to play Margot and Richie Tenenbaum. It aches. And there is another stunning music-in-movies moment just around the corner in Tenenbaums, when Anderson busts out The Rolling Stones.
Margot and Richie have finally escaped to be alone under a tent with a record player. Their music choice is a vinyl (hooray) copy of Between The Buttons. Anderson lets the album track in the long unrequited love scene between the two. (Sadly, they're adoptive siblings) When "She Smiled Sweetly" flows into "Ruby Tuesday," even though Wes is re-sequencing the album, the result is an left-hook of deeper emotion. Now this already wonderful scene takes off into true greatness. Many a director has tried to use "Ruby Tuesday," the evocative Brian Jones/Stones classic, and failed. Wes solves the problem by letting you hear it the way the way you'd hear it in life… devastating and random in the way it pops up, innocently requiring you to remember the moment forever.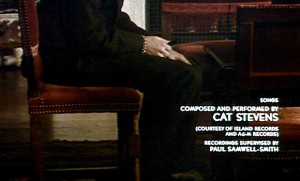 1. "Don't Be Shy" (Cat Stevens)
Harold and Maude (1971)
Is there a better movie opening? Ashby could fill all ten spots on this list, such is his skillful music lovers touch, but this is perhaps his best song usage ever. "Don't Be Shy" kicks off Harold and Maude with spare perfection and an intoxicating invitation to the movie to come. We meet Harold and he's about to hang himself. It's a comedy like no other, and the combination of this song and that scene makes for a soul-scratching introduction. Soon we're rooting for a love story between and 18 year old Harold and a 79 year-old Maude. And it all begins with "Don't Be Shy."
The 'Sorry I Couldn't Stop' List
'Oh Carol' / 'Gimme Shelter' (The Rolling Stones)
Gimme Shelter (1970)
This is rock, still subversive, still dangerous. "Oh Carol," the Chuck Berry anthem, never sounded so right. The mix is dirty, the grainy film is pure Maysles working in smudgy color… and it's sheer pleasure. It's also the Rolling Stones as you'll never see them again, when Keith Richards and Mick Taylor slashed with nasty elegance and precision and Jagger kicked out the vocal like the crowd could explode at any moment. Which, of course, they do, when the band arrives at a free concert in Altamont, California.
Special mention for the famous "Gimme Shelter" sequence when Mick finally watches the filmed beating death of a Biker at Altamont. It's all captured in the verite style of the Maysles, as Jagger listens to his own pleading for the crowd to "cool it" while watching the actual death spookily reveal itself on an editing monitor. Jagger , already white, turns even whiter and leaves the room. All this, along with with some of the greatest concert footage since Woodstock, Wattstax and the underrated Monterey Pop.
'Downed' (Cheap Trick)
Over the Edge (1979)
The mother of all modern teen movies, this one predates the John Hughes era by years. It's kids-from-a-kids-point-of-view, and was a big influence on Fast Times At Ridgemont High too. Here, director Kaplan uses Cheap Trick to great effect. With a single song, you're suddenly in the suburbs, trapped, authentically teenage… and the filmmakers understand you, without irony. Look for Matt Dillon's first film role, freshly discovered in a shopping mall. He's great, and so is the end of the film's apocalyptic usage of Valerie Carter's version of "Ooh Child."
'Trouble Man' (Marvin Gaye)
Trouble Man (1972)
Never has a title song towered so far above a movie. Gaye's assured groove gives the movie a heft it struggles for 99 minutes to deserve. A shaky marriage, but still a memorable one, and one that hints at Marvin Gaye's clear talents as a scoring artist. "I come apart, baby!"
'Didn't I Blow Your Mind This Time' (The Delfonics)
Jackie Brown (1997)
In which Quentin scores the movie with the greatest Sunday-afternoon soul classic ever. This is a man who knows what every mix tape needs, a semi-obscure gem… and "Jackie Brown" builds a shrine to it.
'Wise Up' (Aimee Mann)
Magnolia (1999)
"Moon River" done one better. Each character sings the song as an emotional anthem from the movie. Bold and gorgeous, and completely original.
'Something About Mary' (Jonathan Richman)
There's Something About Mary (1998)
This pause-for-a-performance idea spawned several spontaneous singing moments that worked in later films too, most notably the loopy "Aquarius" passage in Judd Apatow's "40 Year Old Virgin." Speaking of which…
'Daughter' (Loudon Wainwright)
Knocked Up (2007)
More movies should give themselves a musical coda. Especially if it's a song as good as this one.
Honourable Mentions…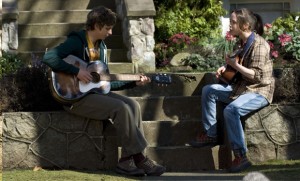 'Lust For Life' (Iggy Pop) / 'Born Slippy' (Underworld)
Trainspotting (1996)
'The Walls Have Ears' (Elvis Presley)
Girls, Girls, Girls (1962)
'Take Me With U' (Prince)
Purple Rain (1984)
'The Seeker' (The Who)
American Beauty (1999)
'Sgt. Pepper's Lonely Hearts Club Band' (The Beatles)
Shampoo (1975)
All of Coming Home
(1978)
All of David Bowie's Cracked Actor
(1974)
'To Ramona' (Bob Dylan)
Don't Look Back (1967)
'Something In The Air' (The Strawberry Statement)
'Baba 'O Riley' (The Who)
The Kids Are Alright (1979)
'Rise' (Eddie Vedder)
Into the Wild (2007)
'The Harder They Come' (Various Artists)
(1972)
'Anyone Else But You' (Michael Cera and Ellen Page)
Juno (2007)
'Singing In The Rain' (Malcolm McDowell)
A Clockwork Orange (1971)
Courtesy of Empire Magazine – Cameron Crowe – Issue 240 – June, 2009