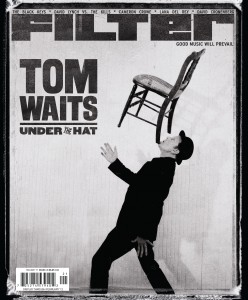 I love set lists.  If I really love a show, I'll generally drift down to the front of the stage afterwards and look for anything taped to the stage floor.  If that fails, I'll look for a tour manager who still has the list.  I've been known to remove tape from many walls and stealth-capture such a list.   The next step is to get the artist to sign it, because I have a collection in the bathroom of my place.  It's called the Quarto del Bano del Set List, and I have no strong reason for the Spanish flair.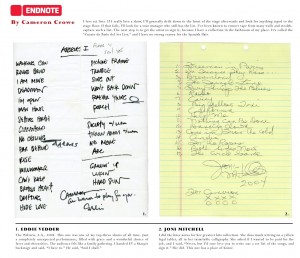 Eddie Vedder:
Wiltern, LA, 2008.  This one was one of my top-three shows of all time. Just a completely unexpected performance, filled with grace and a wonderful choice offaves and obscurities.  The audience felt like a family gathering.  I handed EV a sharpie backstage and said — "I have to."  He said, "And I shall."
Joni Mitchell:
I did the liner notes for her greatest hits collection.  She does much writing on a yellow legal tablet, all in her inimitable calligraphy.  She asked if I wanted to be paid for the job, and I said, "Never, but I'd sure love you to write out a set-list of the songs, and sign it."  She did.  This one has a place of honor.
My Morning Jacket:
This is from a towering My Morning Jacket show from the Roxy in Los Angeles in 2003.  Great performance, filled with space and crescendo, and a uniquely shaped set-list sheet as well.  Note to budding set-list collectors: MMJ or Pearl Jam set lists are often telling for the songs that didn't get performed.  Both bands can sometimes switch course, drop and add songs as they go, making the original set-list a kind of fascinating rough draft.  But I digress into minutiae Let's continue….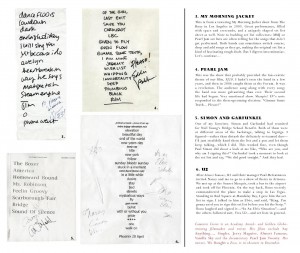 Pearl Jam:
This was the show that probably provided the fan-centric theme of our film PJ20.  I hadn't seen the band in a few years, and then in 2003, caught them at the Amphitheatre in Irvine, CA.  It was a revelation.  The audience sang with every song, the band was more galvanizing than ever.  Their second life had begun.  Very emotional show.  Sharpie!  EV's note responds to the upcoming election.  "Gimme Some Truth… Please!"
Simon & Garfunkel:
One of my favorites.  Simon and Garfunkel had reunited for Neil Young's Bridge Concert.   Both of them were at different areas of the backstage, talking to big-wigs.  I figured, rather than disturb the delicately re-teamed duo, I'd just stealthily hand them the list and a pen and let them keep talking… which I did.  This worked fine, even though Paul Simon did shoot a look at me like, "who are you, and why am I signing this."  Garfunkel took a moment to look at the set list and say, "We did good tonight."  And they had.
U2:
After Almost Famous, U2 and their manager Paul McGuiness invited Nancy and me to go to a show of theirs in Arizona.  We met up at the Sunset Marquis, took a bus to the airport and took off for Phoenix.  On the way back, Bono secretly commandeered the plane to make a stop in Las Vegas on the way home.  Standing in Red Square at Mandalay Bay, I gave him the set list to sign.  I talked to him as Elvis, and said, "King, I'm gonna need you to sign this set list before you hit the Strip."  Bono laughed and signed it — "In An Elvis Situation"… and the others followed suit.  Viva U2… and set-lists in general.
Courtesy of Filter – Cameron Crowe – December, 2011