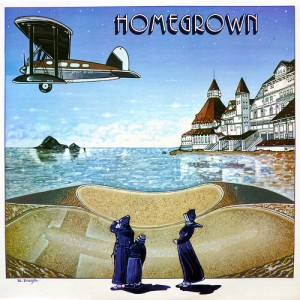 The past twelve months have been far from uneventful. Nixon resigned, a homespun journeyman became President, surf music returned, the Dodgers got hot, Dylan toured, Walter Brennan died…no one can argue the fact that the past year has brought about changes affecting each and every one of us. We're all a year older now, a year wiser. Time, so the saying goes, waits for no man.
None of the above has anything to do with this album, but no set of liner notes is complete without the mandatory inclusion of cliched melancholia. So with that formality thankfully dispensed with, we can now proceed to introduce HOME GROWN II, the third annual KGB fundraising project for the United Way.
It's been almost two years since the tradition first took foothold with the amazingly successful KGB Charity Ball in November '72. A record 51,778 persons paid a one-dollar-and-one-cent admission fee for an afternoon of music at San Diego Stadium with Jesse Colin Young, Boones Farm, Doctor Hook and the Medicine Show, Quicksilver, Messenger Service, Foghat, and the J. Geils Band. The next year, however, brought with it an unfortunate series of bureaucratic obstacles that eventually nixed a second Charity Ball. KGB program execs Ron Jacobs and Rick Leibert promptly recovered from the setback with the idea for a listener-contributed album of local musicians performing songs dealing with local themes.
The LP, titled HOME GROWN, went on to far outdistance anyone's wildest dreams. It wasn't long before Ron Jacobs realized his initial pressing of 1,000 was a bit conservative. "It was a gamble," Jacobs recalls. "There was no real way of knowing how the record would go over. A lot of songs were sent in, but that still wasn't a guarantee the idea would be successful." Jacobs remembers arriving at the KGB studios the first morning HOME GROWN went on sale. "There were people lined up all the way down the block. I couldn't believe it. We ended up getting a guy to spend the entire month flying back and forth from San Diego to L.A. on PSA with hundreds of copies carried along as excess baggage."
After 30,000 copies were sold, all at the same $1.01 price, last year's vinyl shortage cut the supply substantially short of demand. Still, the United Way received a sizable donation from the proceeds. Today, HOME GROWN is a valuable collector's item.
There were a whopping 309 songs submitted last year. Rick Leibert, who performed the marathon task of sifting through every minute of over 18 hours worth of material, reduced the initial number of entries to a much smaller collection. It was then that the KGB Music Staff gathered to select the final twelve. All the songs were numbered so as to exclude any factors other than sheer musical and thematic quality. Surprisingly, four of the songs chosen for HOME GROWN II turned out to be the work of musicians represented on the first album.
The music included here is a long way from sophomoric cassette recorder doodlings. Even those familiar with the first HOME GROWN will be surprised at the significant growth displayed this time around. Credit should be given to Bill Blue and Studio West for this year's marked upgrade. With many of the 12 tracks recorded at Studio West, a large number of the musicians have indicated that Blue is singularly responsible for the advice and direction their material needed. Between booking time, hiring session musicians, and paying engineers, studio work doesn't come cheap. The cost of recording each of the chosen entries ranged between $13.00 worth of tape for a home TEAC recorder to a one thousand dollar tab for a lengthy stay at Studio West. But while professional methods may have been utilized in the production of the individual cuts, HOME GROWN II has still managed to retain the not-quite-dry-behind-the-ears charm of its predecessor.
Crockett's Soledad Cross kicks off Side One with a light, piano-inspired autobiography in song. The tune, performed by brothers Christopher, Joel, and Jeremy, is actually a two-year-old recording formerly entitled "Soft Smoky Mountain." "It was a kind of weird, drinking song before," explains 33-year-old Joel, the bassist, and financier of the sessions, "but Chris rewrote it to be a bit tamer. We overdubbed the new vocals and entered the contest." Joel, who works at Frye and Smith Printing, isn't really a showcase for (31-year-old) Chris, who does this for a living." Jeremy, who's 25, played drums. Christopher is currently living in a mobile home and playing the bar and lounge circuit in Portland and Seattle.
Island, who scored last year with So Long San Diego, submitted three songs this time around. The selection chosen was Black's Beach (or I Left My Clothes in San Diego). Composer-leader Barry Fox, at 27, thought the song was "pretty dumb." Still, his faithful wife Vicki believed otherwise and convinced him to record it and send in a tape. "I'm surprised as hell," he says, "that they picked the song, much less put us on Sunday afternoon garage band." Other group members are lead guitarist Doug Hinton, 27, a manager at Aetna Finance, and 25-year-old twins Jim and Jeff Kroth. Jeff, who "changes jobs like shirts," played bass, while brother Jim handled the engineering. Along with Fox, who sang lead and played rhythm guitar, Vicki sang background vocals.
Following Island is another two-time HOME GROWN appearance by the duo of Ron Mayer and Gary Mercado with Springtime in Laguna. Both 23, they are eagerly awaiting the break that will allow them to drop their day jobs. Judging from their new association with free lance producer John McCoy (Jackie De Shannon, Kenny Loggins) that day may not be far off. Mayer can be found toiling every weekday at Magnetic Devices, while Mercado is still situated at San Diego Datsun. The two guitarists were aided on the song by lead guitarist, Steve Jankowski and rhythm guitarist Ray Rios. Rios and Jankowski are 20.
Next up is Lemon Grove, a bouncy little tribute reeking of tequila consciousness. Twenty-two-year-old Robert Huff paid for, produced, arranged, and helped write the tune, and Steve Hilliard can be heard on bass, John Holewinksi on drums, Steve Baker on piano, Bob Throop on steel guitar, and Allen Lintvedt on lead vocals and rhythm guitar. Huff builds custom guitars for Westland Music.
Gary Hyde, represented last year with Clairemont Mesa, proves once again to be a learned scholar of the classic pop music formula with The Last One in La Jolla. Penning tear-jerkers with can't-miss lines like "Thought I was breaking ground/but I was just breaking my heart," Hyde could very well end up tomorrow's Bo Donaldson. Tommy "The K" Kosta helped out on guitars, Tom Boyd pitched in on drums, and John Khula played bass. With demos currently circulating around a number of record companies, Hyde grimly reports he's been getting "great reaction, but no action."
Side One closes out with an all-stops-out rocker from Ravenloft called Lakeside Lady. Now the house band at a local club, the band is well known for their English-style showmanship during live performance. "Yeah," admits 22-year-old guitarist Robert Lowder, "we go in for the platform shoes, the Rod Stewart haircuts, and lame outfits. That's what we're into." Lowder also doubles as a student at Mira Costa College, while Rick Reed, 21, is a shipping clerk as well as the band's singer. Bassist Ken Kinley, 23, is a daytime cabinetmaker, and 25-year-old Fred Sinapoli manages a cemetery service when he isn't drumming. "I think Fred would rather be listed as just a musician," suggests Lowder. It's a deal.
Side Two kicks off with impressive production job by Listen on their Where is San Diego? Listen, according to 20-year-old keyboard and guitar man Dennis Bales, has been around for about seven years. "We try not to think of ourselves as a garage band," he says. "None of us have any other jobs. We work enough as it is. We take any job we're offered. Private gigs, parties, dances, high school dances…anything." Save for 18-year-old guitarist Mark Intravia, the members of Listen have all grown up together, attending the same junior and high schools. Rick Telli played bass; Tom Boyd, drums; Gary Luchino, flute; and Tommy "The K" Kosta, guitar. All are 20.
Reef Cody's Two Years Before The Mast gained its inspiration from a book display at Tom Ham's Lighthouse. Says guitarist and composer Bruce Tucker, "I saw this book called Two Years Before The Mast in the window and was somehow really intrigued by it. Turns out the book is about the dangers of the sea and the old trading stories from way back in San Diego history. I had to write a song about it." Reef Cody, which also includes bassist Dean Schulenberg, 23, and singer John Alexander, 20, is actually just passing through San Diego while playing the Western circuit of steak and lobster houses. After performing at The Boathouse all summer, they are soon of to Lake Tahoe. Tucker, 23, enjoyed the summer. "Nice place you got here."
Aragon, on the other hand, is a San Diego mainstay. The quartet can be found playing various officers clubs around town some four days a week. Their Jamul Highway was one of the two tunes submitted. "We're not ego-ed out," insists David Breeding, 28, the group's rhythm guitarist and daytime crew dispatcher at San Diego Gas and Electric. "We all know we'll get better." Meanwhile, Jim Krubeck, 23, handles drums and vocals. Steve Singer, 19, is Aragon's bassist and 27-year-old Richard Fox plays lead and slide guitar. For the time being, however, Fox also sorts mail at the Post Office. Despite steady pay, Aragon is looking to burst out of the military circuit. "It's a constant battle," says Breeding, "between what we want to play and what we have to play." Jamul Highway, it should be assumed, is indicative of what the band wants to play.
Although the setting of Mark Neynaber and Larry Clark's Out of Town Song is La Mesa, the two composers feel they have well captured the universal desire to get lost. Mark, 22, sings lead, harmony, background vocals and plays tambourine and pie pan. Larry, 20, takes care of the guitars, bass, and some back-up vocal work, too. Mark, incidentally, works as a professional magician at Disneyland. Larry, a graduate of Grossmont College, is looking towards a career as a recording engineer and musician.
For Going Back To Clairemont, 21-year-old Carey Fox utilizes Gary Hyde's old Spangles band of Clairemont Mesa fame. Randy "Brother Sweet" Flores, 21, puts in an appearance on pedal steel and guitar; the irrepressible Tommy "The K" Kosta plays guitar; Barnaby Finch, 18, plays keyboards; Mike Hayter, 21, bass; and 21-year-old Gary Nieves beats on the drums. Fox, always angling for a record contract, attends voice class at Mesa College Night School. "I always try and play with musicians better than me," he says.
Finally, HOME GROWN II signs out with a superb track from Pete "Dago From Diego" Filacio. Itchy Feet, with its moving (pun intended) chorus, rings true for Pete. At 29, he is planning to move up to Los Angeles shortly in order to gain a closer proximity to the music industry. "You can't get much work in this town unless you're a dance band or a lounge lizard," he laments. Joining in on the backup for Itchy Feet is, among others, 65-year-old Pete Filacio, Sr. on mandolin. No stranger to music, Filacio, Sr. once played trombone for Tommy Dorsey in the Thirties. Also on the track are Steve Anderson, 23, on violin; 27-year-old bassist Lonnie Nason; pianist Sheilah Royle, 25; guitarist Willy Kellog, 34; and 31-year-old Bumba on congas. Bumba, by the way, spends his days as a limbo instructor.
On that note, we'll see you next year.
Cameron Crowe
San Diego, California
October, 1974
Home Grown II (Liner Notes) – Cameron Crowe – October, 1974