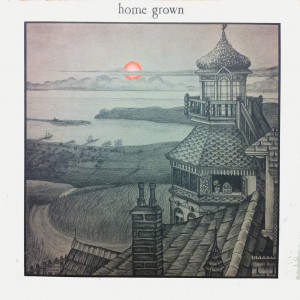 Whether he is in the midst of a city noted as being a musical mecca or not, it never has and never will be an easy task for a gifted, yet unknown, musician to gain the recognition or attention he deserves. The basic fact remains that people are reluctant to take a chance, to go out on a limb. That's where HOME GROWN enters the picture. If nothing else, the album you now hold should prove that there is certainly no deficiency of able and talented performers – artistically inspired by San Diego no less – amongst us.
Providing a forum and audience for deserving local musicians is not HOME GROWN's sole purpose, however. The LP's two-fold objective also concerns raising funds for the United Way, a cause not unfamiliar to those who recall last year's KGB Charity Ball.
Held within the immense confines of San Diego Stadium on November 12th, 1972, a record crowd of 51,778 paid one-dollar-and-one-cent admission fee for an afternoon with Jesse Colin Young, Boones Farm, Doctor Hook And The Medicine Show, Quicksilver Messenger Service, Foghat, and The J. Geils Band. The event was an overwhelming success on all counts. With the entire affair coming off without a problem, The United Way subsequently received a major donation.
Last May, KGB program exec Ron Jacobs and Rick Leibert set out to lay down the groundwork for a second annual Charity Ball. Meeting with the San Diego Police and Fire Departments, Stadium Management, and a steering committee from the United Way, the project again received the official go-ahead. Plans progressed routinely until two weeks before the final deadline for artist bookings on September 1st. The local fire department suddenly revealed a regulation limiting the capacity of the stadium to 35,000 in the event that the infield was used. The only way the facility could legally hold its previous limit, they added, was if the entire audience remained in their seats. "We knew that if we were limited to only 35,000, we would barely make enough to break even, much less raise anything for the United Way." says Leibert in retrospect. "And everybody sitting in their seats? That's impossible. It's against the basic nature of rock 'n roll."
With no time to take the issue to higher authority in the City Council and receive a decision within two weeks, the project was sandbagged.
At the same time, KGB morning jock Cap 'n Billy decided to air a new novelty single the station had just received. The tune, Chula Vista, was especially interesting in that a local group had written and recorded a song about a local community. Lips Muldoon, a (fictitious) Hollywood promo man-hustler and a regular guest on Billy's show, introduced the single one morning as the them song from the motion picture "Zapata Wore Tights or There's No Light In The Men's Room." "Needless to say," says Billy needlessly, "the feedback was phenomenal. The phones were ringing of their hooks."
With still no inkling of the monster that was in the process of creation, the Cap'n relented to popular demand and played the tune a few more times before picking up the studio line and beginning that fateful conversation with Linda Pennell. "She called to ask me if I would play a song about Ocean Beach." Billy continues the tale, "and I said 'What? Are you kidding? I don't have a song about Ocean Beach." Then it hit me…" Billy went on the air immediately to mention on a whim that if anybody out there wanted to record on tape an original song about Ocean Beach, he'd be glad to play it. "And from there," he says, "it just broadened out into my playing original tunes about any part of San Diego."
For several weeks, the morning show featured a new song picked daily from the bales of tunes brought in by aspiring listeners. Not long after, Jacobs and Leibert – still smarting over the Charity Ball setback – hit upon the idea of combining the two ventures into a second annual fund-raiser in the form of a listener-contributed album. All proceeds would be donated to the United Way. Radio spots were promptly recorded, and the announcement hit the airwaves for all those interested to send in an original composition concerning San Diego. The response was nothing short of overwhelming, and the KGB offices were flooded. None of the participants were sure they really had landed themselves a spot on HOME GROWN until they received a copy on release day.
The artists represented on this album are a fascinating cross-section of the San Diego musical community. Some are professional musicians, some consider it a hobby. Some maintain their music as a sole source of income, others work on the side. Whatever the case, it's all good music, and it's all San Diego.
Mission Beach Boogie, HOME GROWN's crisply arranged opening track, is entirely the work of 23-year-old guitarist-vocalist Bud Lang. Currently performing five nights a week at the Roadway Inn as one-half of a duo called California Country, Bud wrote the satirical look at Mission Beach life in about a half-hour. Although Lang has been "singing for quite awhile," he graduated last year from San Diego State as a Telecommunications major. Presently angling for a lucrative record contract, he hopes someday to be a television personality.
The sinister flavor of Dago From Dago rings true for singer-songwriter-guitarist Pete Filacio. Having played together with buddy Steve Anderson to cut the tune under the one-shot guise of Country Dick and City Slick. In the midst of negotiations with Columbia Records, the label has expressed a desire to present Pete (who usually performs and records as a solo artist) as an "Italian Shel Silverstein." Filacio doesn't mind in the least. "I've been called 'Pizza' all my life," he reveals. "That's all in the song, though." At 28, Pete is proud of the fact that he hasn't held a day job since 1967 and has never starved. "Not yet, anyway." Steve Anderson played guitar and sang harmonies on the song.
Encanto Rag, according to composer Steve Dampier, is strictly designed to be as derogatory as possible towards the fair city of El Cajon. A fine sense of neighborhood patriotism for these scrappy Encanto musicians collectively known as Bootleg. Band members include rhythm guitarist Dampier, 21, who is a cook at the University City Jack-In-The-Box on Governor Drive (mob him, girls); pianist-vocalist-guitarist Janet Getter, 22; 30 year-old David Wilkie on guitar and vocals; Grossmont student and lizard enthusiast "Nutman" De Santo, also 30, is a guitarist-vocalist; and Danny Arsenault, 21, who is now attending Southwestern when not drumming for the band. The highly elusive Neil Pease played pie pan on the country and western styled track.
The Workingman's Dead period Grateful Dead influence on Funky Santee is quite effective for the Hebadia Blues Band, who had the song down cold long before the HOME GROWNconcept ever arose. Group spokesman Joe Secor, 24, had no idea exactly how old his fellow band members were, aside from the fact that "they're all over 21 except the piano player, Mark." Currently making the rounds of local dances and clubs, the Hebadia Blues Band consists of Mike Hebner on harp and vocals, Secor on guitar and vocals, Ric Purcell on guitar and vocals, Craig Bradel on drums and Mark Johann on keyboards. Johann presently attends Grossmont College.
Next up is Silver Tooth and Wolf's South Bay. Writer Palmer F. Howard moved from L.A. to San Diego not too long ago. "I came here looking for fame and fortune," he laments, "and ended up washing dishes at Christy's Restaurant in Chula Vista." Howard, who is the focal point and mastermind of the group, handles the chores on organ, acoustic guitar, piano, sax and flute as well as vocals. "That's all I want to do," he explains, "just play music." Ron Hahn, 21, and Owen Rinner, 25, comprise the rest of the trio.
Montezuma's Revenge are those clever sophisticates behind the authentic swing music of Spring Valley Sally. Dan Hicks would turn green if he were to hear the work of this six-man band, and chances are he just might in the near future. Capitol Records has expressed very serious interest in signing the group. They are: Charlie Rosenberger, 23, who plays guitar (when not teaching bagpipes at Helix High School); Chris Vitas, a 21 year-old fiddler and U.C.S.D. student; Jim Soldi, 20, who handles schoolwork at Grossmont, a job at Valley Music in El Cajon (his father owns the place) and a band position on guitar; Lenny Bole, 21, who works at a warehouse and plays banjo; Rick Sparhawk, a 23 year-old pharmacist's assistant and bassist; and Malcolm Rosenberger, 21, the drummer and brother of guitarist Charlie. Everybody sings.
Side Two opens up with the infamous Chula Vista. Rose & The Arrangement came up with this all-time classic piece of genuine buffoonery. Rose La Bella, the group's vocalist and namesake, enjoys telling the sordid details of how the tune evolved from "Nutty" Doug Drill's doodlings on the piano to an official release on Highland Records. Other members are bassist Rex Paris and drummer Sal La Bella (Rose's husband). Everyone is in their late thirties. "For us it's a second chance at it all," says Rose. The band is set for the Las Vegas circuit this December.
Gary Hyde's admiration for whiz-kid Todd Rundgren is no hidden fact after one listen to Clairemont Mesa. An excellent example of quality pop music. Gary and his studio band Spangles are all 20. Recorded at Studio West, Randy Flores is heard on guitar, while Gary Wieves on drums and Mike Hayter on bass flesh out the instrumentation. Hyde turned in his stellar performance on piano and vocals.
If only The Rib Cage knew they had a budding Randy Newman behind the grill. At 22, pianist-vocalist Steve Blake is a cook at the Point Loma restaurant, but his heart lies in writing and performing songs like (Fly In My Soup) Back To El Cajon Boulevard. He is the only musician heard on the cut.
Michael Hanson wrote it, but both Hansen and Brad Ramsey are the artists responsible for the musical end of things on City Limit Blues. Hansen, 24, and Ramsey, 26, first met when they both were busboys at The La Costa Country Club. Hansen has since left his position there to pursue a full-time musical career. Brad, however, is still stacking trays. Ramsey played bass on the cut with Hansen on guitar. Both sang.
La Jolla Sunset is just one track from an album concept by Ron Mayer and Gary Mercado. Both are 22, play guitar and sing background for the instrumental. Says writer Mayer, "The sound of the tune reminded us of a La Jolla sunset. I believe it captured the mood perfectly." Mercado is presently working at San Diego Datsun.
So Long San Diego provides the quintessential caper for HOME GROWN. Barry Fox penned the tune for his band, Island. Lead guitarist Doug Hinton, 27, is a repossessor for Aetna Finance. Barry Fox, 26, works in a computer factory and plays rhythm guitar. 24 year-old twins Jim and Jeff Kroth play bass and drums respectively. Jim attends San Diego State University, and Jeff works the graveyard shit at J.C. Penney's.
So there you have it. A cast of characters who combine to musically make an infinitely more telling statement about San Diego than any tourist brochure or "City In Motion" slogan. And who knows? Excuse the cliche, but any one of the many brilliant musicians and composers represented on this album could go on to a highly successful career on a national level. After all, Frank Zappa graduated from Mission Bay High School.
Cameron Crowe
San Diego, California
October, 1973
Home Grown (Liner Notes) – Cameron Crowe – October, 1973