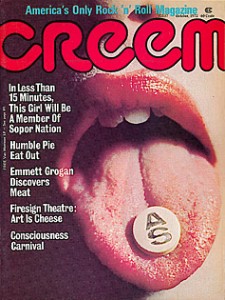 Humble Pie Eat Out

On stage, Steve Marriott is the one to watch. Not that drummer Jerry Shirley, bassist Greg Ridley and guitarist Clem Clempson are any less competent, but Marriott is the showman.
While Shirley, Ridley and Clempson stand in the background playing calmly efficient rock 'n' roll, Marriott who stands five feet short without his elevator boots, wrestles with a same size guitar and handles lead vocals as well.
Feet spread apart, Marriott sputters and roars the vocals, twanging his lead guitar for emphasis. His movements are stiff, almost robotic.
Musically, Marriott is the one to watch as well. The brand of lead singer that sings his audience chatter, as the band struts out onto the stage, he almost always will greet the audience with an "Aaaaaaaaaaaaaaaaaaaaare Yooooooooooooououououuuuuuuuu Readyyyyyyyyyyyyyyyyyyyy" in a mock-blues manner hitting some range of notes within "Are You Ready's" boundaries.
Of course, the audience goes wild. Humble Pie leaps musically, Marriott physically into "The Fixer," a tune tailor-made to collar the crowd from the very first note. From there the set shifts from gritty rock 'n' roll to blues-rock a number of times. Eddie Cochran's "C'mon Everybody" juxtaposed with, say, "Rolling Stone."
It is on "Rolling Stone" that Steve Marriott trades in his rock 'n' roller image for the dirty bluesman appeal.
Actually there are two versions of that number – the one on Rockin' The Fillmore and the one they perform live. The latter being the more…. earthy, shall we say.
It was clear to see that each night the story sung within the twenty-minute epic changes. That night, in thick English accent style, Marriott transformed himself into a young man visiting his girl friend's house. To sterilize the story, the protagnist is accosted by the girl and her mother, who consistently offers him sandwiches. "Bu uh don won't no fuggin' sanwiches."
And then it's on to "Hallelujah (I love her so)" with its almost pretty melody. Exit Humble Pie. Thundering applause – enter Humble Pie for an "I Don't Need No Doctor" encore, niftily reworded as "I Don't Need No Fuckin' Doctor" by a euphoric Marriott.
A few minutes later and it's all over. Humble Pie, who were moments ago shouting and stomping, are now silently shuffling down the stairs leading from stage to dressing room. The girl, pressed against the stage by other stage-rushers, who kept pawing for such a rub of Marriott's English (elevator) boots is now just another face in another crowd in another city at another Humble Pie show. The whole night swiftly melts into all the others in the minds of the four road weary lads comprising Humble Pie.
The present Humble Pie tour is a crucial one in several respects. For the first time the band is playing top bill on all their gigs outside of the English festivals. For the first time the band is on tour with a new guitarist in Dave "Clem" Clempson.
Just as the by now quite familiar live album was reaching top-twenty status in October of 1971, Peter Frampton left the band. Supposedly stricken with the popular "musically confined" disease, he retired to England to record a solo album, Winds of Change.
Left with their pants down, the band lunged for Clempson. "It was strange. The cat just ran out on his old band, Colosseum, and I said 'Well, come over'. We had a few joints. I liked him as a cat, and it so happened that he had brought his axe along with him. We jammed and realized that it could work. We dug each other's playing, which meant most.", Marriott confides.
Marriott has an odd habit of being rigid while a question is being asked. Becoming very expressive, smiling for a fraction of a second if he has said something that pleases him, while answering the question. Yet when the last word has been said, he becomes rigid again. Strange indeed.
The current format for the Pie wasn't the one they decided on from the start. Towards the end of 1968, Humble Pie was formed by Frampton and Marriott, two estranged members of well-respected British bands. Frampton of Herd, Marriott of Small Faces. Picking up Jerry Shirley and Greg Ridley along the way, the four relocated to Marriott's cottage in Essex for six months of rehearsal.
In 1969, The Pie arrived in America for the first national tour. At this time, they were a solid English band with two foreign releases, Town and Country and Safe As Yesterday Is.
"We were happy with Safe As Yesterday Is until it came out. We'd waited a year to get it out and the company (now-defunct Immediate Records) were trying to win a fucking Nobel Prize for the cover. We told 'em to just stick it in a paper bag…. anything to just have it released. Their interpretation of 'paper bag' when the smoke cleared was stamps, string…. our pictures were on the stamps. That wasn't at all what we wanted. We told 'em to just stick it in a paper sack. It took 'em a year to get it out, so by the time it came out, we thought it was terrible. We'd been together a year and a lot of shit had come down since we had recorded it."
When the group was whisked into America, their set was mainly acoustic. The audiences were well into psychedelia and found the set boring. So, it was back to England where the band was greeted with the dissolution of their record company. It was time to reconsider themselves.
"We wanted to do everything we could do. We couldn't. In theory it worked, in rehearsals it worked…. but put it on stage in front of lots of people and it's very difficult. We wanted to go from acoustic numbers to keyboard and electric numbers and back. But…. I don't know. Perhaps we came at the wrong time. People had never heard of us anyway."
The band got their big break at a crucial time. Manager Dee Anthony (late of Mad Dogs and Englishmen), who "keeps us (H.P.) all happy and out of a rut" signed the band to his Enterprise Company, opening the door for AM to sign the band.
That point marked the step-by-step success of the Pie. From Humble Pie to Rock On to the clincher Rockin' The Fillmore onto Smokin', they have found themselves suddenly, after a period of turmoil, emerging at the top.
"And I'm glad that no one can say hype to us 'cause we've fucking worked our balls off for two-and-a-half years. We didn't make it over night."
And now that the band has some space to breath in, Marriott is steering himself back to the acoustical numbers. (Listen to "You're So Good to Me" on Smokin').
In the meantime however it's back to the basics. "There was fucking hours of jamming with the band when we were doing Smokin'," remembers Marriott. Out of such jams came "Hot 'N Nasty," "30 Days In The Hole," and "C'mon Everybody"… which are all obvious returns to the roots.
"That's what we were doing when we were like 16 and 17. That's what comes naturally to us, because it all stems from that. We try and do down-the-line numbers without being clever and trippy."
Yet, with the freedom that stardom brings, there are certain pressures that emerge as well. "The pressure is tremendous knowing the people have come to see you," Marriott exclaims. "Therefore you've got an obligation, not only to yourselves, but to the people, too. If we don't turn those people on, then it means our job."
Of the mild stage theatrics that Humble Pie undergoes, much it of accents the music considerably. Yet when it comes to consciously plotted acts to be performed on stage…. "I don't think it's good, unless it's like Alice Cooper's thing which qualifies for legitimate theatre." For a fleeting moment a wide grin swept across the face of Steve Marriott.
Humble Pie seem to be doing a good job of making it these days. Presently enjoying the most successful chapter of the band's struggle for acceptance, Steve Marriott and The Pie appear doomed to play the various hockey arenas across America in order to cover their many fans.
"It's the first time we've really been four members in the same group. I can't really explain the feeling. It's like…. well…. it's like. Screw it. It's just good." This time Steve Marriott's grin stuck. He knew he had just quoted a quotable quote.
Courtesy of Creem – Cameron Crowe – October, 1972