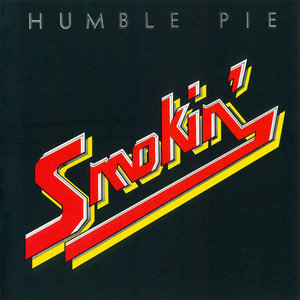 Humble Pie – Smokin'
There was alot riding on this album. After the general economical failure of their first two albums released in the States, Humble Pie and Rock On, their live albums, Rockin' the Filmore shot them up to top-billing across the country and into a major name. So, when Smokin' hit the racks it would provide exposure of the studio side to a band that became famous on their live side. The reception would be significant.
Steve Marriott, Humble Pie's lead singer and guitarist, described the album to me as one that was quite fun to make, and enthusiastically performed. Well, boys and girls, I don't know quite how much fun it was to make, but I sure as hell can say that the record is pretty damn enthusiastic.
Actually there is nothing extremely original about the band. They play a brand of rock 'n roll that is definitely not unique to them. So…just what is it about Humble Pie, or for that matter Smokin' that in actuality puts them in a class above so many others? That is the question I had to set out to answer with this review.
And to be truthful I wasn't quire sure about that answer when I started writing this thing ten minutes ago. But now, with "C'mon Everybody" rockin' in the background, the answer has become apparent.
Humble Pie is a confident band. They don't bashfully kick around a number of styles and techniques. When they set out to record a number, they do it. And do it with gusto.
"Hot 'N' Nasty" debuts the LP, with the help of Steve Stills on harmonies, in a straight-ahead, no compromise style of rock that just can't miss.
Marriott's vocal style can be reminiscent at times of early Jagger, yes, but the initial Jagger vocal steadfastness is missing. But this isn't any sound-alike contest, so as Eddie Haskell says "Who give a heck, Sam."
"You're So Good to Me" is a pretty song that Marriott is especially fond of, even though he has yet to work it into his stage act. The acoustic nature of the tune, sets it a small distance from the other material, but don't get the wrong impression. It is by no means a Steve Marriott as James Taylor item. Humble Pie a it's mellowest is a major bit nastier than the nastiest of Taylor's tunes.
"30 Days in the Hole" makes good use of chorus as somewhat of a restraint on Marriott's lyrical work. As soon as he begins to stray a bit from the main theme, Jerry Shirley, Greg Ridley and Clem Clempson vocally remind him of the song's title.
All this is leading up to, of course, the showcase of the LP. The ultimate in balls rock. The quintessence of rock 'n roll. The epitomy of shake yer ass music – "C'mon Everybody," an Eddie Cochran tune. A killer song if I ever heard one. Great guitar work.
Marriott and the band are especially proud of this LP. First, it is doing fantastically well in the States. And second, Smokin' was the band's first production on their own. Also, Clempson is a new member, doing just an excellent job on guitar on keyboards.
Humble Pie is a band that works with the bare essentials of rock 'n roll. Performance Rockin' the Fillmore proved them as a great live band. Smokin' proves them as a great band. Anywhere.
Courtesy of the Door (aka San Diego Door) – Cameron Crowe –  April 27, 1972  – May 18, 1972