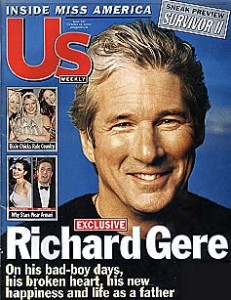 Goldie's Girl
One the eve of his most personal film, writer-director Cameron Crowe talks with the star of Almost Famous, his friend Kate Hudson, the daughter of Goldie Hawn
Cameron Crowe and Kate Hudson both spent most of their lives being almost famous. Crowe was just a 15-year-old San Diego high school sophomore in 1973 when he landed an interview with the band Poco for Rolling Stone and began a remarkable career as a rock writer. His success profiling bands such as Led Zeppelin, the Who and the Eagles led him to fulfill the journalist's dream of writing a novel (Fast Times at Ridgemont High), which in turn led him to Hollywood. There, with films such as Fast Times, Say Anything…, Singles andJerry Maguire, he has gained a reputation as an auteur with a mass audience. Now Crowe, 43, mines his past with Almost Famous, a movie about a somewhat geeky teen who lands a cover story for Rolling Stone by following the rock band Stillwater (loosely based on Led Zeppelin) on the road in 1973.
Kate Hudson, who stars as a groupie in the film, has been almost famous by default since the day she was born to actress Goldie Hawn and comedian Bill Hudson, in 1979. After her parents divorced, in 1981, Goldie fell in love with Kurt Russell, and the two of them raised Kate and her brother, Oliver Hudson, 24, her stepbrother Boston Russell, 20, and her half brother, Wyatt Russell, 14. Kate announced she wanted to act at age 11. She'd had roles in independent films like 200 Cigarettes and Desert Blue before she won the part of Penny Lane, the leader of a bunch of colorful camp followers who call themselves the Band-Aids.
Crowe and Hudson are both well connected in the rock & roll world. He's married to Nancy Wilson, formerly of the band Heart, who cowrote with Crowe four new songs for the soundtrack of Almost Famous: the two live in Los Angeles with their 9-month-old twins, William and Curtis, and three mixed-breed dogs. Hudson, meanwhile, wears a diamond ring from Chris Robinson, the frontman for the Black Crowes.
Here, Crowe and Hudson sit down to talk about family, love and rock & roll.
Cameron Crowe: What's in your purse right now?
Kate Hudson: In my purse I have The Greatest Hits of Jackie Wilson. I have a big can of Secret deodorant. I have my journal. I have my cellphone. I have about five packs of film with no camera. I have a flask cigarette holder – it's sort of a joke gift from Chris. I have two pairs of sunglasses. Gum. Lip Balm. I have lady stuff, a tampon …
Crowe: Well, we don't want to talk about that. Flowers?
Hudson: I have flowers. I have playing cards. I have nose spray for the airplane, which actually is really good for when you're flying a lot. Barrette. I have my crystal. And I have a little key and … that's it.
Crowe: Can you read the last entry from your journal?
Hudson: Oh, my God. Can I look first? My last entry …no. [Laughs.]
Crowe: What's the last one that you can share? Let the record show that Kate looks feverishly through her journal.
Hudson: OK. This was when we were in the Mojave Desert, shooting the scenes on the bus. It was September 14, 1999. It says "Last night, we drove back to the hotel and I said goodbye to the sun for the day. And this morning, I walked outside the hotel and said hello to the light coming up over the hill. I feel extremely emotional today, like my soul has creeped up right underneath my skin, completely available to the world. My heart is constantly aching. I don't know why. It's not that I'm missing anything; it's that I'm feeling everything, and my heart's accepting it. I wonder if it's true that people you connect with immediately you've known in another life, and the ones you have to work for are new relationships." That's all I want to read.
Crowe: That's great.
Hudson: Bur that's what the movie was, I guess, at the time. Feeling everything.
Crowe: I remember one of things somebody said when they first saw the movie. They said, "That is the most confident performance by a newcomer I've ever seen." You do exude a certain amount of confidence. Is it an act? Do you have a private moment when you go home at night where you wonder "Oh, my God, how did I do?"
Hudson: When I was on-set with you, it was so comfortable, and I felt at ease. When I go home, of course, there's always that feeling that you could do better, and you look back and you say "Oh, maybe I could have done that a little better." But I think that's also part of what fuels you constantly through your life to get better and better.
Crowe: What's your favorite song containing the word love in the title? I ask you that because you represent pure love in our movie.
Hudson: Chris just wrote a song, "Love Is Now," that's actually really incredible.
Crowe: It sounds kind of psychedelic. Is it psychedelic?
Hudson: No, it's actually very sort of raw rock & roll, very Stones-y, I would say.
Crowe: What was the first record that secretly told the story of your life in a way that you couldn't believe could ever be captured in song?
Hudson: The Stones' Tattoo You was the first album I ever felt that way about. And it was actually the first time I ever had a crush on a guy, and I would listen to that album over and over again.
Crowe: Did you consciously not go for the stuff that people your own age would have been into?
Hudson: I just liked what I liked, you know? I just listened to what moved me. And also I danced, and my dance teacher was a big Deadhead.
Crowe: Were you going to be a dancer?
Hudson: Dancing was just something that was part of my life. It was the same thing with soccer. It was what I did, you know?
Crowe: Who are the people in your life who really, really know you, if any?
Hudson: Christopher.
Crowe: Chris Robinson?
Hudson: Yes. He got me the first day he met me. It was very bizarre.
Crowe: This was …?
Hudson: Six months, seven months, ago? He just immediately got it. He took me for a walk in the park, in New York, Central Park. I was singing "Walk in the Park," and I go "God, you know, what is this?" But it was like his favorite thing to do is walk. And he held my hand, and I knew I was immediately in love with him. It was the scariest feeling I ever had – it's like nobody's going to understand, and yet we actually went to the lake, and we sat there and just talked forever. And he totally got me.
Crowe: What song are you embarrassed that you love?
Hudson: "Pour Some Sugar on Me," by Def Leppard.
Crowe: What movie are you embarrassed that you love?
Hudson: I'm embarrassed that I love Cocktail. I mean, when Tom [Cruise] is behind the bar singing "Addicted to Love," it doesn't get any better than that. [Laughs.]
Crowe: First thing your mother said to you after she saw Almost Famous?
Hudson: I think my mom was in utter shock. I can't tell you what she was thinking, I just know that she looked at me and said, "I'm so proud."
Crowe: Who do you have on auto-dial on your cellphone?
Hudson: A lot of people. I have my mother and her car and her office and her cellphone and her other care and her …actually, I have about five Mom numbers. And I have Chris's people's numbers, his manager and assistant. Just 'cause he never remembers numbers. I have Oliver, my brother. I have Emily [Hudson, 19], my half sister, her cellphone.
Crowe: OK. What is it about "River," by Joni Mitchell, that makes you cry? This is a song that I played at the moment when you meet Billy Crudup in the movie. And I brazenly played this in the middle of your take and it made you cry, and that take is in the movie, when you get misty. What is it about that song that allowed you to go to this place where you just seemed so wide open to every emotion?
Hudson: I have no idea.
Crowe: Somebody once said that every time you cry, you cry over a sense of loss.
Hudson: That's bullshit. I cry all the time out of joy. And I'm not losing, I'm gaining. That's a huge part of growing and evolving. No matter what, you're not losing anything by releasing.
Courtesy of US Magazine – Cameron Crowe –  October 9, 2000