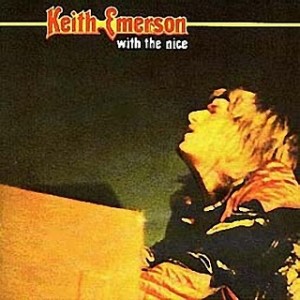 The Nice – Keith Emerson with the Nice (Mercury SRM-2-6500)

Let's face it. If you're gonna make money these days, you gotta have the acceptance of the screaming thirteen year olds. When the Nice were at the height of their short-lived existence, they only had the avante-garde as fans. Everyone else seemed to be getting off on Chicago, Led Zeppelin, or Creedence.
So when the Nice dissolved and their keyboardsman, Keith Emerson, went his way, not too many people were broken up about it. Mainly because not too many people even knew about them. Emerson, who became slightly well-known for stabbing his organ at the live Nice concerts, soon formed Emerson, Lake and Palmer.
It wasn't long before Cotillion Records signed them and departed on a massive ad campaign. ELP were advertised in England as "number one in America," and advertised in America as "number one in England." This was all that was needed for the group to attain what is commonly termed as "superstardom."
Last summer, ELP played the Arena with Delaney and Bonnie. As Emerson took the stage, a shriek arose from the mail-ordered upper row seats occupied by a fleet of pimply, teenbopping chicks. That's what it takes. The okay of those who can afford to purchase over-priced concert seats, and over-priced albums in great quantity. It's that okay that can mean commercial success or failure.
Both Pictures at an Exhibition and Keith Emerson with The Nice are essentially Emerson. He provides the bulk of the music and is responsible for most of the unique arrangements.
Now for a little background on these albums. Keith Emerson with The Nice, a two-record set, is actually a re-release of two Nice albums, Five Bridges and Elegy, released only after ELP became popular. The albums didn't sell even then. So the two-album set is a second attempt to cash in on the success of Emerson. This time to assure success, the non-existent group has now been retiled KEITH EMERSON with The Nice. "With The Nice" is about one-fourth of the size of "KEITH EMERSON."
Pictures at an Exhibition, the latest Emerson, Lake and Palmer product, is their famed live performance of Mussorgsky's classical piece with an encore of the Nutcracker Suite (swiftly re-titled Nutrocker Suite).
The latter is a perfect example of that ounce of commercialism essential to success. Yet, both of the above described products are excellent.
Emerson is probably the only keyboardsman living that can be the best in almost all the variations and the assorted musical fields his instrument encompasses. The re-released set serves as an excellent showcase for that talent before it was slightly altered for material purposes. Pictures of an Exhibition is a dazzling opportunity for the listener to enjoy rock, classical, jazz, moog, and folk music all in not only album, but one piece.
In other words, if you thought Elton John was the quintessence of piano work, don't just listen to, but experience either or both of these two fine products.
And as for what success had done to Keith Emerson and company… well, at least he hasn't added "You've Got a Friend" to his repertoire. Yet.
Courtesy of the Door (aka San Diego Door) – Cameron Crowe –  February 24, 1972 – March 9, 1972