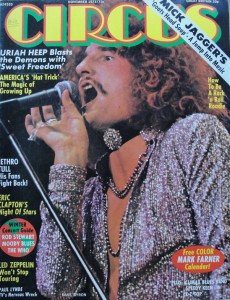 Led Zep Won't Stop Touring
LAST SUMMER, when the cold steel elevator doors of Hollywood's infamous Continental Hyatt House slid apart to reveal the ninth floor, visitors were immediately met by two menacing security guards. The uniformed officers demanded an official note of authorization before visitors could step one foot onto the carpeted floor. If no note was presented, one of the burly cops silently reached a hairy arm into the compartment and smashed the button marked 'lobby'. The elevator was sent hurtling downward.
There were similar welcomes throughout the United States on Led Zeppelin's whirlwind Houses of the Holy tour. By the end of the group's stay in America, security guards had sent fleets of sleazy, ornamented groupies, eager young journalists, and snap-happy photographers grumbling back to the clogged main floors of hotels and motels. Mobs of hundreds had patiently milled around stage doors in hot anticipation of the inevitable appearance of any one of the four English lads who whipped over sixty major American cities into a summer frenzy.
Reaction to Led Zep's smash U.S. tour this past summer is still sending earthquaking tremors across the country, but Led Zeppelin themselves, caught in the middle of the quake, feel no pain at all. While Alice Cooper threatened to quit touring be-cause of the exhausting pace, and David Bowie actually gave it all up, Led Zeppelin still loved every minute of it.
On and on
Robert Plant, fresh from the shower and clad only in a white terry cloth towel, strode to a window overlooking the English countryside. For a moment Plant quietly reflected upon the grueling nature of Led Zep's much publicized cross-country jaunt.
"Since we were last in America," he spun around and grinned widely to reveal a conspicuously missing molar, "I'll bet we haven't had six weeks off altogether. We've been playing like a group who's trying to make it, you know. But we've made it… long ago."
Plant's remark, and the massive amount of worldwide roadwork the band undertook last year, has led some to speculate that this past tour may have been Zeppelin's swan song to the life of Holiday Inns. After all, with glamorous and rustic mansions situated throughout the forests and beaches of Europe, why on earth would Plant, Jimmy Page, John Bonham or John Paul Jones want to spend their days on the road? Con-ceivably, if the group was to retire from live performances, there would be no more dramatic time than now. With a record-shattering sold-out tour of America's largest arenas and stadiums behind them, Zep fever appears to have reached an overwhelm-ing pinnacle. And despite an unfortunate New York robbery of $ 180,000 from a hotel safe, there is no financial need for the band ever to subject themselves to a tour again.
"I mean," Plant added, plopping onto the springy queen size bed and leaning against the headboard, "there's no reason why we should have to play again. We've played every single market that there is to play in the last twelve months . . . apart from Bangkok and India, which we'll get to in the next two years. But we got the balls in us and we enjoy playing too much to ever quit. I can't stop smiling when I'm playing. I like to see people enjoying themselves. I think that ten years from now it'll still be the same, too," he added. "The magnetism that the group holds can't wane for any reason that I can see. We've tried to stay away from all the passing hypes and fads in the musical business. There's no reason why we should follow them at all. We can just set our own standards. I think that people appreciate that. Obviously, I can't see what I'll be doing in eight years from now. . . but I'll tell you one thing. As long as I'm feeling 'Black Dog', I'll be singing it."
Best and brightest
In another section of England, virtuoso guitarist Jimmy Page sunk into a deep green sofa and listened in comfort while a stereo pumped out Al Green records. "It was a terrific tour," he reflected in his clipped English accent. "The reaction was really fantastic. Very, very warm."
Perhaps a major factor in Page's extreme pleasure with their recent American tour was the presence of a highly proficient lighting crew. "It was something new for us," he beamed. "We've had lighting before on other occasions when people have just turned up and done it, but we've never really planned anything. This time we routined all the lighting before we came over. It took about three or four days rehearsing to get it really tight, so that it augmented our set. It was really well-received, and sometimes you found the lighting effects getting applause on their own, which is really good. It made more of a show that way.
"We rehearsed the whole show at this place called Old Street Studios in England. It's an abandoned film studio. You see, it's very difficult to get rehearsal rooms in England because of the noise. Anywhere, for any group, it's the same story. Every group is up against the same problem. But the studio we used is a nice place that nobody uses for films anymore. The film business is a bit crummy, I suppose. Everybody makes cheap budget films and they don't use those places anymore."
The three-hour extravaganza of a set that the band rehearsed in the empty studio was their first in a long while that didn't include any acoustic material. "We had no room, man," Plant explained, his eyes agog, "we played for three hours as it was. Christ, I mean we just couldn't. Physically, there was no space left inside my lungs to do much more than three hours, 'cause I really push it out, you know. I didn't want to over-fatigue myself because I did a little bit of chasing around at night."
Too much too long
Plant then honked out a series of guffaws that ended in a coughing spasm. "But sometimes I think we played too long. A lot of groups only play for an hour, you know. After three hours, there's no room for anything more. We've done a lot of acoustic stuff onstage in the past, of course, like 'Bron-Y–Aur Stomp' where the audience used to get up and start clapping and every-thing, but now we've got 'The Song Remains The Same', 'The Rain Song', and "No Quarter' and we really enjoyed doing them. So to break it all with an acoustic thing in the middle wouldn't be right. We've got a lot of acoustic stuff in the can, though. Stuff that we've written here, there and everywhere that's real good."
Although Robert has said time and again that he wouldn't be at all sur-prised if Zep ended up doing "an Incredible String Band-type trip," Page elicited a different response. "I'd be surprised," he chortled. "I don't see what he means, really. We may have a little bit of fun at home or something, but I can't see anything seriously materializing. I like playing rock 'n roll too much. But that doesn't mean to say that we couldn't sit down and play 'The Battle of Evermore' after having done a really heavy rock 'n roll set. That's the way we are, that's the way the group's al-ways been. We can turn our hand to anything. That's the important part, really. You just can't stereotype Led Zeppelin. If this tour showed us in one light, that doesn't mean we won't come back again doing something completely different."
It may come as a surprise that the next Zep LP will not be a live one capitalizing on the attention given the tour last summer. "We didn't record at all this last tour," revealed Robert. "There've been many attempts to capture what we consider to be Led Zeppelin on stage, right? And even with all the modern mobile recording equipment, we haven't been able to capture the magic of it all. I mean, you might as well buy a bootleg, and they're really bad. But you've got to capture the magic, and if you don't capture it, there's no point in doing a live album. To me, live albums in the past have always been an excuse to get a record out when you've got no material. We have all the material in the world, and if we can't capture the vibe on a live record than why bother?"
The alternative? The band dragged along a film crew for the last half of the itinerary dates for an upcoming movie.
Deserved rest
Now that the monster tour is over, the band has entered a period of what Plant wistfully calls "sleep", as the quartet breaks up for a well-deserved rest until they enter the studios once again for a new LP. One possible project arising in the interlude before the sessions may be a Yardbirds reunion album involving Jimmy Page. Even Alice Cooper has publicly pined for a reappearance of the group and now, according to Page, something special may be brew-ing.
"I've got good memories of the band," Jimmy agrees, "I mean, there were obviously ups and down and personality conflicts, but it was a great time in my life. If a reunion album happened, and it was presented in the right way, it would be really good. But somehow, I just can't see Jeff Beck doing it. I think everybody else might do it, I don't know about Jeff, though. He just doesn't like to give credit to anybody else. He's a silly boy."
Yet when it comes to silly boys, Led Zeppelin had more than enough blowzy, sensational tales circulating about their last tour to fill a set of encyclopedias. "Well," deadpanned Plant after a very long pause, "I'm a family man." One of the group's roadies, sitting in the room, burst out in hysterics. "What can I say?" Robert shrugged. "We're not hooligans. We had a good time, that's all. I don't think we ever hurt anybody.
"I mean, girls who showed us their knickers in clubs only showed them because they wanted them to be ripped off and sniffed. It's a game, isn't it? And you all have a laugh when the game's over . . . but of course," Plant tried his best to stave off a laughing fit, "it's usually one of our roadies that rides along with us and then gets us a bad reputation with his shenanigans."
"Okay," the roadie chuckled, "next time you need two motorcycles and a live octopus at three in the morning, go ask someone else."
Courtesy of Circus magazine – Cameron Crowe – November, 1973