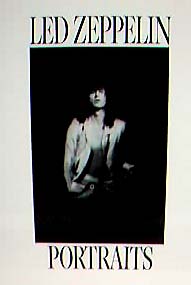 During an American tour several years ago, Led Zeppelin guitarist and founder Jimmy Page sat in his hotel room selecting official press photos. The photographer clicked through the shots on a slide projector, and the images filled the wall of Page's darkened room. Time and again, Page passed over the clear and precise photos in favor of the dark and fuzzy near-rejects.
"What are you looking for?" the photographer asked.
Replied Page, "Power, Mystery and the Hammer of the Gods."
Dramatic words, perhaps, but after more than twelve years of writing about them, I've still heard no better description of Led Zeppelin. Now, six years after the group announced its disbanding – a move made after the tragic death of drummer John Bonham – their music still floods the airwaves, their albums continue to be huge sellers. The Song Remains the Sameis one of the biggest films on the midnight-cinema circuit, and Zeppelin remains a rock institution against which other bands must be measured. And still, few know any more about Page, Bonham, bassist-keyboardist John Paul Jones, and singer Robert Plant than they did when the group formed in 1968.
Most of this was by plan. Perhaps more than any other band, Zeppelin was a group insulated from the outside world. Scorned by critics throughout much of their career, the group carried an uneasy view of outsiders. For their twelve years together, they clung to their own longtime friendship and to the incredible fan support that began with their first album (recorded in thirty hours) in 1969.
"I have no idea why Zeppelin is so popular," Jimmy Page said in 1973. Covering the band for the Los Angeles Times, I had already been led past two hotel security levels, several road managers, and two double-locked doors into a large room where Page sat alone, quietly staring out the window onto Sunset Boulevard.
"We've never done a television program," he said. "We don't seek out interviews. We don't record AM singles. All I can say is that Led Zeppelin is street music. Rock and roll. Maybe people feel an affinity towards it because the media never hammered it down anybody's throat. Quite honestly, the popularity surprised us."
The photographer on that first assignment had been Neal Preston. He was a friend from several stories we'd already worked on together, but it was obvious that Zeppelin was a specialty. He shot the group with a fan's knowledge of the music. Notoriously wary of photographers, the band grew comfortable around him.
When Zeppelin returned to America in '75, Preston was their tour photographer and I was one of the few journalists invited along. After three weeks, I'd taped numerous interviews and traveled with the band to more than a dozen shows. On stage, the sheer size of Zeppelin's brute force sound often clouded the fact that they were, simply, a trio with a singer. Their balance was fragile – and explosive. When one part was faulty, the show would suffer. But when all the engines fired – and that was much of the time – there were few concerts as powerful.
Indeed, a Led Zeppelin tour was different from any other in music. There wasn't the media flash of a Stones tour or the garish museum-piece draw of Elvis Presley's later tours. Led Zeppelin concerts were private events between huge numbers of people. Ads were unnecessary. Hype was superfluous. They played the biggest halls and stadiums in the world, yet they were never "entertainers."
Offstage, the band rarely exited their hotel rooms. When they did, it was usually as a group. I was left with a recurring thought – here was the biggest group in the world, and they traveled in the smallest of cocoons.
For millions of kids and young adults, life could be marked by Zeppelin albums and tours. They provided the soundtrack to adolescent lives the world over. Perhaps no one knew this as much as Robert Plant, by far the most accessible member of Zeppelin on the road. Plant was known to walk into such places as a suburban McDonald's, strike a classic rock-god pose for a shocked counter girl, smile, and order a Big Mac and fries. Then he might sit and talk about the band with fans, happily gossiping about the group's inner workings.
The rare candid shots published here for the first time are among my favorites – simply because they show a side of the band that few ever saw. Most fans wouldn't or couldn't imagine Plant walking onto the tour plane proudly wearing a Robert Plant T-shirt (homemade) thrown onto the stage a half hour earlier. Or Page sprawled across an airline seat still wearing his stage clothes and rocking out to a video of "Girl Can't Help It." Throughout these photos is a very real sense of the four members. This was never a jaded band. They knew and loved the fact that when the four of them stood in a room together they were indeed Led Zeppelin.
The American tours of '75 and '77, well-documented here, would be the band's biggest ever. Massive ticket riots broke out in many cities. The tours began to resemble political campaigns. The papers carried stories about the mysterious group throwing their town and children into upheaval. Then Zeppelin would come to town, still the outcry with a three-hour set, and move along to the next city. Back on the plane after a show, Zeppelin often resembled a sports team giddy from victory. For all the Power, Mystery, and Hammer of the Gods, it was still a group of young men who'd seen their band reach the peak of success.
In '78, Zeppelin went through an incubation period, and released their ninth album, In Through the Out Door, the next year. It was in the midst of an industry recession that had already brought down other "dinosaurs," but the album still sold a phenomenal amount of records. The band came to stage life again, rehearsing in an English hall next to Generation X. Young Billy Idol hurled insults at them. Zeppelin volleyed back.
The band played their biggest shows that year, headlining two performances at Knebworth Festival in London. Page helicoptered in, fit and in command. Plant was in fine form, Jones and Bonham were playing with a vengeance. They began their shows with the first song they had ever played together twelve years earlier in Page's London loft, "Train Kept a Rollin'."
Quietly, Zeppelin put together a three-legged American tour to have begun in October 1980. Preston and I were to cover Zeppelin again. He was to be tour photographer, and I was going to interview them for Playboy. Listening to the first reports of ticket mobs in Chicago, it seemed like old times.
Then came the sad news in a report out of London. John Bonham, the band's brilliant drummer, had died from a drinking accident.
It was much more than another member leaving another band. Even the fans knew. It seemed ludicrous, almost sacrilegious, for a band like Zeppelin to hold auditions for a Bonham replacement. The American tour was cancelled without comment, and rumors still persisted that they might carry on with various session drummers or even young Jason Bonham, the teenager who studied and idolized his father's booming style. Then, several months later, came the official statement: "We wish it to be known that the loss of our dear friend and the deep respect we have for his family, together with the sense of undivided harmony felt by ourself and our manager, have led us to decide that we could not continue as we were."
The name was retired and it was said that Page and Plant had privately and amicably agreed never to perform the material again. They had done what few groups have ever done – ignore the commercial opportunities and retire at the top. With their final work, the unreleased collection Coda, Zeppelin left behind ten albums and innumerable memories for millions of fans.
In the '80s, Plant and Page took up their respective careers. Plant released a series of well-received solo albums, and Page formed a new power quartet, The Firm, with Bad Company vocalist Paul Rodgers. John Paul Jones accepted rare session work. All enjoyed successes, and all found it wasn't that easy to retire at the top. The inevitable questions of a Led Zeppelin regrouping followed them. Always, the subject was dismissed with a smile or shrug.
Late in the spring of 1985 came some surprising news: in a musical year full of dream pairings and matchups inspired by charity, musician/organizer Bob Geldof had secured one of his biggest coups. Plant, Page, and Jones would perform again at July's Live Aid concert in Philadelphia accompanied by bassist Paul Martinez and drummers Phil Collins and Tony Thompson. Pains were taken not to call this a Led Zeppelin reunion. It was a fruitless task.
The Live Aid performance consisted of three songs. Opening with "Rock and Roll," Plant and Page struggled to hear themselves through stage monitors. By "Whole Lotta Love" they had blasted through the difficulties. "Stairway to Heaven" capped the appearance with a reminder of exactly how powerful Zeppelin's effect was on their audience. The packed expanse of J.F.K. Stadium finished the vocal before Plant could.
Speaking afterwards, Plant allowed that there had only been an hour-and-a-half morning rehearsal. "We know what we do when we play those songs." The show, he said, was "just one of those things that was great, it happened for about twenty minutes and was nice. We didn't have time to think about it."
Asked if they would perform again, Page quietly shook his head. When pressed, Plant said yes, he might perform sometime with the same musicians. It seemed less an announcement than a polite denial. Still, the rumors continue. Should Page, Plant and Jones return as a band, it would mean the rich catalogue of Zeppelin material might also return to the concert stage. But it would be a new group in a new era.
Rock is different now – more packaged and more commercial. Heavy metal is a phrase accepted by the New York Times. It's doubtful that another band will soon strike such a major chord in such a private way. The fact that Neal Preston was allowed complete photographic access to Led Zeppelin throughout most of their career is as amazing as it is valuable to their legacy. These are the rare portraits of a very special era and a very special band.
Cameron Crowe
January 1986
Courtesy of HarperCollins – Cameron Crowe – January, 1986