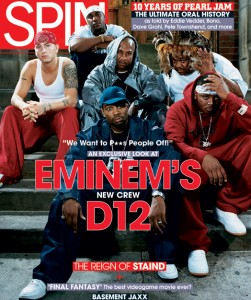 Ten Past Ten
Cameron's thoughts on the 10 year anniversary of Pearl Jam from the August 2001 issue of Spin magazine. You can read the entire article here.
CROWE: I loved Mother Love Bone, so when I was writing the movie that would end up being [1992's] Singles, I wanted to interview Jeff and Stone to explore the whole coffee-culture, "two or three jobs, one of which is your band" lifestyle. The terrible turn of events that took place was that Andy died. And everybody just instinctively showed up at Kelly [Curtis]'s house that night. For me it was the first real feeling of what it was like to have a hometown—everybody pulling together for some people they really loved. That was a pivotal moment, I think, for a lot of people there. It made me want to do Singles as a love letter to the community that I was really moved by. Few people know this, but Stone is actually in [Crowe's 1989 film] Say Anything…. He plays a cab driver, and Ione Skye looks at him and kind of flirts with him a little bit as they're stuck in traffic on her way to graduation.
CROWE: Eddie was painfully shy. It was weird because he was…barely there. But you couldn't take your eyes off him. There's a guy sort of sitting across from you, with his hands on his lap, and looking down, and you wanted to reach out and let him know that he didn't have to be so shy. He was and still is an amazing listener. When he locks in and he's talking about something that matters to him, the whole world disappears. Hours can go by. The first time I met him, we mostly talked about Pete Townshend. He knew every detail. I remember very clearly my feeling that Townshend could have written this guy as a character. He was a living Pete Townshend character.
CROWE: At the Moore Theatre, the first song they did was "Release," and I remember looking over at Nancy [Wilson, Crowe's wife], and we were like, "That's the shy guy? Oh my God!" Soon he was hanging from the rafters. It was sort of like the end of Eddie as the excruciatingly shy guy.
CROWE: Pearl Jam would get together in a circle before they went onstage and Eddie pulled me into the circle before one of their Lollapalooza shows. I put that in [my 2000 film]Almost Famous, even though it actually happened 20 years later.
CROWE: Singles was in the can for a year before it came out. But the success of the so-called "Seattle sound" got it released. Warner Bros. said, "If you can get Alice in Chains, Soundgarden, and Pearl Jam to play the MTV party that we can use to publicize the movie, we'll put it out." So I painfully had to try and talk the bands into doing it. Pearl Jam said that they'd do it as a favor to me. So the taping happened, and it was…a disaster. It was populated mostly by studio executives and their children, who wanted to see the Seattle Sound.
CROWE: They were playing covers, and somebody got into a fight, and Chris Cornell got into it, and I think [Soundgarden's] Kim Thayil got into it. I remember Eddie yelling, "Fuuuck! What the fuck is this?' and studio executives grabbing their kids and streaming out. I was seeing this whole thing to get the movie released going down the tubes. But Singles came out, and the show aired twice, heavily edited. To anybody who taped it off the air, it's a real collectible. Later, we made up t-shirts to commemorate the party and they said on the front "Singles Premiere Party" and on the back it said, 'Nobody Died."
Courtesy of Spin magazine – August, 2001