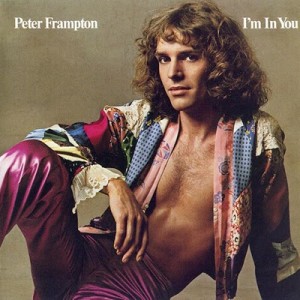 It just might have surprised HIM more than anybody else.
Only a year and a half ago, Peter Frampton was simply hoping his new live album would be successful enough to keep his solo career growing. He then watched "Frampton Comes Alive!", his 5th LP make rock & roll history. Today, the 2-record set is by far the biggest selling live album of all time.
Frampton remains a modest man. "It still hasn't sunk in," he said recently. "I hope it never does…" He then added with a wink, "I do know this – this next album better be BLOODY good."
Here it is, "I'm In You," Peter Frampton's first studio album since "Frampton." It's a long way he has come in the two-plus years since then. And Frampton has risen to the challenge of his incredible success with authority. From sweeping acoustic melodies (played in part on his idol Django Reinhardt's original acoustic guitar) to all-out electric virtuosity. There is a new vibrancy about this music. Frampton and his band have never been more at ease in the studio. Even the guitar work, long a Frampton trademark, soars with facile confidence.
Side to side Frampton is still charged with the same infectious abandon that so characterized "…Comes Alive!" (with a few added surprises) which is just to say this is classic Frampton, inspired, unpretentious rock & roll. BLOODY good, BLOODY great.
Peter Frampton: I'm In You (Liner Notes) – Cameron Crowe – May 1977