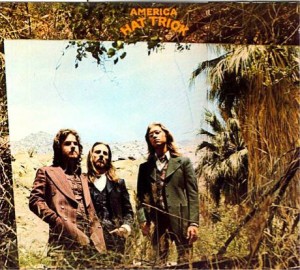 America – Hat Trick (Warner Bros BS 2728)
It will be interesting to see how America fans weaned on the lightly entertaining "Horse With No Name," "I Need you" and "Ventura Highway" will react to the band opting for a more mature approach. Hat Trick, the trio's third effort in as many years, is an admirable and ultimately successful attempt at fleshing out a sound that at one time consisted almost entirely of crisp acoustic guitar interplay, two-fingered elementary piano progressions and saccharin-sweet three-part harmonies.
Hat Trick should hopefully dispel America's once notorious reputation as a "pubescent Crosby, Stills, Nash and Young." There is little here, amid the scorching guitar runs, bubbling synthesizers and lush innovative arrangements, to justify such a claim.
Courtesy of the L.A. Times – Cameron Crowe – December 16, 1974