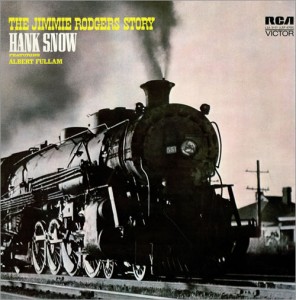 Hank Snow – The Jimmie Rodgers Story (RCA LSP-4708)
Hank Snow deserves some kind of award for The Jimmie Rodgers Story. There are not many that can present Rodgers' material with such an authentic quality.
All the songs on the album are bridged by the retrospectic narration of Albert Fullam.
Coached by the production of Chet Atkins, Snow consistently serves up powerful interpretations of "Waiting For a Train," "Hobo Bill's Last Ride," "Nobody Knows But Me" and alot more.
It was the style of Jimmie Rodgers that had alot of influence on today's artists – John Sebastian, John Kay and Jerry Garcia to mention a few.
So at least give it a listen.
Courtesy of the Door (aka San Diego Door) – Cameron Crowe –  July 28, 1972  – August 17, 1972