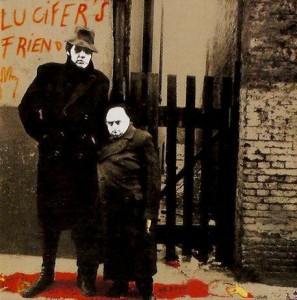 Lucifer's Friend – Lucifer's Friend (Billingsgate Records BG 1002)
Now that Grand Funk has grown up, Deep Purple has splintered into uncertainty and Black Sabbath is content with orchestration, the field appears wide open for German rockers Lucifer's Friend. Not  professing to be anything more than a high-powered straight ahead rock 'n' roll unit featuring a screaming, strutting, sweating lead-vocalist, the band's debut effort is upon us. Lyrics are unintelligible and the heavy-metal instrumentation strays little from a steady plodding noise barrage, but this seems to be the sound millions crave.
Lucifer's Friend has it down to an art. The album maintains the frenetic page throughout. The tracks vary little from side to side, making it a trying experience to digest it all in one sitting. For special tastes.
Courtesy of the L.A. Times – Cameron Crowe – December 16, 1974