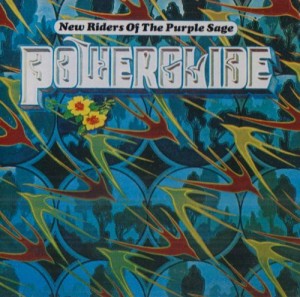 New Riders of the Purple Sage – Powerglide (Columbia KC 31284)
To come out with it. I was disappointed with Powerglide. Not greatly disappointed, but just disappointed.
What it is is a case of second-album-blues. Y'see, it's awful hard to follow-up an album as great as New Riders of the Purple Sage. To be truthful, I wish this had been their first album and NRPS the second, but as it is, the key to Powerglide is rather obvious.
The material presented on the first LP was polished for a full two years while the band was on tour with the Grateful Dead. The new material is ill-arranged, with the emphasis on rock 'n roll rather than their long suit country-rock.
Tracks like "Hello Mary Lou" and "Willie and the Hand Jive" just don't seem to work while the slower, folkier tunes do. Still and all, Nicky Hopkins provides some nice moments on keyboards.
Courtesy of the Door (aka San Diego Door) – Cameron Crowe –  July 28, 1972  – August 17, 1972