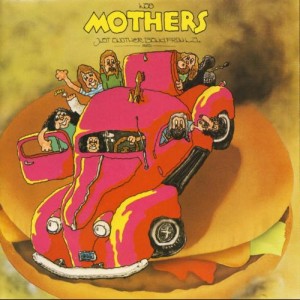 The Mothers – Just Another Band From L.A. (Warners/Reprise MS 2075)
I really like this album. But not for the reasons that I should have liked it for. This is a comedy album, extremely enjoyable if you're familiar with L.A. – easily dislikeable if you enjoy Zappa's music, not wit.
Nary is a piece of music presented on the album without pubescent one-liners or snide put-downs.
Side one, "Billy The Mountain" is a great story with a great soundtrack. Yet, again, if you live in Peoria, Illinois its humor remains elusive.
Side two offers a new "Call Any Vegetable" as well as "Eddie, Are You Kidding," "Magdalena" and "Dog Breath."
The LP was recorded live at UCLA's Pauley Pavillion, and is the only possible extension of Mothers Live at Fillmore East. A great party album. But that's it.
Courtesy of the Door (aka San Diego Door) – Cameron Crowe –  June 22, 1972  – July 6, 1972