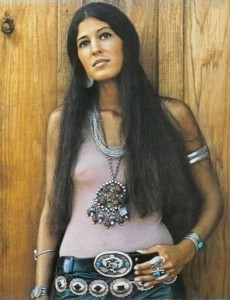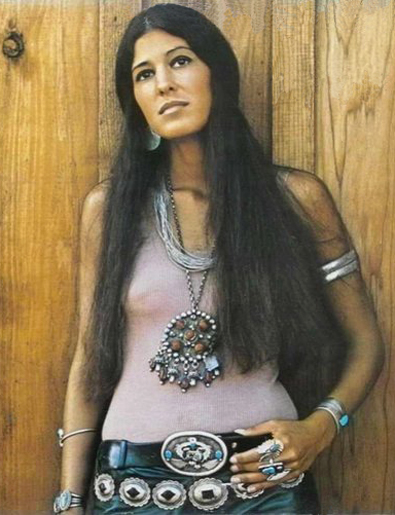 Much more than a song stylist, Rita Coolidge is an artist's artist. Her vocal sensitivity has long been legend among her peers – she can summon an entire mood of sweet fire or soulful abandon with a single nuance. Now, with last year's breakthrough acceptance of three top five singles – "Higher and Higher", "We're All Alone", and "The Way You Do The Things You Do" – Coolidge is among the most well-deserved success stories in music.
Born in Nashville and raised in East Tennessee, her father, Dick Coolidge, was the minister at a small church outside of Lafayette. He positioned her at the center of his choir and young Rita quickly learned to sing and perform.
Her first group was The Coolidge Sisters, which includes siblings Priscilla and Linda. They worked as a trio, winning local state fairs and talent contests before eventually going their separate ways. Priscilla took off on a vocal scholarship, Linda gave up singing and Rita went to Florida State University to pursue a degree in Art. Later, to pay for art supplies, she would turn to her first love again. First she sang locally, then ventured to Memphis at a jingles company. The finest voice that company had seen in some time, she earned the rather dubious honor of recording a solo single for the company – "Turn Around and Love You".
Memphis was meanwhile being rediscovered by a whole new crop of Southern rockers like Leon Russell and Delaney and Bonnie. When the latter visited town, they were enthralled with Rita's voice. Delaney and Bonnie even took her with them, back to Los Angeles to help them sing on their famous Accept No Substitutes album.
"When I got to L.A.," recounts Rita, "I just couldn't believe it. Everyone knew who I was…" Sure enough, "Turn Around and Love You" had been a surprise top ten hit, but only in L.A. "I never even went back to Memphis," she says. "I just left everything behind and started again."
She was soon a much in-demand vocal accompanist. In '69 Rita accepted a featured soloist position with Joe Cocker's Mad Dogs and Englishmen. A sprawling collection of musicians and their friends careening across the country, the shy Coolidge mostly observed and learned. "It was a circus," she recalls. It was an incredible time. We were always moving, always traveling. There was no time for anything …cleaning clothes, getting a doctor …some didn't make it."
Rita Coolidge was a survivor. Her moving solo performance of "Superstar" (captured in the celebrated Mad Dogs and Englishmen film) was a regular show stopper. By the tour's end, Coolidge found herself the premier female voice in Los Angeles, singing on albums by Stephen Stills, Eric Clapton and Dave Mason among others. She signed a solo recording contract with Jerry Moss of A & M records. "She was instantly unique to me," says Moss, "because she had something to say with her voice."
Rita Coolidge, her first album, featured the able support of many of the same musicians she had worked with previously. Effortlessly, Coolidge covered everything from gospel to pop to R & B. "It was a searching album," she now says. "I tried to do it all first time out. I knew what I was meant to be doing was in there somewhere. I just had to find it."
Concentrating on her solo career, she made an important decision. "I realized I didn't need rock and roll," says Coolidge, "to move an audience, I found my strength lay in ballads, songs. I came out of that searching period learning you could touch people's hearts and it could have as much impact as making them dance in the streets."
Her next well-crafted albums, Nice Feelin', The Lady's Not For Sale and Fall Into Spring were all marked by her continued artistic refinement and selective choice of material.
There would be another turning point, though – November 9, 1970. In the Los Angeles airport, on the road and waiting to board a flight for Memphis, Rita met her future husband, singer-songwriter-actor Kris Kristofferson. Both were getting on the same flight. Kristofferson was headed to Nashville for a cover story in Look magazine. Rita was getting off at the first stop, Memphis. Kristofferson got off in Memphis too, Look later folded and they have been together since.
"Besides being two people in love, it's always been a mutual marriage too," Coolidge points out. There was no momentum lost between albums and tours. Coolidge and Kristofferson combined both their touring bands into one extremely versatile outfit, perhaps the best performing backing band on the road today. The unlikely blend of Kristofferson's raw phrasing and Rita's clear and strong harmonizing has worked magic for thousands upon thousands along their sell-out tours. As a duo, Kris and Rita have recorded two albums: Full Moon and Breakaway.
Reaching a devoted but steady audience, Rita's albums sold moderately well. On It's Only Love, she even collaborated with noted jazz pianist Barbara Carroll, to good reviews. "With Rita," explains David Anderle, producer of all her solo albums, "we're most interested in subtlety. And style. We wanted to reach people personally with the songs, rather than just go for hits. Still, I always thought if people could just hear her, they'd love her."
Anytime…Anywhere soon proved that fact. "It became an important album to me," says Rita. "I gave it the full amount of my energies…and wanted to make it an 'up' album. With a lot of help from Jerry Moss, we tried some different songs for this album…"
With material like Boz Scaggs' "We're All Alone", The Bee Gees "Words", the old Temptations hit "The Way You Do The Things You Do", and Jackie Wilson's "Higher and Higher",Anytime…Anywhere was released in September '76. The response was immediate. "Higher and Higher", the first single, was an international hit, as were the follow-ups "We're All Alone" and "The Way You Do The Things You Do." The album, now double platinum, turned Rita into an artist of the first magnitude.
More self-assured than ever, she has risen to the challenges of her mega-stardom with grace and power. The new Rita Coolidge album, Love Me Again, is a fresh and spirited collection of songs with the emphasis, as always, on melody, fine playing and Rita's hypnotic delivery. Songs like Christine McVie's "Songbird" and Scaggs' "Slow Dancer," as well as standards "Sweet Inspiration" and "Bye Bye Love" combine for as powerful a followup to Anytime…Anywhere as one might hope for.
Rita Coolidge continues to keep it all in perspective, devoting most of her on-and-off road time caring for her four year old daughter Casey Coolidge Kristofferson. "If it ever came down to career vs. home life," Coolidge explains, "I wouldn't hesitate a minute… nothing is as important to me as Kris and Casey. I love to sing, though. I want to be singing when I'm 80. The best part of this success is that I might just get that chance…"
Rita Coolidge may also be heard on the following A & M albums:
Anytime…Anywhere SP 4616
It's Only Love SP 4531
Fall Into Spring SP 3627
Full Moon (With Kris Kristofferson) SP 4403
The Lady's Not For Sale SP 4370
Nice Feelin' SP 4325
Rita Coolidge SP 4291
Courtesy of A & M Records – Cameron Crowe –  1978