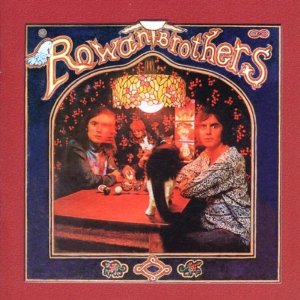 Rowan Brothers – Rowan Brothers
Despite the pretentious "they could be the next Beatles" promotion and their disturbingly photogenic milk-and-honey complexions, Christopher and Lorin Rowan are indeed talented, but not without their vices.
Costing upwards of $150,000 to record, Rowan Brothers, their debut album, gives vent to a new variation of the basic folk-rock format…pop-folk-rock. Fortunately, in the case of the Rowans their commercial twist to a familiar album may very well be responsible for introducing respectable rockabilly to mass audiences, thus paving the way for the genuine success of the lesser known Pure Prairie League or Redeye.
Perhaps the most valuable asset of Rowan Brothers is that it decidedly remains independent from diehard AM verse-chorus-verse-chorus or the low-key FM alternative. Instead, they qualify for exposure on both mediums, which spell chickenshit to some…to the Rowans it spells success.
The Rowan Brothers is actually a five man band which outside of the actual brothers, includes their producers and engineers David Diadem and Bill Wolf on keyboards and bass respectively and John Douglas on drums. Based in Stinson Beach, the band has become Bay Area regulars (aren't they all) and fallen in with the Dead gang. Jerry Garcia, as well as contributing the "Beatles" hype for CBS to quote him on, played a fairly elusive pedal steel on the album.
For that matter, much of the instrumentation is deprived of clarity in the sometimes cluttered and diverting muddy musicianship. The band once accustomed to strumming on acoustical guitars to emphasize Christopher and Lorin's sensitive lyrics and vocals had now settled on the recorded addition of Moogs, saxophones, harps, flutes, cellos, and violins. Not unlike grocery shopping on an empty stomach, the Rowans thoroughly consumed their budget.
The songs on the album are generally superfluous in nature. With such titles as "Hickory Day" and "Mama Don't You Cry" it is not hard to realize the lyrics are all slight shadings on the recurring "country" optimism of beautiful days, sunny skies, togetherness and "breaking loose these chains that time me down".
The only truly irritating aspect of the album is the glossy photo one is confronted with upon opening the album cover. There are Chris and Lorin Rowan, the epitome of two squeaky clean youths, hair mussed in the same breeze that sways the rustic backdrop of a golden field. They're the type of guys that were your mother's best friend's kids and said "m'am".
Courtesy of the Door (aka San Diego Door) – Cameron Crowe –  November 4, 1972  – November 18, 1972