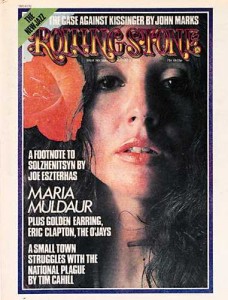 Over the Hump
His slight English frame stretched across the back seat of a limousine bound for the Hollywood offices of A&M Records, Peter Frampton wearily figures this as his 20th American tour. "I'm thinking of getting a place here in the States," he says distantly, watching Sunset Boulevard whiz by the windows. "Just to drop off my suitcase."
After successful stints as the breezy rhythm guitarist and vocalist with the Herd and later Humble Pie, Frampton is three albums into a solo career that is only now beginning to jell. With the newly released Somethin's Happening a critical and commercial victory far outdistancing its two predecessors, he is faced with the grueling possibility of his current stateside roadwork continuing throughout the year. "I was really tired when I left Humble Pie. I told Dee [Anthony, manager of both Pie and Frampton] I never wanted to work on the road again." Frampton smiles at the irony. "Ah well, I guess I asked for it."
He did indeed. The archetypal child prodigy, Peter Frampton, who is 23, has been coolly working audiences since he was nine and playing guitar in a "Shadows/Ventures type group" called the Truebeats. "I always seem to be in bands where everybody's older than me. My father eventually took me away from the group. I was doing all-nighters, coming in every morning with my eyelids half-closed. I had to give it up for a while, figuring I'd attend music college when I got old enough. I've always been fascinated with the theory of harmony, orchestration and all that."
Peter never made it to music college. "When I was 15, Andy Bown [the Herd's keyboard man] asked me if I'd like to join the group as their rhythm guitarist. This was quite an offer. The Herd was the country's top rock & roll group for two years running and they asked me to join. I couldn't really turn it down. I joined the band and within 18 months we were the top teenybop attraction in England.
"The success was great fun. It was like, 'Hi mum, I'm on Top of the Pops next week.' And there we were. It was so fantastic we didn't really realize we weren't earning as much money as we were making. Our managers wrote all the singles. We were dangled on strings. But I don't put them down for it. I used to, but I realize now that had they not written those hits, perhaps I wouldn't be here talking to you now. I'd probably still be slugging away at the university. Still, when we finally realized we weren't getting our fair share, we got rid of everybody. Managers, publicists, accountants…the whole lot.
"We ended up with a new deal to record some singles through the same record company, but it was a sinking ship. I decided to get out right then and there. It was the summer of '68, I was 18 and had already met Steve Marriott.
"Steve and I met through common ground. We got a phone message from Ronnie Lane and him [then both of the pre-Rod Stewart Small Faces] saying, 'We'd like to help if we can. We know you're in a bit of trouble.' We were just kids you see, and they advised us on the business matters. They'd been through the same thing a couple of times already. Musically, Steve and I really hit it off as well. I was spending a lot of time jamming down at his place.
"He told me I ought to leave the Herd and form my own band. I said, 'Yeah, I really want to, but I don't really know anybody to form a band with.' At that point Steve wasn't going to leave the Faces. He suggested [drummer] Jerry Shirley, so we got together and began looking for a bass player and another guitarist. All of a sudden, I think Steve saw how exciting it could be – to form a new band and get away from something you've been tied to for the last four years. So he left and asked to join our band, bringing Greg Ridley [formerly of Spooky Tooth] with him to play bass. We called the group Humble Pie."
Humble Pie was signed to Immediate Records and managed by Andrew Oldham. "The press," laments Frampton, "hyped us as a super group of the same stock as Blind Faith. That really screwed us up. People never thought we could come off. We didn't care though, we were having a good time."
After two eclectic and indecisive albums of folk, blues, jazz and rock, As Safe As Yesterday Is and Town and Country, Immediate folded. Hat and tapes in hand, Steve Marriott and Peter Frampton went label shopping. "It's quite funny now when I think about us walking into offices so confident, being the big executives that we weren't and trying to do a deal." They eventually found a home for Humble Pie on A&M. "We were very lucky to end up with the best possible people. I've always been extremely happy with them."
Their first American release and debut A&M album, Humble Pie, found the band under the production wing of Glyn Johns. "To me," says Frampton, "that album was all right, but it took till our second album on the label for the working relationship between Glyn and us to really pay off. Rock On is my favorite Humble Pie album.
"We were a very close group. Lots of people tried to make out that it wasn't. I may have always been the odd one out, but there were a lot of really good times. I enjoyed playing with Humble Pie, no two ways about it. It was a great experience while it lasted, but it was a natural progression for me to leave. And I did it at just the right time too, giving them a chance to get someone else in so that if they made it really big my departure wouldn't make any difference.
"I phoned Dee, told him I wanted to leave, and he came over immediately with the cover of the Performance album. 'You know this is gonna be a gold album, don't you?' he said. 'Can't you feel it? Don't you think you're a bit silly leaving now? So I explained that it wasn't really the money or the success. It had reached the point where Steve and I knew that I had to be in my own band and he had to be with Humble Pie. It's always been amicable. I really dig what they're into now, but you can easily see where his head and mine differ musically."
Recovering from the entire Humble Pie experience, Peter did some session-work on, among other LPs, All Things Must Pass and Son of Schmilsson. "The Nilsson sessions were magic, really fun. It was like we were a group for ten days in the studio. I remember walking in the first day and seeing Harry sitting at the piano, playing the material. We all gathered around and then he sang 'You're Breaking My Heart,' you know, the one with the 'So fuck you!' chorus. Amazing. Nobody was expecting that."
"Then came Frampton's first solo album, Wind of Change, composed of the usual group-unsuitable surplus material collected over the years and featuring old Herd-mate Andy Bown along with rock luminaries such as Ringo Starr, Klaus Voorman, Billy Preston and Jim Price on the side. The album, released at the same time as Humble Pie's first non-Frampton effort, Smokin' did minimal business.
"Now there is Somethin's Happening, featuring a smiling Frampton on the cover, a little help in the studio from Nicky Hopkins's piano, Rick Wills on bass and John Headley-Down as percussionist. "It's a lighter, much happier album," Frampton says. "You can't help the way you feel, I guess."
Courtesy of Rolling Stone #166 – Cameron Crowe – August 1, 1974