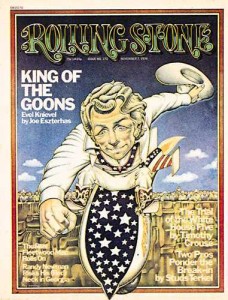 The Real Fleetwood Mac Stands Up

Los Angeles – Even amid their legal action against former manager Clifford Davis, Fleetwood Mac maintains a low profile. The group has had few hit singles or magazine cover stories in a quiet, seven-year career, yet their concert appearances draw a steady stream of loyal followers and at least seven albums have sold in excess of 200,000 copies.
Sitting in the living room of John and Christine McVie's modest Laurel Canyon home, Fleetwood Mac (current lineup: Bob Welch, guitar and vocals; John McVie, bass; Christine McVie, keyboards and vocals; Mick Fleetwood, drums) is about as visually mild off-stage as they are on. There is little about their faded Levi's and J.C. Penney shirts that even hints at rock & roll.
"I guess it's just not our nature to have an image," Welch, the band's only non-Englishman, concedes. "At some point you just have to realize that you may never be Elton John. But then again, the point isn't to sell a record to every man, woman and child on earth. Point is to have a career, do what you're doing and do it well. Fleetwood Mac has done just that."
For the past year, though, much of the band's time has been spent in law offices, locking horns with ex-manager Davis. According to Fleetwood, Davis approached the road-weary musicians last year about yet another nationwide tour. Met with rejection, he assembled a new Fleetwood Mac and – claiming full rights to the name – booked a tour.
"We were all on holiday when we found out what had happened," Fleetwood says. "Before the bogus band played too many dates, we had to physically get together and take legal advice. The impression Clifford had given was that he had every legal right to do what he did. We very soon found out, apart from morally having no excuse, there was no legal right."
The band went to court and also to the studio. They emerged from the former with a restraining order that put a halt to the pseudo-Mac, and from the latter with their 12th album,Heroes Are Hard To Find. Still outstanding, though, is a final legal determination on ownership of the name.
The band agrees they have already won an important victory. "When things like this have happened," Fleetwood says, "many bands haven't had the stamina to see it through. It's very easy to say, 'God, it's just not worth it.' I'm sure Clifford never felt for one moment that we would stick this out. We manage ourselves now."
So, Fleetwood Mac is on the road again, for the first time in a year. "Ironically, this is gonna be our vacation," Fleetwood says, grinning. "It's like we've forgotten what all the hassles were about…. We should have a lot of fun."
Mick Fleetwood, along with John McVie, an original member, remembers the early club days when it was Peter Green's Fleetwood Mac and the quartet also included double lead guitarists Green and Jeremy Spencer.
Their first album, Fleetwood Mac, topped the English LP charts, and a string of medium-sized British hit singles followed, including the original "Black Magic Woman." Soon after, guitarist Danny Kirwan joined the group as a third lead, and a month later they cut their only million-selling 45, an instrumental called "Albatross."
The band produced four more albums – English Rose, Mr. Wonderful, Fleetwood Mac in Chicago and Then Play On, their debut LP for Warner Bros. – before getting a taste of musical chairs in May 1970. Peter Green quit the band and began work on an instrumental solo album. It was titled, prophetically, The End of the Game; Green subsequently disappeared from the music business. For a replacement, the band added John McVie's wife, the former Christine Perfect of Chicken Shack. Leaderless, they recorded the much acclaimed Kiln House. From there, it was off to America.
Spencer departed in 1971 – simply disappeared from his Los Angeles hotel room, later turning up in the ranks of the Children of God, a religious cult. Welch, a Californian who came from a background of Las Vegas showbands, filled the slot.
Fleetwood Mac's next albums, Future Games and Bare Trees, displayed a brighter style and pretty melodies. Not long after Bare Trees, however, Danny Kirwan amicably left to pursue a solo career and was replaced by former John Baldry guitarist Bob Weston. The five-piece band lasted for two albums, Mystery To Me and Penguin (with the brief inclusion of ex-Savoy Brown singer Dave "Tell Mama" Walker on the latter). Now, with the release of Heroes Are Hard To Find, Weston is gone too.
But the real Fleetwood Mac is accenting the future – and right now that's the tour, a 43-date swing that ends December 1st – with yet another addition, Doug Graves on keyboards. "We can't complain," Fleetwood says. "This band has always been able to work when we wanted to."
Courtesy of Rolling Stone #173 – Cameron Crowe – November 7, 1974