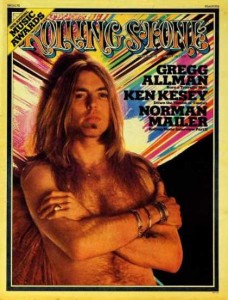 Bachman-Turner Overdrive: A Canadian Mormon Tabernacle Rock & Roll Band
From the Rolling Stone Table of Contents:
For his article on Bachman-Turner Overdrive, Cameron Crowe spent three days and nights in three cities: Fargo, North Dakoa, Sioux City, Iowa and Denver, Colorado. All likable enough cities, of course, but, with the exception of Denver, rather unlikely towns for a hot-hit outfit like BTO to be playing. But therein lies the clue, perhaps the central nerve of this Canadian band. As manager Bruce Allen told Crowe: "As long as there's a market, BTO will play there. They play the areas that are starved. We want to hit every fucking market." Later, band leader Randy Bachman would brag how they'd made $70,000 in the three cities: 15 G in Fargo, 25 in Sioux City and 30 in Denver. He would tell how a member of Deep Purple, on his way to a gig in Seattle, ran into a member of BTO and sniffed at the news that the Overdrive were heading toward Fargo. "Hell," Randy said smartly, "we probably made more money in Fargo than Deep Purple did in three shows around Seattle." Bachman has a way with words – often the wrong way – but he is unarguably the leader of a band making good in the heart of the recession. And he relishes the success. Or, as Crowe said, trying to encapsulate Bachman: "He's a businessman. Only he carries a guitar instead of a briefcase."
Fargo, North Dakota – Until last February, Blair Thornton was just another pickup guitarist, a two-set-a-night, six-night-a-week prisoner of the Vancouver bar band grind.
"It was so depressing I had to get blown out of my mind every night just to go through with it. "
Today, as a member of Bachman-Turner Overdrive, the 24-year-old Thornton is part of rock & roll's current Big Hit Machine: one gold album, two platinums, one Number One single, and consistently sold-out concerts.
"And we all sit around and drink soda pop to get psyched up for the show," said Thornton. "I always wondered what life was like at the top."
BTO is a peculiar band, partly because of its Mormon leader; partly because all four members are business minded. So, for BTO, the top means shared hotel rooms, rent-a-cars (not limousines) and a strict rule against post-show drinking or smoking. Of any kind of cigarettes.
"No doubt about it. This band is a business. That's what we're in it for." On tour in Sioux City, BTO's bassist and singer C.F. "Fred" Turner, 31, relaxed on his side of his hotel room and cracked open a can of Coke.
"Let's face it," he said with a smile, "in this business you've only got a few years. Everybody knows that. It's what you do with those few years that counts. If you want to blow your face off, go crazy with all your money, throw parties and do everything first-class . . . fine. You'll turn 40 in skid row and you'll spend all your days wondering whatever happened to you. If you want to build a future and be set for life, you've got to hold back, bring a bit of the money home and invest it."
Turner shied away from music for a long time, he said, because he "didn't want to starve." He became a dental technician, but always kept his ears open for a good gig. The first one was in a polka band; the second was an album session with Randy Bachman.
Bachmann (pronounced back-man), 33, is the band's guitarist, occasional vocalist and leader. A former force with the Guess Who, he also likes to talk money. On tour, sharing his room with manager Bruce Allen of Vancouver, he can stay up all night talking about concerts, fees, advances, royalties.
"We're not forced to go on an 80-day tour to break even," he said. "We've really made a lot of money. It amounts to millions and millions. I could go on like this forever. Everybody's really happy.
"I know from experience what can ruin a good thing. Drugs made the guys I used to play with in the Guess Who change. They got sloppy. They ruined themselves and their marriages. Eight years ago when I met my wife, I joined the Mormon church. They don't drink, smoke or do drugs. It's a very straight, but satisfying way of life.
"I'm allergic to cigarette smoke anyway. It's not like I'm forcing my habits on anyone. Sometimes we'll buy the roadies a case of beer and have a party the last night of the tour. A lot of groups will take a day off so they can party. We don't. I rather play to guys than girls. Girls running up onstage and ripping their tops off is exciting for a while but it gets redundant. It gets so that you only want to do your show and go to sleep. When we go out to make money and play to the people, we want to play to the people and make money. That's it. We go out on the road about six days a month, make $160,000 to $170,000 and come right back home.
"I'm a conservative guy. I don't do anything wild or freaky. I like solid, dependable people. I like a solid, dependable way of living. I like to play solid, dependable guitar. I'm Mr. Middle-of-the-road."
Few expected Randy Bachman would ever rediscover fame and fortune after leaving the Guess Who in 1970. The main composer of such hits as "No Time", "These Eyes," "Undun" and "Laughing", Bachmann left the band while his "American Woman" was still Number One. Talking to the press about the split, remaining Guess Who members reeled off sordid stories of Bachman being fired for manipulating the band's business matters in his own self-interest.
Bachman claims it all came down to drugs. "In the beginning the Guess Who was like BTO is now. As those guys got more and more habitual with their drug usage, I ended up taking care of the business. In the end I controlled everything and they resented me for it. I didn't want to, but somebody had to collect the money and sign the contracts. I became the natural leader. People came to me to discuss business deals. I was the only one who always had my wits about me, so I was forced into that role. Burton Cummings wanted us all to live in a commune and share the profits. I believed that if I wrote a hit song I should get the royalties. The Guess Who felt manipulated by a straight man. That's the reason for all the bad vibes,. The last thing Burton said to me was, 'You'll never make it in this business being straight.' Since then, I imagine he'll have to eat those words.
"As fickle as the public is, they always want hard rock. That's the big reason we're successful. All of a sudden, Creedence was gone. Led Zeppelin was doing one tour a year and the Stones were touring once every three years. Everybody was saying, 'We want hard rock . . . we want records to play at parties.' So many people have told us that ours are their favorite party records. When the kids come to our concerts or buy our records they know what to expect. Basic rock & roll enhanced by a good guitar solo every now and then and as good a vocal as we can do. It all comes pretty automatic. They want simple rock music and we give it to them. I could play country, classical, even jazz guitar if I wanted to, but why? We're big in this business and it's hard to be successful these days."
It's safe to assume that Randy Bachman wouldn't have stopped trying until he found that success. His hard-rock crusade follows an ill-fated stab at country rock with his first post-Guess Who band, Brave Belt. If BTO hadn't initially stumbled onto Top 40 prosperity with the formula rockers "Blue Collar," "Let It Ride," "Taking Care Of Business" and "You Ain't Seen Nothing Yet," he may very well have gone on to try his hand at forming a reggae band. "Oh yeah," Bachman chirps. "If we'd been popular playing country rock we'd still be doing it now."
In a way, Brave Belt was an attempt by Bachman to create another Guess Who. He and Turner were working behind Chad Allan, the original lead singer for Guess Who. When Warner Bros. asked Alan to tour to boost the album, the session ensemble became Brave Belt, with the three men joined by two younger brothers of Randy, Tim on rhythm guitar and Robbie on drums.
Allan left just before the second Brave Belt album, and the two records comprised the group's miserable stay with Warners. Between the company and Bachman himself, the group consumed more than $150,000. (Bachman said he absorbed about $90,000 of the loss).
A major factor in expensive flop was the fact that Brave Belt could find no live work. "We're not going to say it was because of the Guess Who," said Fred Turner, "but even in our own home town we played three times in two years. One time we drove 1250 miles to a little town called Ridgetown, played a show and drove home. We were starving and it was the only offer we had."
Randy Bachman is pretty good-natured these days about the industry that all but blackballed him a few years ago. But there's still bitterness toward promoters who were apparently afraid that booking Brave Belt would put their relationship with the Guess Who in jeopardy. "We only work with about five or six promoters," said Bruce Allen. "They all helped us in the beginning so we'll help them now. We don't work with any of the big promoters. We're not working with Concerts West. We won't work with Bill Graham. We bring our own promoters into San Francisco. We're not working with Howard Stein. We bring our own promoters into New York. In the early days, all those guys told us to fuck off."
Randy Bachman loses his perpetual smile for a moment. "They wouldn't have urinated on us if we were on fire."
Correction, from Howard Stein. "I urinated on them first in New York." Stein presented BTO as an opening act at the Academy of Music in mid-1973, he said. He even got a Christmas card the other week from Bruce Allen and BTO.
Stein admitted, however, that "since their success," the group has done concerts in New York without him. "They've avoided the intelligent reciprocal path and this is ultimately going to hurt them and their manager. They've alienated a lot of people – those 'big promoters' – but later on, will Bruce Allen be able to get local promoters of his choice to put on his $500 acts?
"It's hard to get into a mundane argument with a group whose quotes are . . . vulgar," said Stein. "They sound like the worst dribble rock & roll has to offer – in terms of quotes." Just one more note: Stein was never called about any "Brave Belt," he said, and he would not have held them off in fear of the Guess Who. "The Guess Who," he said "never meant much in my particular market."
Warner Bros. gave up on Brave Belt after the release of the second album, an album the company is about to reissue, cleverly titled Bachman-Turner Bachman. Frustrated with battling odds in the heart of Guess Who country, the band packed up and moved to Vancouver. There, concert promoter Bruce Allen helped them find jobs along the Canadian west coast. Although they had no record company, they completed a third album.
"I flew back and forth from L.A. every week to try and sell it," says Randy. "I went to A&M, Epic, Atlantic, Columbia, Asylum – you name it. A week later, I'd get letters saying 'Dear Randy, We pass.' We're thinking of calling our greatest-hits album We Pass and printing all those refusals on the jacket. I've got all 22 of them. David Geffen, Clive Davis, Ahmet Ertegun, Jac Holzman – they all passed.
Brave Belt III had already gotten two turndowns from Mercury before Bachman sent a copy addressed to Charlie Fach, a friend in the label's A&R department. Pay dirt.
In all the anguish of a comeback, Bachman had turned to the only crutch his Mormonism would allow – food. "I ate and ate and ate. There's nothing else for me to do. It was my emotional outlet. At one point I weighed almost 300 pounds. "With Turner weighing 280 and brother Tim (who left the group to spend more time with his family) at 230, it was definitely Bachman-Turner Overweight.
The group bulk led to the new name. "We needed a tough, heavy, truck driver image," said Bachman, "so what we changed the name to Bachman Turner Overdrive and called that third album BTO. In a matter of months, we were doing great business. We played hard rock on shows with Edgar Winter, the Doobie Brothers and all the rest. We weren't that different from the headliners and the kids picked up on it. It's that simple." The Doobie Brothers inspired "Let It Ride" from Bachman Turner Overdrive II was their first major breakthrough. It taught Bachman a lesson. "Most of our songs now are rock classics in that there's other songs just like them. It's not copying, he adds quickly, "it's just our love for some of the good rock groups around." "Not Fragile" is like "Smoke on the Water," "Blue Moanin'" is like an old Eric Burdon song, "Second Hand" is Hendrix, "Giving It All "Away" is Led Zeppelin . . .
Well, then. Is "You Ain't Seen Nothing Yet" a blend of "My Generation" and "Sweet Jane"?
"Naw.That song is a joke. A gold joke,. I did the stuttering as a joke. If you met my brother Gary, you'd know he stutters. There was no intentional copy of 'My Generation.' I didn't even think of it at the time. All it was was a dummy vocal track, I wanted to make a cassette of the song and work on a solo over the weekend so I laid down that funny vocal. It's the track we've still got.
"I took it home and everybody laughed at it at first, but the engineer said, 'You know there's something really dynamite about that track. The b-b baby is a hook.' When we got back into the studio I tried to do a straight vocal track. It sounded like Frank Sinatra singing 'Strangers in the Night' so we all agreed to leave it on. Actually, I was kind of embarrassed by it. The Mercury people came down to Sound City in L.A. where I was mixing it, and when it came time for them to hear that song I turned off the board. It's a gold single now. I'm not so embarrassed anymore."
And he's not so fat anymore, either. He began to crash diet last spring and the result is a slim, 230-pound specimen.
"I look neat," he said. "I'm a regular rock Adonis."
Pop critics call the group fat, he said. "They can't think of any other criticism. They also call us a loud, thundering wall of monotony. Well, that's what we are. That's what Deep Purple is. That's what Led Zeppelin is. That's what Creedence was. Everything's monotonous. Who cares what the critics say. BTO II and Not Fragile are platinum. Our first album is gold. Who cares if some turkey thinks we're monotonous. There's a million people who happen to like our monotony."
Courtesy of Rolling Stone #178 – Cameron Crowe – January 16,1975