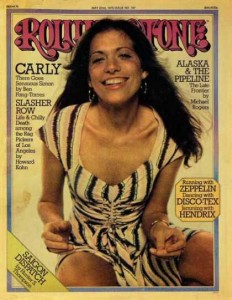 Led Zep Conquers States, 'Beast' Prowls to the Din of Hordes
"Looking back on it, this tour's been a flash. Really fast. Very poetic, too. Lots of battles and conquests, backdropped by the din of the hordes. Aside from that fact that it's been our most successful tour on every level. I just found myself having a great time all the way through."
Backstage at the last show on Led Zeppelin's North American itinerary, Robert Plant was ready to celebrate. In two-and-a-half months of sold out concerts the band had barnstormed its way to a once elusive critical acceptance, a complete commercial resurgence of its six-album catalog and a concert gross of more than 5 million dollars.
"We had no trouble adjusting to the tour at all," Plant continued. "Normally, it takes a while to get into the swing of things. Not this time. I've never been more into a tour before. The music's gelled amazingly well. Everyone loved Physical Graffiti. That meant a lot. It's like we're on an incredible winning streak."
The 33-date tour was not without turbulence, though. The first week and a half, based out of Chicago's Ambassador Hotel, was plagued by health problems. Jimmy Page's left ring finger – broken in a slamming train door – kept him in almost constant pain or depression. "This is so damn futile," he grumbled daily. "I can't fucking play the way I should."
Several days into the tour, Plant fell victim to the flu season; one concert, in St. Louis, was postponed. No sooner was Plant back in action than John "Bonzo" Bonham develop stomach problems that forced the highly combustible drummer to keep an uneasily low profile for the first leg of the tour. Only bassist/keyboard player John Paul Jones remained a fit specimen. "Nothing exciting ever happens to me," he said.
There were also some problems at halls along the way. A February 4th show at the Boston Garden was canceled by city officials after early arrivals caused $30,000 damage. At mid-March dates in Seattle, 500 or so concertgoers were refused admission to the Coliseum when their tickets turned out to be counterfeit; one alleged scalper was arrested with $1475 in his pockets; and three people were busted for giving Jimmy Page a $2100 Les Paul guitar that belonged to local music teacher. And in Los Angeles, a wire service claimed that a massive bust had occurred at a concert  by the group; the raid had actually happened at the Shrine Auditorium during a performance by Robin Trower.
"It's typical," said Swan Song Records veep Danny Goldberg. "What can I say? Sometimes it seems like Zeppelin are now where the Stones once were. The media automatically assumed us to be the bad boys. You know, blame it on Led Zeppelin… "
Jimmy Page, however, has no complaints. "The last thing I want to be," he said, "is respectable. "
According to Page, the Texas/West Coast part of the tour was where the group "hit new peaks every night." After ten days of convalescing, Page's broken finger healed to the point where he spent afternoons furiously composing new material on an acoustic guitar. Plant boasted that "my voice was getting so good by the end I felt like I could sing anything." One night at the Forum, he moved out of the spacey middle of "Dazed and Confused" and led the band into Joni Mitchell's "Woodstock " and, later, even a version of "Take It Easy."
The Los Angeles concerts (two nights in Long Beach, three at the Forum) played to audiences familiar with Physical Graffiti. "Trampled Underfoot" and "Kashmir," two numbers which had received a mild reception at the tour's outset, were now crowd favorites, overshadowing older standards like "The Song Remains The Same" and "Over The Hills And Far Away." It was the show closing "Stairway To Heaven," however, that consistently drew the biggest response.
But not all the response was favorable. Writing in the Los Angeles Times, critic Robert Hilburn said: "Besides setting box-office records on this tour, the English group also may be setting some kind of record for the most clichés in a single concert: a mini light show, steam from dry ice covering the stage [three different times], the bands name spelled out in lights… An explosion at the rear of the stage and, of course, the obligatory 20-minute solo."
He dismissed the show as "a numbing combination of intense, tenacious music and hopelessly limited imagination."
Page is quick to defend the act's length. "We need that amount of time to get everything across. You put on a support act and they're gonna want to do at least an hour – probably an hour and a half – so that makes the whole show about five hours long, including gear changeovers. Some halls have to get everybody out by 11:00, so where does that leave the headliner?
"We established a policy long ago that our concerts would feature only Zeppelin and the people would know exactly what they were coming to hear. Myself, I get fed up with hearing about groups who only do a 50-minute show. It's not right. It all depends on how much a performer has got to say, I suppose, and Zeppelin has got quite a bit to put across."
The final ten dates, Zeppelin used an entire floor at Hollywood's Continental Hyatt House as its base. So many groupies waited hopefully in the lobby that an entirely different group appeared to pick them up. Locals took to calling the hotel the Riot House."
As always, and armed guard sat outside each of the groups member's rooms. Page, for one, disliked the menacing flavor of it all. "We had some vague death threats earlier in the tour," he explained. "I imagine that makes the armed guards a necessity, but . . . Christ." He let out an exasperated sigh. "This is one thing that really bothers me. I don't think we're a band that's hated by any means. I get good, warm feelings from our fans. We're not the sort of band people really want to be nasty to."
Flying back and forth to concerts in Seattle, Vancouver and San Diego, the band and their 18-person entourage made frequent pilgrimages to L.A. Nightspots like the Troubadour (for Bobby "Blue" Bland and Kokomo), the Roxy (for Suzi Quatro) and the Greenhouse Restaurant, where Jimmy Page met long time idol Joni Mitchell. Page had been bashful about an introduction, telling acquaintances that "if she's been hit on half as many times as I've been hit on tonight, she doesn't want to know," but eventually they enjoyed some small talk together.
Los Angeles also saw the increased activity of John Bonham. At a party hosted by Zeppelin in honor of the Pretty Things, Bonham threw several stomach punches at Sounds correspondent Andy McConnell. McConnell, who'd had an amicable meeting with the drummer earlier that afternoon, shined a flashlight in Bonham's face and cracked, "You're an ugly fucker aren't you?" Bonzo responded by knocking McConnell across the room.
"You just don't do things like that to Bonzo," said one Zeppelin roadie, "especially when he's had a few drinks. After a certain point the Beast goes on the prowl and the only thing that amuses him is pillage. "
Earlier on the tour, in Texas, Bonham took a fancy to a custom Corvette. The owner was tracked down an offered an irrefusable amount. Bonham then "paid a small fortune" to have the car towed to L.A., where he couldn't get it insured. Undaunted, he snapped up a $1400 Ford hot rod for the sole purpose of dragging on Sunset Strip. In two weeks racing anyone who dared accept this challenge, he was stopped only once.
"When the cop got to the window," said Bad Company guitarist Mick Ralphs, a passenger at the time, "Bonzo turned on the charm. He told him we were musicians, that we'd been rehearsing all day and we are blowing off a little steam. He didn't get a ticket. "
On the afternoon of the tour's close, Plant emphasized that the group would always remain a road band. "We've played every single market that there is to play in the last few years … Apart from Bangkok and India, which we'll get to in the next year. There's no reason why other than the fact that we just love to play. We love touring too much to give it up. We took a film crew on our last tour, you know. The movie'll be out soon and that one film will be the end-all story of why we have such a great time on the road." But when asked the movie's release date, Zeppelin manager Peter Grant only snickered. "You must be talking about the most expensive home movie ever made," he said with laughter in his voice. "Just say it's held up in production."
Outside of the three sold-out English shows at Earl's Court in late May, Zeppelin has no firm plans. Plant, Bonham and Jones will return to their families in various parts of Britain, while Page, the group's only bachelor, will sojourn through Europe and the Far East. "I feel the need to aimlessly travel, to soak up some new experiences," the guitarist explained. "This is something I've looked forward to doing for years."
As the group left for home, Swan Song exec Goldberg discouraged rumors of another U.S. tour as early as this summer. "They could come back in June or they can come back in '77. Once they get working on something, you never know when they'll come up for air."
Courtesy of Rolling Stone #187 – Cameron Crowe –  May 22, 1975