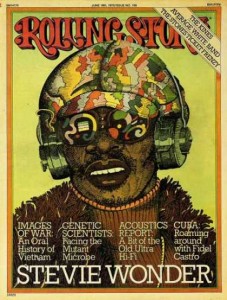 Fame Catches Up with Emmylou
Los Angeles – Guitar in hand, Gram Parsons sat in his road manager's Laurel Canyon home and coached singer Emmylou Harris through the harmonies of the old Burritos classic, "Sin City." Later, after she'd excused herself for a visit to the kitchen, Parsons grinned proudly. "There she is," he said, "that's my kick in the ass, keep an eye on her."
That was in 1973. Now, two years later, Harris's first major solo effort, Pieces of the Sky, has done well and her current club and concert tour (augmented by a band featuring Elvis's guitarist James Burton and his keyboard player Glen D. Hardin) is drawing unanimous raves. But Emmylou Harris, it seems, is the last to catch up with Emmylou Harris. Still a bit dazed over Parsons's untimely death in the fall of '73, the 28-year-old singer is only now waking up to the reality of a successful solo career.
"I know what's happening but it hasn't really hit me yet," she drawls softly, curled up on the sofa of a West Hollywood hotel room. Two nights earlier, she'd enthralled a capacity Palomino Club audience that included such luminaries as Bonnie Raitt, Maria Muldaur, Lowell George, Commander Cody, Joni Mitchell and Linda Ronstadt (for whose recent country hit, "I Can't Help It" Harris provided the strong counter harmony). "I guess it's just been a kind of long hard road. In a way I've been at this for almost ten years on almost all kinds of levels – from waiting tables to playing in New York clubs and not having anybody listen to me, to making a terrible first record for a bankrupt company to working with Gram.
"I suppose working with Gram was the most amazing thing that ever happened to me," she continues. "There was just something very magical about the experience. It was so much fun to just get up there, sing with him, and not worry about carrying a show myself. Everyone paid all this attention to me and told me how good I was and all that. It was really like being some kind of fairytale princess. Somehow that affected me more than all this that's happening now." She lets her words settle for a moment, then decides on a quip. "Maybe I'm on time delay."
Born in Alabama and raised in Virginia, Harris remembers a reputation of being a "real prig" in high school. "I was considered to be a kind of oddball. You know, always studying and making good grades. Singing began as a social thing. I realized when I started singing at parties people began noticing me. High schools are real hip now, everybody's cool, but there was a counter-culture in Woodbridge, Virginia, in 1963. You were either a homecoming queen or  a real weirdo. Here I was a 16-year-old Wasp, wanting to quit school and become Woody Guthrie."
Instead, Harris made it to the University of North Carolina on a drama scholarship. Using free time to play off-campus bars in a folk duo, she lasted a year and a half before applying to the more prestigious drama department at Boston University. "I was gonna work as a waitress in Virginia Beach for a while to get enough tuition money," she recalls. "But there was an incredible little music scene going on down there. That's when I got serious about singing."
Harris never made it to Boston U. "I thought I was going to get married. My first big love below up in my face, so I just went to New York 'cause there was nothing else to do. I was greener than green. I got a room at the YWCA, started going to the Village, playing basket houses [pass-the-hat-clubs] and just . . . hangin' out."
In two years of scuffling around New York, Emmylou made some valuable friends like singers Jerry Jeff Walker and David Bromberg. "Besides turning me on to country music, they sort of looked out for me," she says. "Even so, I must have had some protective kind of bubble around me. I used to walk home from gigs on dark streets at two in the morning with my guitar and never think anything of it. Looking back, I get scared to death."
Harris's first album (on the now defunct Jubilee records), recorded in New York just after her marriage, is one she'd like to forget. "I was trying to keep it a secret," she laughs (ironically, since the 1970 release was titled Emmylou Harris). "I hope somebody in authority will be able to buy the masters and burn them. Everybody involved with that record hated everybody else and I was in the middle trying to keep the peace. It was a disaster."
Several months after recording, "the worst possible thing any girl could ever do to her budding career" happened. Harris became pregnant with her child, Hallie. "Up until then," she admits, "my life had been a little too nebulous, I had no clear vision at all. The pregnancy, although it wasn't planned, gave me something very real and something present to relate to."
Later, with her marriage broken and ten dollars in her pocket, the protectiveness of motherhood, soon drove Harris out of New York. "I didn't know where I was gonna go, but I knew I had to get a job and make some money. By accident I got back into music through some friends, Billy and Kathy Danoff [writers of 'Take Me Home, Country Roads']. They were still living in their basement apartment with all the cockroaches running around. They were the ones that put a guitar in my hands and ordered me onstage again."
It was early '71 when Flying Burrito Brothers guitarist Rick Roberts stumbled onto Harris performing in a small Washington D.C. bar called the Red Fox. The next night, Roberts brought the rest of the Burritos down for a look. They invited her to join the band; before she could accept, the Burritos had dissolved.
"Chris Hillman," Emmylou remembers, "wanted to come out to L.A. so he could produce some demo tapes. He was really busy at the time. Anyway, I think it probably worked out the way it should have." The way it worked out was for Hillman to turn on Gram Parsons, the Burritos' long estranged cofounder, to their incredible discovery. Months later, Parson dropped in on one of Harris's many D.C appearances and made a few vague promises. A year later, Parsons invited her to L.A. to sing on his first solo album, GP. Their partnership quickly intensified. "It was gonna be a Dolly Parton-Porter Wagoner situation. We didn't see any need to break up that partnership because we really got higher on what we did together than anything we did separately. I still feel that way."
It was hard work, she says, that kept her from slipping into an extended depression. "Gram's death was like falling off a mountain. It was a very hard year between his death and the recording of my album [Pieces of the Sky]. A year of throwing myself into a lot of work that my heart wasn't really into. There was a lot of stumbling involved. I was playing quite a few bars and was in a real vulnerable position. People felt that they could come up and ask me anything. I used to get hostile. It  hurt. I didn't want to get emotional around some perfect stranger who had the goddamn gall to come up and ask me something that was none of his goddamn business."
The subject brings her close to tears. "Gram was such an amazing part of my life. I have so many good memories of him, it seems pointless to dwell on the tragedy of it." Abruptly, she reaches to turn up the country station already blaring from a hotel room radio. "Do you like Conway Twitty?" she asks. "I just love the harmony on this."
Pieces of the Sky was almost a year long project in itself. Emmylou for one could not be more proud. With the help of Anne Murray's ex-producer Brian Ahern, great care was taken in selecting material. "I'm just starting to write again," says Harris. "I don't mind the fact that I only wrote one song ["Boulder to Birmingham,' cowritten with Bill Danoff] on the album. There are just too many tunes that I get off doing and want to turn people on to. I feel very deeply and personally involved with each one, so I don't miss that writer's identity of making a statement.
"I think any singer feels that way," Harris says about choosing songs like the Everly Brothers' "Sleepless Nights," the Beatles' "For No One"and Dolly Parton's "Coat of Many Colors." Like Linda [Ronstadt]. When she sings a song it's really sung. Nobody cares that she doesn't write; the delivery's all that really matters."
Besides a heavy touring schedule and the summer recording of her next album, Emmylou Harris spunkily refuses to acknowledge the long-range future. "A lot of my life has been circumstance. The future just doesn't exist for me. You're not responsible for decisions if you don't make them.
"What do I see in the future?" Harris asks, reaching for the telephone. "A chocolate shake. Hello, Room Service?"
Courtesy of Rolling Stone #189 – Cameron Crowe – June 19, 1975