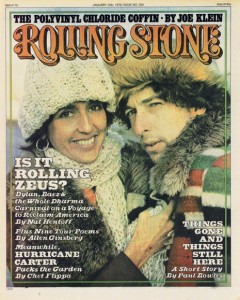 Bowie to Tour: 'No Gimmickry'
Los Angeles – Last June, David Bowie had apparently made some hard-line career decisions. "I've rocked my roll," he said. "It's a low form of communication and I'm through with it… And as for touring, I honestly believe that it kills my art. I will never, ever tour again." Now six months later, Bowie has radically modified his stance. A new album, Station to Station, will be released January 1st. And on February 2nd he will kick of a 34-date North American tour in Vancouver that will end March 26th at Madison Square Garden. All this in addition to the forthcoming release of The Man Who Fell to Earth, a movie in which he plays an alien from another planet.
Why the turnabout? "Because it's going to make an obscenely large amount of money, which I desperately need to set up my media-production company, Bewlay Bros.," Bowie replied at his Bel Air home. He laughed at his own candor, then proceeded to explain the artistic motivation. "I'm actually anxious to try something I've never done in the past – work with a small band, perform with no set whatsoever and use no production gimmickry. No sets. I'm just going to go out and sing. It's exciting to me. I want to see if I can cut it."
The "small band" is actually the same musicians who play on the multi-influenced Station to Station, recorded in October and November in Los Angeles: Earl Slick, lead guitar; "Fame" cowriter Carlos Alomar, rhythm guitar; Dennis Davis, drums, and George Murray, bass.
Bowie also hinted he might be returning to onstage guitar and piano playing. "I could chicken out, though. My main consideration at this point is just to present an upbeat musical show. That will keep me amused. None of the depressive starkness of the Ziggy and Diamond Dogs tours."
Bowie announced the surprise tour during a satellite TV interview with Russell Harty, Britain's Johnny Carson. Coincidentally, David had picked a choice time to make his announcement – the Spanish government wanted the same satellite line to broadcast General Franco's funeral Mass. When informed the time was taken, Spanish officials were so upset that they reportedly asked the U.S. government to intercede.
Matters of world importance aside, Bowie shrugged off his past contradictions. "I'm sorry I lied," he grinned. "Really, what can I say? Every time I've said I wouldn't tour again, I've meant it. [He "retired" from the stage once before in 1973.] Nothing matters except whatever it is I'm doing at the moment. That's what keeps me excited."
Courtesy of Rolling Stone #204 – Cameron Crowe – January 15, 1976