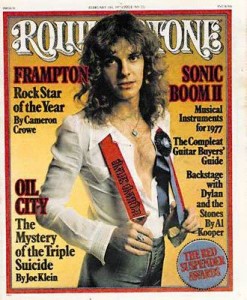 Artist of the Year: The One and Only Peter Frampton
"Peter Frampton was one of the artists I consistently wrote about at Rolling Stone. I met him just before his huge success on Frampton Comes Alive!, and we committed the cardinal sin of interview subject and journalist. We became friends. Through the peaks and valleys and peaks of his career, he's always been the same guy. He doesn't need a cheering stadium to be exuberant. I called him to work with us on Almost Famous and his upbeat mood affected the entire movie."
– Cameron Crowe – Summer 2000
Nice guy finishes first: 'It's just starting to sink in…
Peter Frampton eased himself gently onto his bed in his luxurious bungalow at the Beverly Hills Hotel. He's spent a week there, venturing outside only to do his last concerts of 1976 – four sold-out nights at the 18,000-seat Forum in Inglewood.
"Howard Hughes used to stay here," Frampton informed. He was immediately apologetic: "I don't know if I'm quite comfortable in all of this," he said. "It's still real new to me."
About one year new, in fact. Frampton, 26, began his career at 16 with the Herd, a much-screamed-after British pop band of the late Sixties. The group broke up, penniless, in 1969. Frampton and Steve Marriott of the Small Faces then formed Humble Pie. Frampton lasted through the band's third U.S. album, Rockin' the Fillmore. He tried his hand as a session guitarist (on Son of Schmillson and All Things Must Pass) and then as a solo artist. Frampton always consoled himself with the knowledge that, should he bomb on his own, he could always return to session work. He considered that a very real possibility right up until the January 1976 release of Frampton Comes Alive!.
Within a month, the LP was in the Top Ten. In March it hit Number One for a week. The next three months, Frampton Comes Alive! lingered in the Top Five, making room for The Eagles' Greatest Hits, Presence, Black and Blue and Wings at the Speed of Sound, until June, when it seized Number One again and refused to budge throughout the summer and early fall. He became the top attraction of the highly competitive Bicentennial summer. Stevie Wonder's Songs in the Key of Life finally dethroned Frampton Comes Alive! in late November, after a record 17 weeks at the top. Frampton's album has sold 7 million copies in America and another 3 million worldwide; in the same period, Frampton sold nearly 2 million concert tickets. At a royalty rate of "approximately" 67 cents per album (according to A&M Records), this makes for a prodigious one-year income. People magazine captioned a photo of Frampton with "…His GNP? 50 million." The figure upset Frampton: "I'd like the people to know that figure is nowhere near what was actually earned," he said. "A lot of people came up to me and said, 'Do you really have that much money?' And I have to say, 'No, not on me, no.' They don't realize that Gross National Product is income generated in the music business, in the photography business, with posters, the T-shirt business…for other people, including myself.
"I don't really realize how much there is," said Frampton. "I don't phone up every five minutes and say, 'How much have we got now?' I don't want to know." In afterthought, he added: "It's a staggering amount, unfortunately…"
Along with the money came the accolades. Everybody loves a winner. Frampton was named "Rock Personality of the Year" by Billboard last June and on the Rock Music Awards in September; he's "Artist of the Year" in Rolling Stone's Music Poll. At last year's end he signed to star in Robert Stigwood's film of Sgt. Pepper's Lonely Hearts Club Band.
"I will remember this year as like…well, it meant relief in a way," said Frampton. "But only inasmuch as I can pay my bills. I try not to think about it. I pile up the press clippings and send them off to my mother. She's got a scrapbook going back to when I was, like, eight years old. It's just starting to sink in, what's happening. The longer it takes to really sink in, the better."
I have a clear memory of Peter Frampton from the winter of 1975: a pale, thin, childlike figure in wrinkled green satin pants, hunched over a mixing board at A&M Studios in Hollywood listening to the live recording of a 17-minute song he had played practically every night since early '73 – "Do You Feel Like We Do?" Frampton was grinning. I asked him why.
"Listen to them!" He was replaying the sounds of an adoring audience up so loud that they challenged the other instruments. Which was exactly the idea. "They are as much a part of this record as anybody," he said.
The album had gone through a myriad of changes, coming right down to the wire. First it was to be a single album, all rock & roll and recorded at Winterland Auditorium in San Francisco. Then came the decision to include acoustic material. After a listening session at which A&M president Jerry Moss quipped, "Now can we hear the other album?," Frampton Comes Alive! became a two-record set. A remote recording truck was dispatched at the last minute to tape Frampton shows in Long Island and Plattsburg, New York.
Ten days later he was back in the A&M studios, checking the final mixes and listening to Frampton Comes Alive! in its entirety for the first time. When the last side had finished, Frampton was not particularly euphoric. He was tired, eager to just get it out. I wished him luck. He said – what else – that he needed it.
One year later, to the week, we sat in his Beverly Hills bungalow and tried to talk of something other than success. It was impossible.
I wondered just how much longer, amidst the inevitable pressures, he could continue being what he has long been considered: a low-key, untroubled Nice Guy. Frampton's face crumbled into melancholy. "I remember when I was in England, living with my parents, and I used to see a movie star in a car or something and I'd think 'Wow, I actually saw him.' You've got to be 'on duty' most all the time, for the fans. But instead of me becoming harder…" He chose his words carefully. "It's an awful thing to say but I suppose people around me make it harder for people that they know are gonna upset me to get to me…
"The real shame is to see other people that you've known for a long time change, when you haven't. I love to be a hermit. It all comes with working. When I'm off I either go to Mexico with my friends or just stay at home. I love TV. I love staying home and not seeing a guitar for ten days…but then I love that feeling of picking it up again. The more simple my life is, the happier I am."
Onstage, Peter Frampton's Pollyanna-ish personality turns to intense ecstasy. The mere flashing of his cover-boy grin seems to ignite mass partying. It's infectious merriment, even if some critical circles see shades of a rock & roll John Denver. "It's all very natural," Frampton said. "We have a good time onstage, 'cause we realize it gets through to the audience. Gone is the age of doing a 72-bar guitar solo with your back to the audience, wearing a ripped pair of Levi's. They want to be entertained. And when I'm applauded for doing that, all it makes me want to do is entertain more."
It will be a long time, Frampton swears, before he retires the Comes Alive! material. Even the unavoidable reality of performing his climactic marathon, "Do You Feel," for years to come does not rattle him. "I think if I'd written 'Layla,' I would still be doing it," he said. "Eric Clapton may have stopped doing it, but I would never. The actual music doesn't change so much anymore, but the audience reaction does. It's unbelievable. It brings new things out of me every night. That's why I never get bored."
Indeed, it's doubtful Frampton will have the time to even consider the concept of boredom. Foremost on his schedule is writing and recording his first studio album in two years. Then comes the filming of Sgt. Pepper in early summer. A soundtrack album featuring Frampton interpretations of six as-of-yet undecided Beatles songs will coincide with the movie's Christmas 1977 release.
Frampton is trying very hard not to fret over pulling it all off. "Penny [girlfriend Penny McCall] and I have this saying: 'There is no tomorrow until tonight's gig is over with,'" he said. "When there's something on my mind, and right now it's the album, till that's over with, there is no future."
The album will be titled I'm In You. Frampton originally intended to record it at the same Motown studios in Detroit where his hero Stevie Wonder recorded all his early hits. "Before I even had a chance to ask Motown, it got out in some magazine. They rang up and asked Motown if it was true and Motown said, 'No, no, we never allow anybody.' I never got a chance to ask myself. I felt bad about that.
"Now I'm not sure where I'll be doing it, probably in my new house [in upstate New York]. Wherever we are, that's where we'll do the album. I hope it works out so I can do it in a house rather than a studio."
I'm In You, according to Frampton, will be released by Easter. "Every album has taken six weeks in total recording time. Then you've got to allow a couple of months to get the cover and everything ready." He clutched his throat. "It's gotta be bloody good."
Then there's Sgt. Pepper. "I've always wanted to do a movie," he said, " and it's such a great thing to be involved in, especially after meeting all the people that are behind it. It's Chris Bearde's first film" – Bearde, who will be the director, is from television: The Gong Show and Sonny and Cher are among his credits – "and Henry Edwards' first script" – Edwards being the New York-based rock writer. "First everything except for Robert Stigwood, who's very experienced." (Stigwood was behind, among other projects, the film of Jesus Christ Superstar!)
The film will be a trying experience, Frampton conceded, but it will also be a "labor of love" for a longtime Beatles fanatic. Frampton vividly recalled his first encounter with the album,Sgt. Pepper: "I remember buying it in Petticoat Lane, at this store that used to sell records two weeks before they came out. They'd knock off a load on the way to the ship…and I gotSgt. Pepper ten days before it came out. I still have the original mono copy at home."
Frampton detailed the film: "It's going to be all music; there's going to be some dialogue, story telling, but I don't say any. When the songs are playing, it's going to be like Tommy, which I liked very much, but it's going to be a lot more of a comedy."
According to Henry Edwards, Frampton "will play a real hero in the film, an athletic one – he'll sing, act, dance and do his best to save his girl from the clutches of Mean Mr. Mustard. He plays Billy Shears, a young and handsome guitar player in a small-town America band. Why an American band? We want to create a move that's a movie, not a Beatles film. It's even set in the present, not the Sixties."
Most of the casting is still up in the air. The Bee Gees, as "three wise men," will narrate the story. There are two females leads – Shears' girlfriend named Strawberry Fields, and Lucy. Olivia Newton-John and Donna Summer have been mentioned as possibilities.
Frampton doesn't believe that playing opposite pop stars will dilute his following. "I should think that it would only broaden my following," he said. "Besides, I'll be playing with the same band from the live album…"
When the subject turned to money, and how Frampton is protecting his new fortune, I watched a perfectly easy and exuberant face overtaken by the taut expression of someone about to be pushed out of an airplane.
"Uh…I'm still taking advice," he said hesitatingly. "I don't know…the more you have, the more of a problem it is. I'm paying more taxes. And putting it away for taxes. I bought two houses. Apart from that, the money is taken care of, but only because I've had enough time to have the right people looking after it.
"The money thing is very, very touchy. I don't like talking about it because I don't think about it. Like I said, all I want to do is be able to pay my bills. What doesn't go on expenses I'm going to put away and everybody around me is going to have a good time. That's all I want."
That's about all that's left. It's not that easy reaching you loftiest goals by age 26. Not long ago, Frampton nearly hit circuit overload when he won the Rock Music Award on CBS-TV as "Rock Personality of the Year." The presenter of the award was Stevie Wonder.
"My knees shook all the way to the podium," Frampton recounted. "Do you know how long that walk was? I was putting my guitar down from playing 'Baby, I Love Your Way' when one of the ushers said, 'Well, you're not needed anymore, sir, could you please go back to the dressing room?' And I said, 'I hate to seem forward and all, but I am nominated in this category.' So I said to the band, 'Sorry, fellows, but I don't think we've got it. When someone tells you to go back to the dressing room…'
"I went up to Stevie Wonder afterwards and said, 'It's been a pleasure to meet you. It's been a long time since I started listening to you. Maybe it would be nice to get together and play one day.' And he said, 'Yeah, great.' As I was walking away, he said, 'You don't play a bad bag yourself.' And I said, 'Well, you know who I learned from, don't you?' He went, 'Yeah, I know.' It was just lovely."
Everybody knows someone like Peter Frampton – humble and careful, vulnerable, constantly appealing directly to one's protective instincts. But Frampton hardly needs help.
"I'm very, very lucky that I had this much experience," he said. "The ten years before this and the five semiprofessional years before that. That experience of being in bands and around people and learning what not to get hung up on – that's really the thing."
There was a hint of finality to his observation. Then he slipped off his bed to stretch…and something familiar registered. He was wearing those same old green satin pants. Wrinkled again.
Courtesy of Rolling Stone #232 – Cameron Crowe – February 10, 1977